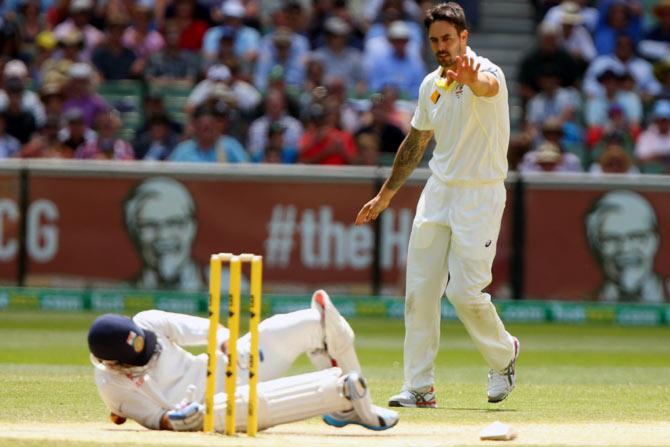 Mitchell Johnson apologises to Virat Kohli after hitting him with the ball while attempting a run out. Photograph: Chris Hyde/Getty Images
Former Australian Test great Ian Healy is of the opinion that the bad blood between Australia and India in the ongoing Test series has gone too far.
Tensions threatened to explode on Sunday in the Boxing Day Test when Mitchell Johnson hit Virat Kohli while trying to run him out and it continued on day four as the match progresses.
- Complete coverage of the Australia tour
- Kohli-Johnson verbal volleys spice things up on Day 3
David Warner engaged with several of the Indians in the field during his quickfire 40 and Healy said that it's time for it to stop, News.com.au reported.
"I reckon, it's out of control," he said.
But former Aussie paceman Trent Copeland believes sledging is good for the game.
"I think it's very good for the game and I think Virat Kohli, since he's come to Australia, has been great the way he's held himself in the media and particularly on the field," Copeland said.
Earlier on Sunday, star Indian batsman Virat Kohli slammed Australia's sledging, claiming that he had no reason to respect their pace spearhead Johnson and insisted that the host players called him a spoilt brat.
Already up 2-0 in the four-match series, Australia can win the series by drawing the ongoing third Test.