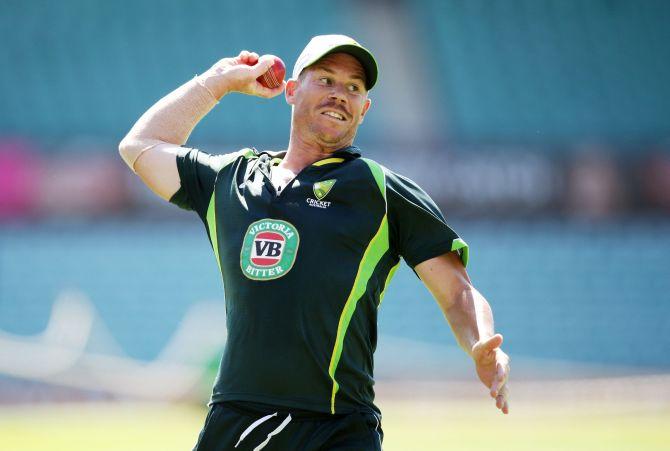 David Warner of Australia fields during an Australian fielding session at Sydney Cricket Ground. Photograph: Matt King/Getty Images
Australia opening batsman David Warner is unsure how he will cope with an emotional first return this week to the venue in Sydney where Phillip Hughes was fatally struck by a bouncer.
Warner and Australian team mates Brad Haddin, Nathan Lyon and Shane Watson were fielding at the Sydney Cricket Ground in November in a domestic game when fellow opening batsman Hughes sustained a blow to his neck that led to him passing away three days before his 26th birthday.
Warner and his team have coped admirably with the tragedy to take an unassailable 2-0 lead over India in the Test series that was rearranged following the death but the loss of Hughes continues to haunt the side.
The combative Warner, who scored an emotional 145 and 102 at the Adelaide Oval in the first Test following Hughes' death, said memories of the incident flooded back when he walked out at the SCG on Sunday, ahead of Tuesday's final Test.
"This Test I honestly can't tell you (how I will be) until I go out there and sing that national anthem and walk out there," Warner told reporters.
"At the moment, not just for me but for the guys that were here as well they are putting on a brave face.
"It is going to be emotional, I know for myself it will be, just walking out there today, just brought back memories.
David Warner of Australia bats during day four of the Third Test. Photograph: Chris Hyde/Getty Images
"I know when I go to face up at that Randwick End I'm going to be looking down at that spot. It's going to be tough but I've got to try and hold back the emotions and do what I do for the team and try and score runs."
The hosts are without pace bowling spearhead Mitchell Johnson because of a hamstring problem but will be boosted by the news that Warner has recovered sufficiently from his thumb and arm injuries.
He was hit on the thumb during the second Test at the Gabba and then took a blow on his forearm while practising before the drawn third Test in Melbourne.
"I'm fine, I'm ready to go, the arm is sore but I just have to play through that pain like I did for the last game," said the 28-year-old, who has not scored a fifty in four innings following the twin centuries in the first Test.