'I'll have a very different view of the Boxing Day Test this year'
'It will be unusual watching the boys from the booth rather than being out there with them on the field'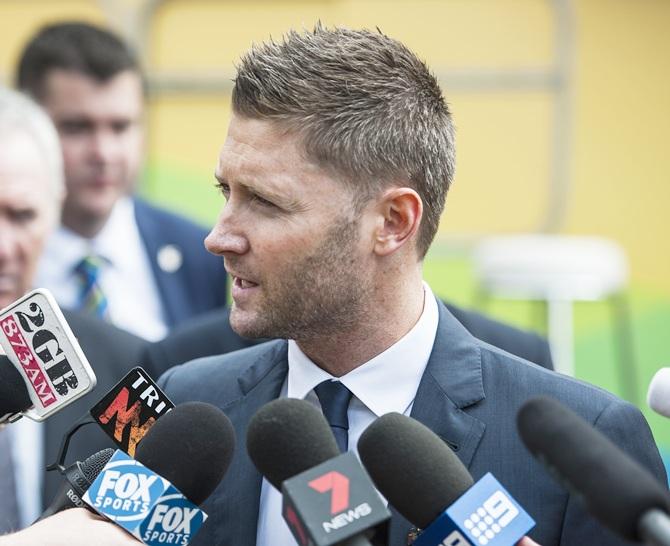 Michael Clarke speaks to the media. Photograph: Brett Hemmings/Getty Images
Australia's injured skipper Michael Clarke will join the Channel Nine commentary team for the Boxing Day Test match in Melbourne, which will also mark the return of former Test captain Bill Lawry behind the mike.
India's biggest weakness: 'They don't believe they can win away'
Clarke recovery on track, hopes to be fit in time for World Cup
Clarke, who is recovering from hamstring surgery, will take on the role throughout the third Commonwealth Bank Test against India, providing an unique insight into his teammates and contemporary opponents.
"It's an absolute thrill to have Michael on board, he joins a long list of Australian Test captains we've had in the Wide World of Sports commentary box," said Brad McNamara, Nine's executive producer of cricket.
"We're really looking forward to him joining us and offering his insights on cricketers he plays with and against on a regular basis."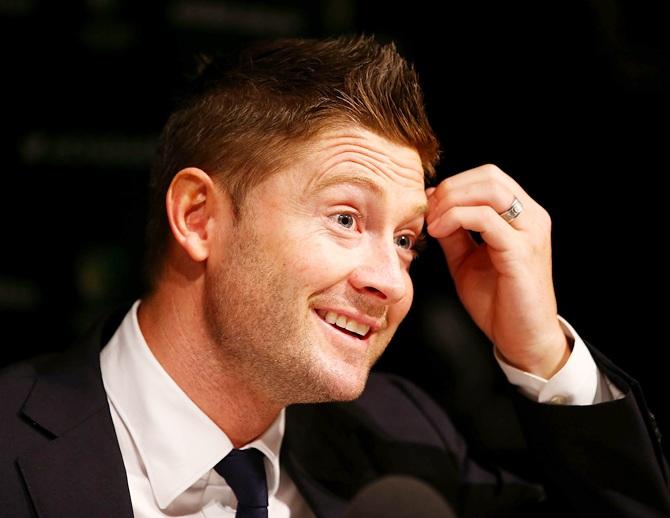 Australian captain Michael Clarke speaks to the media. Photograph: Mark Nolan/Getty Images
Clarke is excited about the prospect of joining the commentary team for arguably the biggest event on the Australian sporting calendar.
"I'll have a very different view of the Boxing Day Test this year," he wrote in his News Ltd column.
"Channel Nine have kindly asked me to be part of the commentary team for the match, so I'll be flying down to Melbourne on Christmas Day to join them.
"I'm not sure what to expect. It will certainly be unusual watching the boys from the booth rather than being out there with them on the field.
"Still, it has got to be an improvement on the last Test, which I watched first from a hospital bed and then from my couch. I channelled all that restless energy into my Twitter account and, from the sound of it, I filled up quite a few of your news feeds (sorry about that!).
"I'm sure the commentary work in Melbourne will distract me from tweeting too much this time around." More PTI AH
Lawry, 77, resumes the role that has made him one of cricket's most famous voices for the Boxing Day Test.
"All the guys are genuinely excited to have Bill back – he is an absolute legend in the world of sports commentary and he's great fun as well," McNamara said.
"He brings that unbridled enthusiasm that just can't be replaced."
Clarke meanwhile, believes veterans Brad Haddin, Shane Watson and Chris Rogers should play next year's Ashes, despite recent talk about the trio's form. The 33-year-old skipper said the three brought "so much more to the table than just their batting" and supplied balance and experience when young players such as debutant Joe Burns entered the side.
"'Hadds' mightn't have made a big impression in the runs column over the past couple of Tests but he has been flawless with the gloves," Clarke wrote in his column.
"And let's not forget his contributions with the bat last summer. The Ashes series might have played out quite differently without his valuable runs down the order."