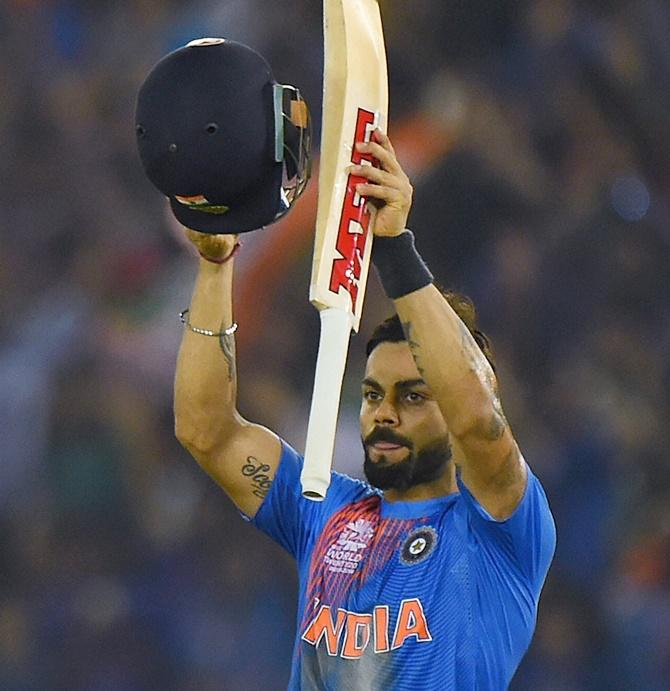 IMAGE: India's Virat Kohli celebrates after winning the ICC World T20 match against Australia, in Mohali. Photograph: PTI Photos.
The legend of Virat Kohli reached gigantic proportions at the World T20. The reigning superstar of Indian cricket virtually made the tournament a one-man show till India's campaign ended in the semi-final against the West Indies following a lackadaisical effort by the team's leading bowlers.
Qualifying for the semi-finals should not be considered bad at all in the final context of the tournament, but given the familiar setting of home conditions, one was hopeful that Mahendra Singh Dhoni's boys would not end up second best in a last four clash, on a belter of a pitch with vocal crowd support.
If Kohli was the brightest spot for India, the bowling of Ravichandran Ashwin, and especially Ravindra Jadeja, on sub-continental tracks looked pedestrian.
A total of eight wickets between them (four each) in five matches is testimony to the fact. The duo were not penetrative enough on turners, and on a good batting track like the Wankhede, they looked clueless.
Coming back to the positives, Kohli has slowly and surely turned into the rightful claimant to Sachin Tendulkar's throne as the carrier of a billion hopes.
He scored 273 runs in five matches, but more than the volume of runs it was the quality of his batsmanship that left everyone yearning for more.
If an unbeaten 55 against Pakistan on a rank turner was all about artistry, the undefeated 82 against Australia is stuff of legends on how one can win a T20 game with copybook cricket. The 89 not out in the semi-final was another tremendous effort even though he had a slice of luck.
Most of his 29 boundaries were classical shots – whether it was the cover drive or the square drive, which he can now get patented. Not to forget the rolling of wrists when he hits the pull shot in front of square.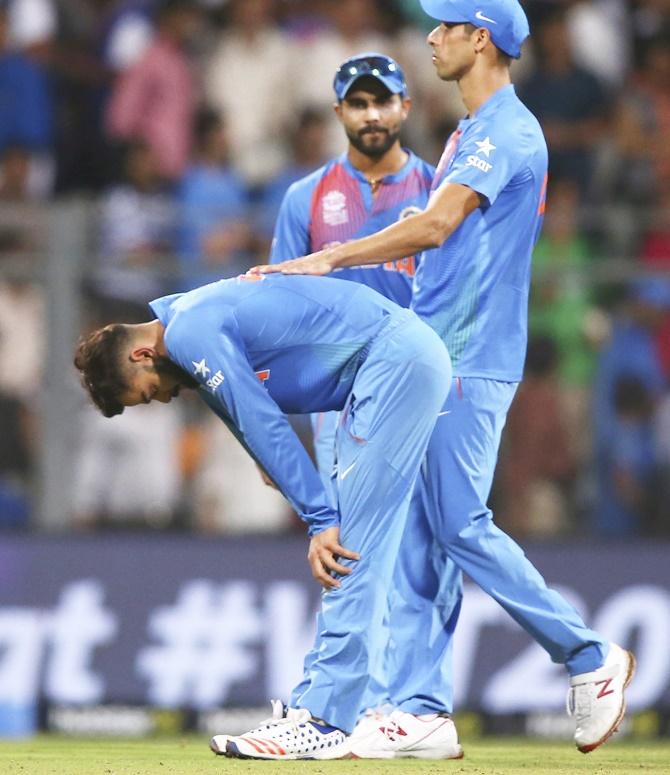 IMAGE: India's Virat Kohli is dejected after the West Indies hit the winning runs in the ICC World Twenty20 semi-final. Photograph: Ryan Pierse/Getty Images.
However, take Kohli out of the equation and India's campaign in the World T20 looked like a one-man show, where there wasn't a second hero around.
Dhoni's running between the wickets was exceptional, and so was his memorable sprint to run Mustafizur Rahaman out.
Such was Kohli's domination that the next highest run-getter was Dhoni, with 89 runs from five outings.
To be fair to the skipper, he only got to bat towards the end of the innings.
The performance, or lack of it, of Rohit Sharma, Shikhar Dhawan, Suresh Raina left a lot to be desired since they all got a decent hit in the middle. Rohit, though, looked in some form in the semi-finals.
A last-four finish may look impressive but there were times when it felt that Dhoni could have been flexible with his bowling line-up, especially on pitches that offered turn.
At Jamtha (Nagpur) or the Eden Gardens, a third spinner in Harbhajan Singh could have been played.
Playing a lone game against the United Arab Emirates out of the 16 T20 Internationals in 2016 must not have been a great feeling for India's third highest wicket-taker in Test matches.
On a turner, out of New Zealand's 127 runs, Jadeja and Ashwin conceded a combined 58 runs in eight overs while taking two wickets.
Compared to them, New Zealand's duo of Mitchell Santner and Ish Sodhi had seven wickets for 29 runs in eight overs.
Call it funny or intriguing, but there were two sorts of pitches on which Ashwin and Jadeja did not perform. One, where the ball turned too much, and the other where there was no turn on offer, like the one at the Wankhede on Thursday.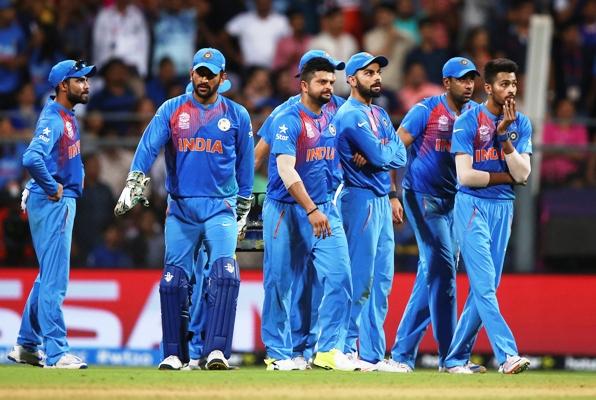 IMAGE: Dejected Indian players look on during the ICC World Twenty20 semi-final against West Indies at Wankhede Stadium. Photograph: Ryan Pierse/Getty Images. .
Worse, Dhoni showed more confidence in Kohli's bowling abilities than Ashwin's in the 20th over even when the Tamil Nadu offie had an over left in the semi-final.
Ashwin also did not finish his quota of overs in Mohali against Australia after being hammered (31 in 2 overs) and did not get four overs against Pakistan at the Eden Gardens.
Similarly, Dhoni's defence of Jadeja suffering due to the dew factor does not hold much ground as the Saurashtra left-armer has never put his hand up in trying circumstances.
He is a decent bowler on helpful tracks, but a peek at his records on flat tracks suggests otherwise.
The silver lining in India's bowling effort was Ashish Nehra, who, at nearly 37 years, showed why he is rated amongst the best in the business when it comes to death bowling.
Young Jasprit Bumrah bowled a phenomenal penultimate over against Bangladesh while Hardik Pandya has shown that there is room for a lot of improvement. He can hit big but no one knows his batting capabilities on tricky surfaces, while, as a bowler, he did not display any change-ups when Johnson Charles, Andre Russell and Lendl Simmons were giving him the charge.
Thus, it basically boiled down to Kohli's Herculean effort with the willow that covered India's inconsistencies, making it look decent enough at the end of it all.