A superb run-a-ball century by Kirk Edwards, followed by a fine display in the field, enabled the West Indies 'A' beat India 'A' by 45 runs in the third and final one-dayer at the Chinnaswamy stadium in Bangalore on Thursday.
The victory gave the West Indies a 2-1 triumph in the three-match List A series, following victories in the second and third unofficial ODIs.
India won the opening match of the series by 77 runs before the visitors drew parity, winning the second game by 55 runs.
Set 313 for victory, the Indians made a mess of the chase after opener Robin Uthappa was run-out for 27 in the ninth over. Though his opening partner Baba Aparajit, who was included in place of Unmukt Chand, scored a dogged 78 and Yuvraj Singh 61, the other Indian batsmen, save Vinay Kumar, failed to come to the party.
Vinay Kumar waged a late fightback, scoring an unbeaten 37 off 38 balls, after Kedar Jadhav (17) and Yusuf Pathan (18) fell cheaply, but all the hosts could muster was 267 for eight in their 50 overs.
Mandeep Singh did not bat following an injury to his hand wile fielding.
The West Indies were well-served by slow left-arm orthodox bowler Veerasammy Permaul, who picked three wickets for 55 runs, and Miguel Cummins, who had 2 for 46.
Earlier, Edwards was severe on the India 'A' bowlers as the tourists amassed a mammoth 312 for 9. He bludgeoned his way to his second List A century, scoring 104 off as many deliveries, to set the tone for the West Indies after their openers, Andre Fletcher (28) and captain Kieran Powell (40), laid a solid foundation in a partnership of 74.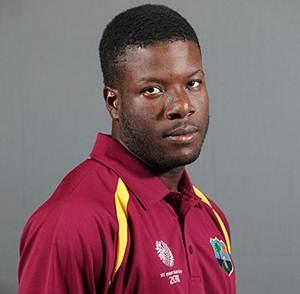 Edwards was out in the 49th over after smashing 12 boundaries and three sixes.
After he got his eye in, he batted with gay abandon, executing drives and flicks off the pads, and did not lose the opportunity to hit sixes when the ball landed in his zone.
He reached his sixth List A fifty with a superb six off Aparajith in 67 balls, and also featured in stands of 66 and 93 with Jonathan Carter (35) and Leon Johnson (54) for the third and fourth wicket respectively.
He perished in the 49th over trying to cut Jaydev Unadkat but only getting an inside edge on to his stumps.
India's bowling woes continued as none of their bowlers, except Jaydev Unadkat, who had under-performed till the second match, came up with fine figures of five for 55 runs.
Left-arm orthodox bowler Shahbaz Nadeem bagged two wickets for 33 and Vinay Kumar and Aparajith claimed one each.
Put in to bat, the West Indies got off to a good start, both openers stitching a 74-run partnership for the first wicket.
Andre Fletcher and captain Kieran Powell, who had failed to give the side a good start in the last two matches, looked in fine touch.
Powell kept the Indian fielders busy by scoring ones and twos early on, but opened up with his shots when Siddharth Kaul and Jaydev Unadkat's line wandered.
On the other end, Fletcher played a rather subdued innings, but it proved enough to give the visitors a good start.
Just when the partnership was looking ominous, Nadeem struck twice in quick succession by sending Powell for (40) and Fletcher (28) to the pavilion.
Powell holed up to Uthappa in the slips and Fletcher was bamboozled by an arm ball off Nadeem. The good work of the openers was maintained by the later batsmen, Kirk Edwards, Carter and Johnson.
Edwards and Carter put on a breezy third-wicket stand of 66 runs in 78 balls before Carter fell to the first over off Baba Aparajith for 35 off 38 balls.
Scorecard
West Indies 'A':
A Fletcher lbw b Nadeem 28
K Powell c Uthappa b Nadeem 40
K Edwards b Unadkat 104
J Carter b Aparajith 35
L Johnson c Jadhav b Unadkat 54
A Russell b Unadkat 1
D Thomas c & b Unadkat 21
A Nurse c Kaul b Unadkat 10
N Miller not out 2
V Permaul c Pathan b Vinay Kumar 2
M Cummins not out 0
Extras: (lb 10, w 5) 15
Total: (for 9 wickets) 312
Fall of wickets: 1-74, 2-79, 3-145, 4-238, 5-255, 6-295, 7-308, 8-308, 9-311.
Bowling: Vinay Kumar 10-1-56-1(2w), J Unadkat 10-0-55-5(1w), S Kaul 7-0-56-0(1w), S Nadeem 9-1-33-2, Y Pathan 5-0-38-0, Yuvraj Singh 5-0-34-0(1w), B Aparajith 4-0-30-1.
India 'A'
R Uthappa run out 27
B Aparajith b Permaul 78
N Ojha c Thomas b Carter 0
Yuvraj Singh b Nurse 61
K Jadhav c Miller b Cummins 17
Y Pathan b Cummins 18
Vinay Kumar not out 37
S Nadeem b Permaul 6
S Kaul c Nurse b Permaul 6
J Unadkat not out 1 10
Extras: (b 4, lb 1, w 11) 16
Total: (for 8 wickets) 267
Did not bat: Mandeep Singh
Fall of wickets: 1-46, 2-46, 3-158, 4-181, 5-197, 6-227, 7-234, 8-250
Bowling: M Cummins 10-0-46-2(1w), A Russell 10-0-52-0(3w), J Carter 6-0-27-1(1w), N Miller 5-0-40-0(1w),A Nurse 9-0-42-1(1w), V Permaul 10-0-55-3(3w).
Image: Kirk Edwards
Photograph: Getty Images