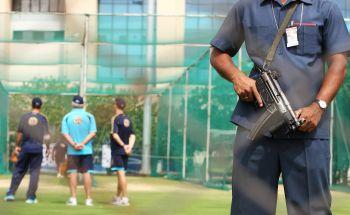 Security for the second cricket Test between India and Australia has been tightened with more police being deployed around the Gabba in the wake of the Sydney cafe siege, officials said.
A 17-hour-long hostage drama in which a heavily-armed man of Iranian-origin held 17 people hostage at a cafe in Sydney ended last night after the police stormed in, resulting in three deaths but two Indians who were among the captives escaped safely.
Queensland state Premier Campbell Newman said security was beefed-up to reassure fans and make them feel safe.
"We are concerned about these sorts of actions occurring as we have (been) for many months," Newman told reporters.
"We will have all available officers out there at public venues such as the Test at the Gabba and around the streets and the suburbs of the cities and towns of Queensland."
The hostage situation had left BCCI worried as they kept a close watch on the unfolding of events in Sydney.
The tragic incident left the Australian cricket team shocked and they said their thoughts were with the victims and their families.
"I would like to on behalf of the Australian team say our thoughts and prayers are with everyone involved in the tragic incident in Sydney last night," stand-in captain Steve Smith said.
"It was shocking and we're all thinking of everyone involved."
Image: Secuity personal at a practice session
Photograph: Mark Kolbe/Getty Images