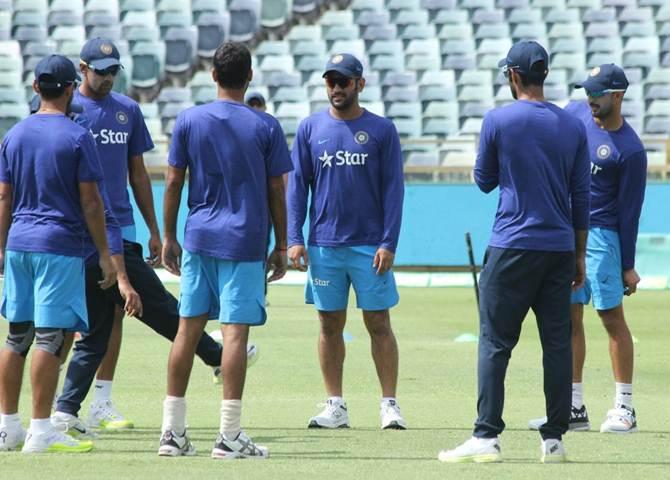 IMAGE: India captain Mahendra Singh Dhoni (centre) addresses his players during a practice session. Photograph: BCCI
Former Indian captain Sunil Gavaskar has credited Australian batting unit for setting up their run chase to perfection in the opening ODI in Perth, while also pointing out that the Indian bowling is simply not good enough.
"309 was a good total. When you lose you always tend to say may be another 20 runs because the match finished in the last over," Gavaskar told NDTV.
"But that's always in hindsight. I do believe the straight boundaries at Perth are very short so a little disadvantage for the Indian spinners in particular.
"But you need to give credit to the Australians. They batted very well. And you also need to give credit to Rohit (Sharma) and Virat (Kohli)," Gavaskar said.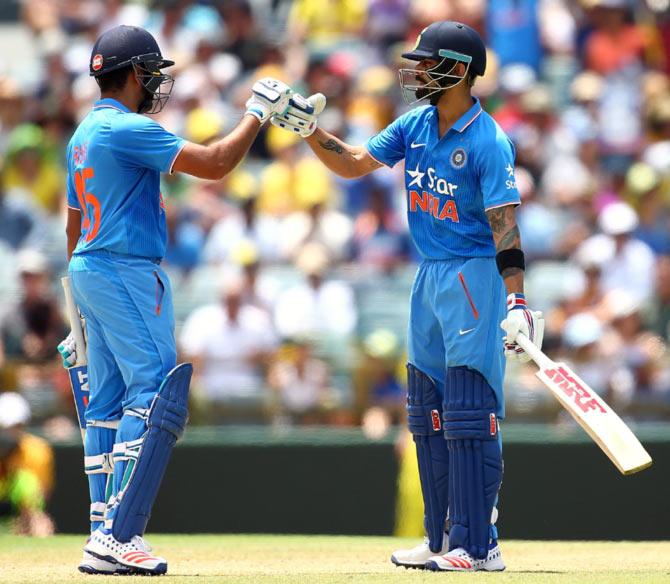 IMAGE: India's Rohit Sharma congratulates teammate Virat Kohli on his half-century during the first One-Day International against Australia at the WACA in Perth. Photograph: Paul Kane/Getty Images
Rohit's 163-ball 171 not out was the best by a vising batsman against the hosts Down Under while vice-captain Kohli also impressed with a 91-run effort as the duo added 207 runs for the second wicket to set the foundation for India's total.
Asked if India were short of runs, Gavaskar refused to put the blame for the loss on the batsmen.
"If you lose wickets early then it puts pressure on the batsmen to follow. The kind of form Rohit and Virat are in I think India need to keep same kind of momentum. I don't think you can't blame the batsmen for the way they batted, they batted really well," he said.
"It would be interesting to see if India are chasing against the inexperienced Australian bowling because the kind of bowling India have in these kind of pitches even a 350 score may be gettable for Australia."