Warner unimpressed with governing body's continued hard-line stance on player behaviour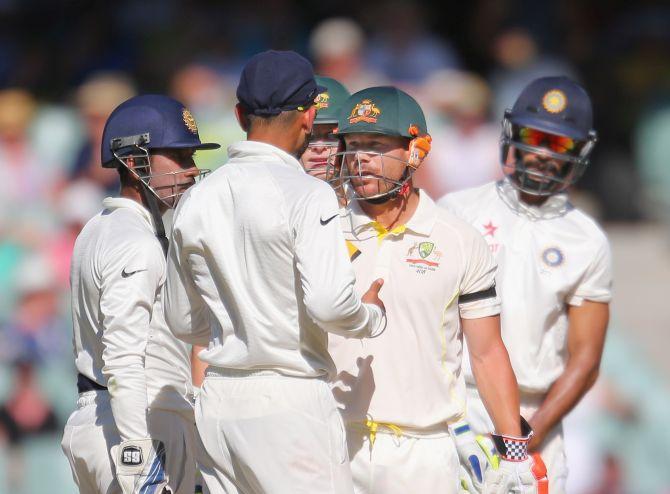 IMAGE: David Warner and Virat Kohli exchange words during a Test match Down Under. Photograph: Scott Barbour/Getty Images.
Star Australian opener David Warner has labeled the International Cricket Council's crackdown concerning on-field player behaviour "a bit of a joke".
In the lead-up to the 2015 World Cup, the ICC made it clear they would be adopting a firmer stance on player behaviour, particularly exchanges between opponents as well as over-zealous wicket celebrations.
But Warner, who was Wednesday night crowned Allan Border Medallist as Australia's player of the year, believes the crackdown has diminished the entertainment value of the sport.
"It's been tough with the crackdown of the ICC at the moment – I'm not going to have a pot shot at them but it's becoming a bit of a joke," he told cricket.com.au. "The players can't celebrate as much.
"Back in the day I used to love watching Glenn McGrath bowl to the West Indians, and them bowling to us, and (the bowlers) getting in the faces of the batsmen.
"We know sometimes things might get a little bit out of hand, but that's what we love about the game; we love the contest and it (the crackdown) is really taking away from the bat-and-ball contest."
The hard-line stance imposed by cricket's governing body hasn't stopped a series of exchanges between Indian firebrand Virat Kohli and several Australians throughout the limited-overs series this month, and while lauding the interactions, Warner believes that he and Kohli are now targeted for special attention due to their reputations.
"I think it's fantastic," he said of the light-hearted confrontations between Kohli and James Faulkner during the ODI series.
"Virat's a very passionate guy, he leads by example for his country. He sets the tone, and that's what I try to do for Australia as well when I'm on the field … we're always in the camera's vision, it always gets us and we have to cop that on the chin and move on."
As he has matured into a leadership role within the national side over the past 12 months, Warner has clearly wrestled with the conflict between the on-field behaviour expected of a senior figure and his natural inclination toward combativeness.
On Australia's tour of the Caribbean that followed last year's World Cup, he effectively imposed a sledging ban on himself, cutting out all on-field chatter from his game.
The 'cold turkey' approach didn't last, and Warner cites his upbringing in Sydney's infamously aggressive grade cricket scene as one reason why.
"It was really hard during that West Indian series not to say much, but I decided just to change it and see how it would go," the 29-year-old said.
"It did help a little bit, but I love getting into a contest and into a battle with those bowlers.
"People think I'm this big, muscly guy that can give it to people on the field and whatnot, but that's just how I play my game, that's how I get up (for the occasion) and it's what helps me strive to succeed for our team.
"It's being in your face, and that's what I was brought up doing playing cricket. I remember grade cricket as an 18, 19-year-old, if you were going to get anywhere, you had to have thick skin because you were getting sledged left, right and centre.
"It made me a tough person. That's why I'm probably no-holds barred (with my attitude), because that's where I like to go with my cricket – I like to be aggressive, and that shows with the bat as well."
Kohli also spoke last week about his upbringing in Delhi, a heaving city of more than 15 million people, and how it was crucial in forming his attitudes to the game.
"I come from a city where you always had to fight your way up the system," Kohli said.
"And I think things that happen in your life make you mentally tougher and things don't bother you after a while because you know you're working hard enough.
"You don't really go out there and take unnecessary things being said to you from anyone.
"I follow that in life and I follow that in cricket as well," the Indian Test captain added.