'I am not angry, I'm disappointed. I should have carried on but I got out.'
Image: Captain Mahendra Singh Dhoni leads his side back from the field. Photograph: Scott Barbour/Getty Images.
Taking full responsibility for the inexplicable collapse against Australia in the fourth ODI, in Canberra, on Wednesday, captain Mahendra Singh Dhoni said he should have steered the team home after fluent centuries from Shikhar Dhawan and Virat Kohli.
Chasing 349 for victory at the Manuka Oval, the visitors were cruising at 277 for one before they lost nine wickets for 46 runs and nosedived to 323 all out in 49.2 overs.
Dhoni was obviously disappointed after the 25-run defeat which left India 0-4 down in the five-match series.
"I am not angry, I'm disappointed. This was one game we should have batted much better. I'll take responsibility.
"I should have carried on but I got out. There was a bit of pressure on the youngsters. International cricket is all about pressure, you think about the right shot.
"You realise you have to take a bit more time and take the game slightly to the end," said India's captain, at the post-match presentation.
Later, at the post-match media conference, he said, "We lost quite a few wickets there, but mainly it was my wicket, according to role and responsibility in the side."
Dhawan (126) and Kohli (106) put on a 212-run second-wicket stand to put the hosts on the backfoot before Kane Richardson's five-wicket haul flattened India's chase.
Dhoni not only praised the two centurions, but also defended the inexperienced Indian bowling attack.
"Rohit (Sharma) batted very well with Shikhar. And Dhawan and Kohli batted majestically. In the last five years we have not had a fixed bowling line-up other than the spinners. That pushes us to the extreme to get some extra runs," he said.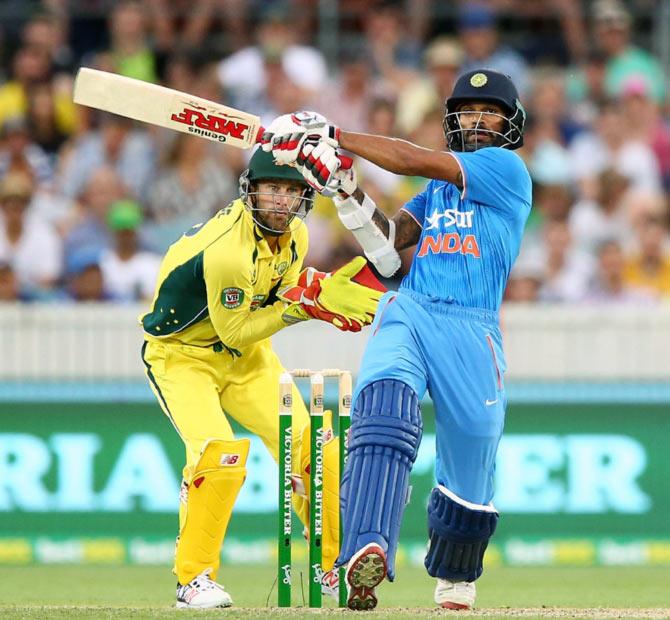 IMAGE: Shikhar Dhawan hammered the Australian bowling, hitting 14 fours and two sixes during his 113-ball 126. Photograph: Mark Nolan/Getty Images
Dhoni surprisingly attempted to dwell on the positives from the match.
"We are definitely disappointed, but you want to take the positives. If we could have batted better than we did after I lost my wicket, this game could have gotten over in 46th or 47th over. You look at it that way. And I feel there were a lot of positives in today's game, especially in the batting department.
"Rohit's knock gave the opening push and the next partnership between Virat and Shikhar was fantastic.
"It all depends on how you want to take it. After the first three losses, people were saying it was difficult to come back, but in this game we came back really well. It also gave a glimpse of what you see in the T20s, a lot of flamboyant cricket."
He admitted that Rahane's webbing injury was a factor.
"Yes, Rahane's injury was also a factor. He had a few stitches and he had taken local anesthesia, so we had to wait and push him down the order until he got some kind of feeling back in his hand. Then only he could bat," he said.
Some of the youngsters like Rishi Dhawan, Gurkeerat Singh Mann were out playing poor shots but Dhoni defended the duo.
"That's what pressure does to you. A few of them haven't played a lot of international cricket. With time, they will realise that they have to build a partnership and once you get used to the pace and bounce of the wicket, you play the big shots.
"It's only a first few games they have played and for the first time in their career, they were under some kind of pressure so hopefully they are learning."
On a roll, Australia skipper Steven Smith not only praised Dhawan and Kohli's effort, but also gave full credit to Richardson and his team's never-say-die attitude.
"It looked like they were cruising; a couple of wickets swung things. Richardson did very well as well. You had to try everything when Kohli and Shikhar Dhawan were batting; it felt like we needed 15 or 16 fielders. We had a never-say-die attitude tonight. When we had a sniff, we made a run for it," Smith said.
Richardson, who registered his maiden five-wicket haul in ODIs to earn a well-deserved Man of the Match award, was over the moon.
"It's a funny old game, cricket! We always knew it would speed up once we got a wicket but we did not get it. (John) Hastings could be up here as well. You try and bowl good balls but sometimes they go for sixes. It's our job to try and stop them," said the 24-year-old medium-pacer.