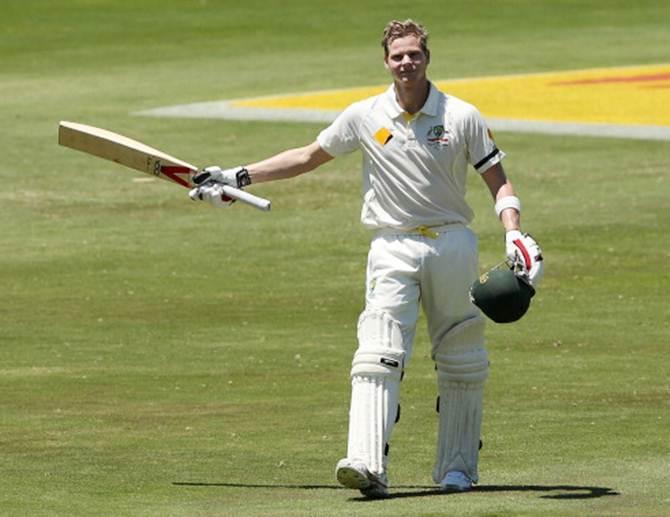 Australia's Steven Smith celebrates after scoring 100 runs during Day 2 of the first Test against South Africa on February 13, 2014, in Centurion, South Africa. Photograph: Morne de Klerk/Getty Images
As serious doubts remain over Michael Clarke's participation in the first Test against India, Steven Smith is being seen by many as a front-runner to lead Australia in the regular skipper's absence.
Even though vice-captain Brad Haddin is expected to step up as skipper in Clarke's absence when Australia take on India in Brisbane in the first Test on December 4, many have called for Smith to get his opportunity, as he is seen as the long-term successor.
On Friday, Smith scored a brilliant century to lead Australia to a series-clinching three-wicket victory over South Africa in the fourth One-Day International between the teams. He hit a career-best ODI total of 104 from 112 deliveries as the Australians, struggling after the top-order collapsed to 98 for 5 by the 25th over, overhauled South Africa's 267-8 with six balls to spare at the Melbourne Cricket Ground.
Former Australia captain Kim Hughes urged Cricket Australia to roll the dice by elevating Smith to the Test captaincy if hamstrung Clarke is ruled out of the opening match for the Border-Gavaskar Trophy at the Gabba.
"What's the point of picking Brad Haddin? Give the young bloke a go. Smith did an outstanding job in last year's Sheffield Shield final. He batted himself at three. He led from the front. He looks a natural to me and he'd have help there in Haddin behind the stumps. Australia will have a strong bowling attack for him to play with," Hughes told The Australian.
"It's against India and it's in Australia. It's not like we're facing the West Indies in their prime. India won't have MS Dhoni so he'll be going toe-to-toe with an inexperienced Indian captain. Give him a shot. My gut feeling is that he'd do an outstanding job against an average Indian side," he said.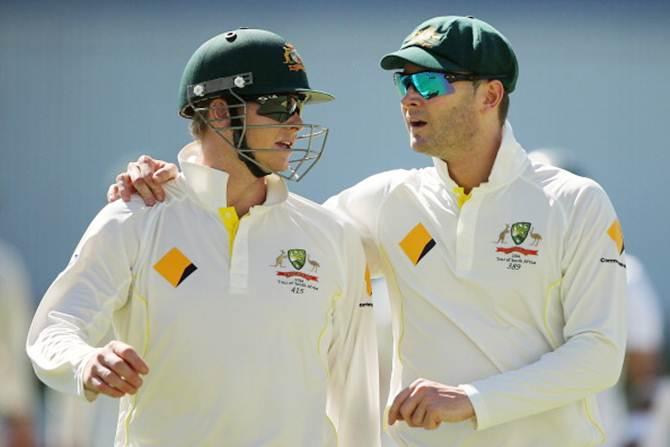 Michael Clarke (right) speaks with Steven Smith during Day 3 of the second Test match between South Africa and Australia at AXXESS St George's Cricket Stadium on February 22, 2014, in Port Elizabeth, South Africa. Photograph: Morne de Klerk/Getty Images
Echoing similar views, Australia cricket legend Glenn McGrath has said Smith was the man for the job.
"They've probably earmarked someone like Steve Smith to be next Australian captain. Maybe they wanted it a little bit further down the track but I think Smithy will do a great job. He's captained NSW so if the opportunity came along, Steve Smith I think would be the guy to go to," he said.
But its not just former players backing Smith for the top job, Australian wicketkeeper Matthew Wade has also backed him to lead the Test team in Clarke's absence.
"I'm sure Michael's going to hang around for a lot longer than what everyone thinks," Wade told SEN radio station.
"The way that he's gone about his business since he's been captain and the 18 months that the Australian cricket team has, I'm sure Michael's going to be around for a few more years, but that probably works in Smithy's favour even better - he can get a few more Tests under his belt and take over," Wade said.
However, not everyone is backing Smith, with Mike Hussey warning that while he sees great leadership qualities in Smith, now is not the time to throw him in the deep end as Test captain.
Having turned 25 in June, Smith would become one of the youngest ever Australian Test captains, behind only Ian Craig (22, 1957) and Hughes (25 years and 57 days, 1979).