'This team can be more than a super power'
'When you have such a system, then you will automatically have politics in cricket and that is our problem now'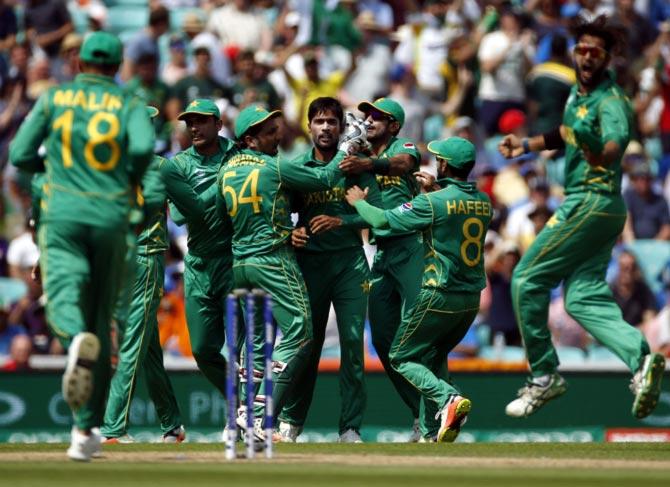 IMAGE: Pakistan's players celebrate the wicket of Virat Kohli during the Champions Trophy final on Sunday. Photograph: Paul Childs/Reuters
Former Pakistan captain Imran Khan says the current Pakistan team has the potential to become a force in international cricket even as he lamented the country lacks system to polish raw talent.
"Our team was a super power in world cricket then. But this team has the potential to be even better than a super power," Imran, who led Pakistan to 1992 World Cup win, told reporters.
Lauding the team, led by Sarfraz Ahmed, for winning the Champions Trophy title, Imran said he was very happy to see that Pakistan cricket was still producing laudable young talent.
"The problem is that we don't have the system to polish this young and raw talent properly and professionally. Yet it keeps coming through."
Imran, who is now a seasoned politician, felt that the captain and the management should now build on the Champions Trophy win and start preparing for the 2019 World Cup.
"It was an amazing turnaround from these boys. Congratulations to them."
Imran, however, lamented that Pakistan despite having a huge population was nowhere in other sports globally and has lost its stature in hockey and squash.
"At one time I remember our hockey team and squash players won world titles regularly and were unbeatable. Today we are struggling in both sports," he said.
IndiathrashedPakistan 7-1 in the FIH World Hockey League semi-finals in London around the same time the cricket team outclassed the Indian team in the Champions Trophy final.
"We don't have even a single proper representation to win medals in the Olympics."
Imran also said nowhere in the world did the President or Prime Minister appoint the Chairman of the cricket Board.
"When you have such a system, then you will automatically have politics in cricket and that is our problem now. We still do well because of the immense raw talent we have at home."
Imran said that Pakistan had produced several champions in corruption, an obvious reference to his political opponents.
"We have champions in corruption who are very good at taking money out of the country."