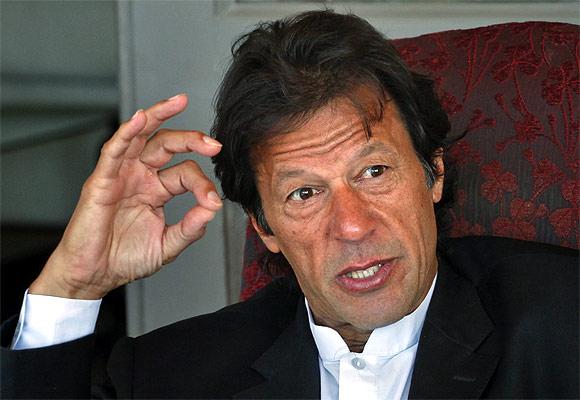 Leading the race to become Pakistan's Prime Minister, Imran Khan will always be first and foremost the enigmatic 'Kaptaan', who pulled off the impossible -- transform an immensely talented but fractious bunch of cricketers into world beaters.
There were many international captains during the '80s but there was only one leader on the cricket field and that was Pakistan's Imran Khan.
It was an era when India lost more often to Pakistan (in Sharjah mostly) and those who would be glued to Doordarshan on their black and white TV sets during the balmy October or November afternoons, would secretly wish that Imran was leading their team.
Perhaps Sanjay Manjrekar, in his critically acclaimed autobiography 'Imperfect', put it aptly that he would have been a better international cricketer had Imran been his captain.
During his time, Imran was one of the finest all-rounders, a world class fast bowler but perhaps it is the cult status he attained due to his leadership that made him stand out from the pack.
"He was their captain, coach, chief selector everything. I don't think during his years as Pakistan captain, the establishment could take him on. He had an eye for talent and was extremely headstrong," former India spinner Maninder Singh, who had played a number of matches against the Pakistan side through '80s told PTI.
There were four cricketers who fought for the best all-rounders' tag in the 1980s and were vastly different from each other.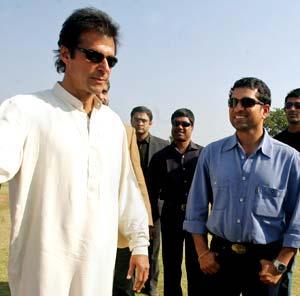 Kapil Dev was a natural talent with a toothy grin and an earthen persona. Richard Hadlee was a meticulous planner and discipline personified.
Ian Botham was a maverick, who could be a genius on his day.
And there was Imran Khan, the Oxford educated debonair, deep baritone adding to his persona, who could unsettle best of the batsmen with his "in-dippers", not to mention the charm offensive he could turn on in his public dealings.
Wasim Akram was more artistic than him as a bowler but he wouldn't have been half the bowler had his 'Captain' not stood at mid-on to guide him.
Akram became the finest exponent of reverse swing and learnt the then considered 'dark art' from his captain, who had learnt it from Sarfraz Nawaz.
Imran had an eye for talent. During one afternoon, he happened to switch on the TV and a domestic match was on. What caught his attention was a young fast bowler with a slinging action.
He immediately called up PCB officials to enquire about the boy and was told that his name is Waqar Younis. The rest was history.
He unearthed a young Inzamam-ul-Haq during the victorious 1992 World Cup campaign.
But his biggest achievement as captain was how he handled Javed Miandad -- the best batsman in his team and a feisty character himself.
Imran and Miandad were like chalk and cheese. Imran, the man with command and poise from Lahore's upmarket Zaman Park, while Miandad the chatty street fighter from Karachi.
Once Imran was asked about Miandad's antics and his legendary one liner was "The process of evolution has bypassed Javed".
Even while discussing his leadership skills, one can't ignore how big a cricketer Imran was.
Imran started off as a fast medium bowler with a whippy action and till the late '70s, remained an erratic bowler with a tendency to spray the deliveries all around.
However, at the turn of 80s with a lot of English county years behind him and a few surgeries, Imran changed his bowling run-up with a pronounced jump before delivery that became his signature style.
He became a nightmare for the touring Indian team during the series of 1982 when he decimated a batting line up of Sunil Gavaskar, Dilip Vengsarkar, and Gundappa Vishwanath to name a few.
Only Mohinder Amarnath held his own throughout the series as Vishwanath, as graceful a batsman one would ever see, was pushed into retirement.
It was an era where cricketers had more grace and statesman like attitude.
Gavaskar would always jokingly say that he prayed that the first ball bowled by Imran would be a full toss so that he could at least take a single.
Imran, on his part, maintained that the 96 scored by Gavaskar in his farewell Test innings at Bengaluru is the finest he has ever witnessed on a turning track.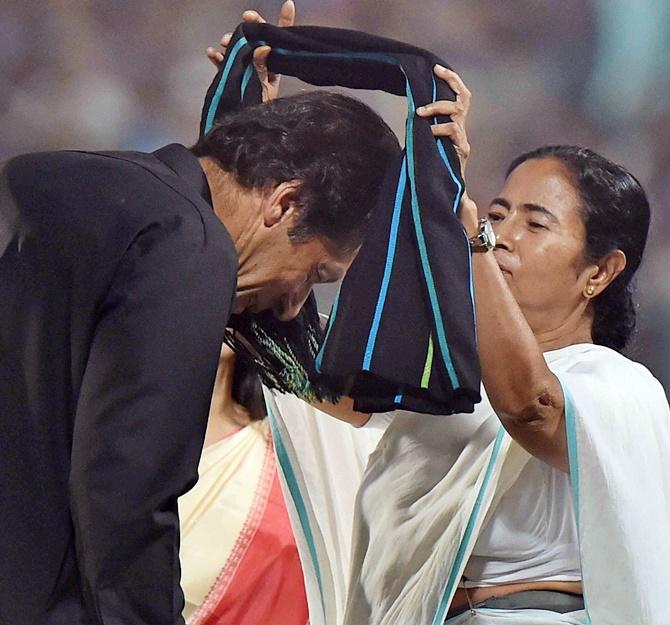 His popularity in India was unmatched in an era when there were no smartphones to take selfies. He was mobbed everywhere he went.
He endorsed popular soft drink brand Thums Up along with Gavaskar.
Also appeared in commercials for Indian soap brand Cinthol at a time when Bollywood heartthrob Vinod Khanna was also endorsing the same product.
Such was his stature that despite having retired after the 1987 World Cup, he was forced to come back from retirement to take a final shot at glory and did he have it.
The 1992 World Cup was one where he played more as a batsman and rarely bowled his quota of overs due to a shoulder injury. In fact, he played on pain-killing injections.
The defining picture of that World Cup would be Imran wearing a white round neck t-shirt before the toss talking to Ian Chappell. The T-shirt had a cornered tiger embossed on it and was reflective of probably how the skipper felt.
He played an unattractive but effective knock in that final and took that last England wicket in what turned out to be a fitting finale to a colourful cricketing career.
The bare-chested Imran with a heavily bandaged shoulder grooving to Nusrat Fateh Ali Khan's "Allahu" still is a YouTube hit.
About the politician, no one knows, but Imran Khan the cricketer and a leader would always be revered.