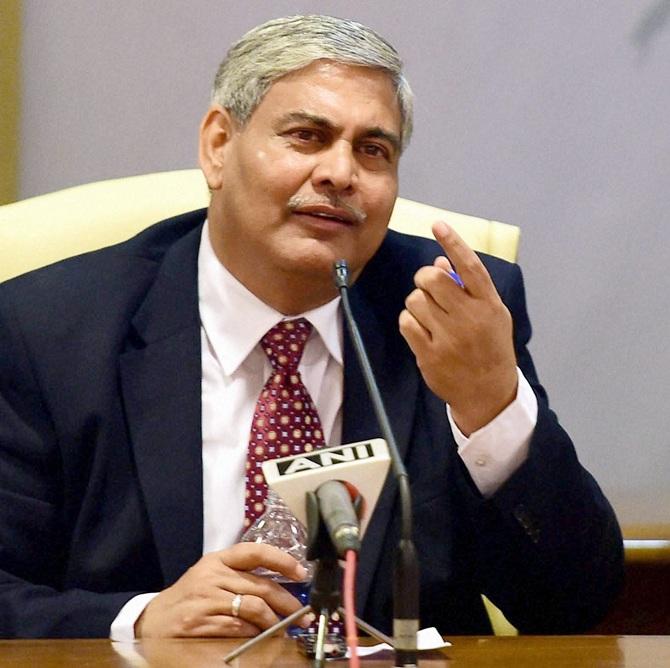 Having stepped down as president of the embattled Indian Cricket Board that is facing the heat from the Supreme Court, Shashank Manohar said he quit as he was not capable of implementing the recommendations of the Justice Lodha Committee and see BCCI's structure collapsing.
"I did whatever was good and in the interest of the Board even before the Lodha committee recommendations were given. I'm not a person who is capable of implementing them," the Nagpur lawyer, who has become the first independent chairman of the International Cricket Council, said in Mumbai on Saturday.
"There may be more capable people in this Board than me who can implement these. I can't see an organisation being destroyed which has been built by so many persons," he said.
"Today in the entire world of cricket India is doing better in administration, infrastructure, cricket and finances. What more can you expect? No institution in this world is perfect.
"I also believe it's people who make a difference. Statutes are only provisions to make the difference. You need good people to run an organisation and not laws," Manohar explained.
He said the Board had already implemented 75 per cent of the Lodha panel's recommendations for sweeping reforms in the BCCI, but had reservations on a few of them which, he felt, were not good for the game.
"When I took over this Board, the Lodha Committee work was in progress. Even before the recommendations came many of them had already been implemented by the Board. Seventy five per cent of the recommendations of the committee are very good. But I have reservations about 4-5 recommendations which are not in the interest of the Board," Manohar said.
He charted them out one by one and also explained the reasons.
The ones he said that cannot be implemented were: No TV advertisement between overs, one state one association, having franchise representatives in the IPL governing council, players sitting in the working committee, cutting down the selection panel from five to three members and cooling off period for office bearers
"If these things are sorted out then I think there is no other problem. Rest are fine and most have been implemented by the Board," said Manohar.
He also said as per the principles of natural justice the BCCI should have been called by the Lodha committee for deposing before submitting its recommendations to the Supreme Court.
"I honestly feel principles of natural justice was also required. I could not have foreseen what's going on in the minds of the committee and answered them. We don't know what was going on in the minds of the committee.
"The committee ought to have called the Board and told them this is what we propose to do, what do you have to say? What's principle of natural justice? First we have to be put on notice. The Board was never put on notice about these changes," said Manohar.
On the recommendation that no advertisement should be shown in between overs, Manohar said it will bring down the earnings of the Board to the 1980s level and impact several good schemes the Board has set up, besides affecting the holding of domestic matches at the junior level.
"It will destroy financial structure of the Board. It has appointed an agency to monitor that during telecast all six balls are shown and there's a penalty of termination clause in the contract itself if all six balls (in an over) are not shown.
"The Board generates its revenue through advertisements booked. The Board gets Rs 43 crore per game and if this is implemented the revenue will come down to only 15-20 per cent of what it is getting, from Rs 2,000 crore to 400 crore that will be Rs 300 crore after tax.
"As it is Star, the official broadcasters for BCCI, had written a letter to me when the recommendations came that they will like to renegotiate the contract as it was impossible to pay Rs 43 crore if ads (in between overs) were not shown.
"If ads are not shown the Board will go back to 1980s level. A lot of (welfare) schemes (for retired players) will be shut down. Around 900-1000 junior level games are played all over the year and they will not be possible," he said.
Detailing expenses in conducting games, Manohar said,
"For organising (seniors) matches and tours Rs 90-100 crores goes and Rs 125 crores are distributed to the players. Then the infrastructure has to be maintained by each association that needs Rs 2-3 crore per year excluding matches to be played. All these things will not be possible (if the recommendations are implemented).
"Today, the Board has a clout internationally that will disappear. According to me it's not wise to stop advertisement between overs. What we sell (to broadcasters) is 'live' feed (only) and not lunch and tea intervals. It's (recommendation) not in the interest of the Board."
Explaining the reason for opposing the one state one association recommendation, Manohar said it was wrong to assume that with Mumbai CA given full membership from Maharashtra and the other two (Maharashtra CA and Vidarbha CA) made into associates of BCCI, the last two can continue to play in domestic cricket.
"One state-one association recommendation is not correct. There is no equal representation in the Parliament for all states. The Supreme Court appoints judges from various states. There are more judges from Mumbai and Kolkata and there may not be anyone from the North East. It (rule) has to apply to everything.
"Many of these (BCCI) members (more than one from one state) - Baroda, Maharashtra Vidarbha, Saurashtra, Universities, Services, CCI and NCC - are founder members of BCCI which was formed in 1932. The State Re-organisation Act came in 1956. They are in existence for 85 years and built infrastructure in Mumbai, Pune and Nagpur (for example).
"The Lodha Committee recommendation says the other two associations (in same state) are allowed to play in domestic cricket. I fail to understand the constitution prepared by committee that out of these associations only one should be chosen as full member.
"If Mumbai is chosen, automatically Maharashtra and Vidarbha will be associate members. In the (proposed) constitution it says full members will have jurisdiction over the entire state. Then where am I (Vidarbha) going to select my players. From heaven? I cannot conduct a domestic game as I have to take permission from the full member. Therefore, there cannot be a team of Vidarbha and Maharashtra."
"Also by what logic can the Board decide about full membership? Mumbai is a cricketing hub and has won Ranji Trophy 41 times, Maharashtra has maximum districts within the area and Vidarbha has the maximum infrastructure. On what basis full and associate membership will be given," the former BCCI chief wondered.
He said the recommendation of Indian Premier League franchisee representatives be given a place in its governing council would go against conflict of interest issues, the very basis on which the Lodha committee was formed.
"The Committee says two members from IPL franchises should be in the IPL Governing Council. According to me this entire matter went to the Supreme Court due to conflict of interest because N Srinivasan (former BCCI chief), as owner of Chennai Super Kings, was sitting in the IPL GC. Because of that the Lodha committee was formed and conflict of interest rules were framed.
"This is a situation which creates clear conflict as decisions taken at IPL Governing Council are about IPL franchises. I cannot sit as a judge for my own cause.
"How can you have an IPL franchisee sitting (in IPL GC)? They (Lodha Panel) says by rotation every year two franchises should come in. That means franchises debarred for misconduct can (also) come and sit. This cannot be implemented as it is a clear case of conflict," he elaborated.
Manohar explained that his suggestion to the BCCI for three independent persons with expertise in administration and finance was kept in abeyance pending the Lodha panel recommendations, which had then not been submitted to the Supreme Court.
Manohar said he had no issue over the size of the BCCI's apex committee, but said nowhere in the world do active players sit on an administrative panel.
"I have no issues on number of persons in the apex committee, but nowhere in the world players sit on the board of directors. It's also wrong to tell the Board you fund another association created by the players.
"Even where FICA (world players' body) exists they don't sit on the management board. They are consulted on cricketing matters. We (BCCI) also have committee of cricketers who deal with cricketing matters.
Manohar felt the five-man selection panel was an operational matter of the BCCI and was needed due to the large size of the country.
"It's an operational matter. Tomorrow a scenario can happen and all three selectors can be from one place. So many matches are held all over the country simultaneously and it's physically impossible for selectors to travel all over and watch. An operational matter cannot be there in the constitution."
Manohar was also opposed to the recommendation that the BCCI office bearers should have a cooling off period to take up another post after their term ends.
"I have no issue with 9 years period for office bearers but with the cooling-off period there will not be continuity. Suppose some person is doing very well he cannot continue, it's for the board to decide.
"It's also not good for office bearers to be told not to hold positions in their home associations (concurrently). This is like -- if you become a minister you have to resign as MP. There is no favouritism or conflict of interest here."