'We have nothing to do with Dawood Ibrahim. Our government has made it clear time and again that he is not in Pakistan
'Cricket is one way we can build up better relations'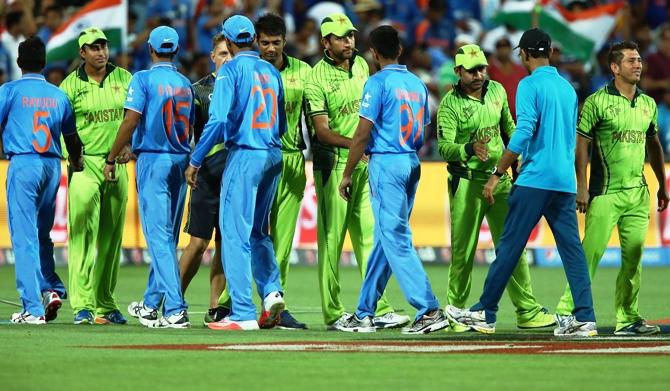 IMAGE: Players from both teams shake hands after the 2015 ICC Cricket World Cup match between India and Pakistan at the Adelaide Oval. Photograph: Getty Images
Pakistan Cricket Board chief Shahryar Khan has asserted that Pakistan cricket has survived without playing India in past few years and it will continue to even if the Board of Control for Cricket in India backs out of the series slated to be held in the UAE in December.
The PCB and BCCI had signed a Memorandum of Understanding to play six series between 2015 and 2023. However, the PCB is yet to get the Indian board's response to its letter last week, asking it to honour the 'binding agreement'.
Asked whether he sees the arch-rivals resuming on-field ties in December, Khan replied: "Well, it depends on your (Indian) government. Your board has signed an agreement with us that we will play in December. They said we will have to get permission from the government. We have written to the BCCI, asking them honour the agreement. We are not running after them. We are just saying you have signed something so please honour your signature," the former diplomat told PTI.
The PCB has often been criticised at home for reaching out to the BCCI time and again for resumption of ties.
The great Javed Miandad went on to say that the PCB must not play India at the cost of self-respect.
'Politics and cricket should be kept aside'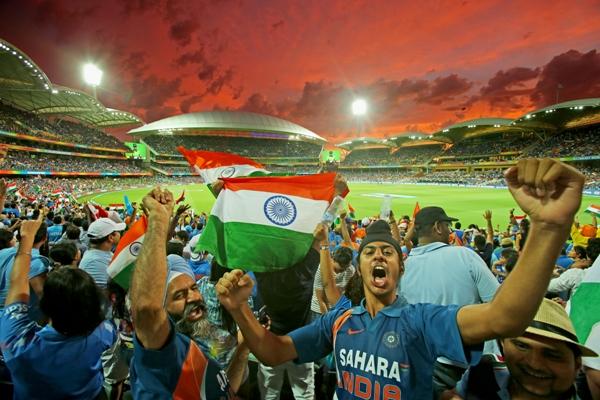 IMAGE: Indian fans in the crowd celebrate as a Pakistan wicket falls during the 2015 ICC Cricket World Cup match. Photograph: Getty Images
Reiterating that politics and sports should not be mixed, Khan made it clear that Pakistan will survive irrespective of the future of the high-voltage series.
"Suppose, for political reasons, the Indian government decides against playing Pakistan, it doesn't mean we will go bankrupt. We will survive. If we have survived without India-Pakistan cricket for the last so many years, we will continue to survive. Yes, it will be a setback, but that is about it," said the 81-year-old.
Like in the past, the Indian government will have a final say on the matter, but going by a recent tweet of BCCI secretary and BJP MP Anurag Thakur, it doesn't make fans on either of the side of border any more hopeful.
"We have nothing to do with Dawood Ibrahim. Our government has made it clear time and again that he is not in Pakistan. It is a part of political ups and downs. Cricket is one way we can build up better relations," said Khan, when asked about Thakur's controversial tweet last month.
'Dawood in Karachi. NSA wants to meet separatists here. Are you really serious about peace and you expect we'll play cricket with you?' posted Thakur on Twitter.
'There will always be ups and downs in India-Pakistan ties'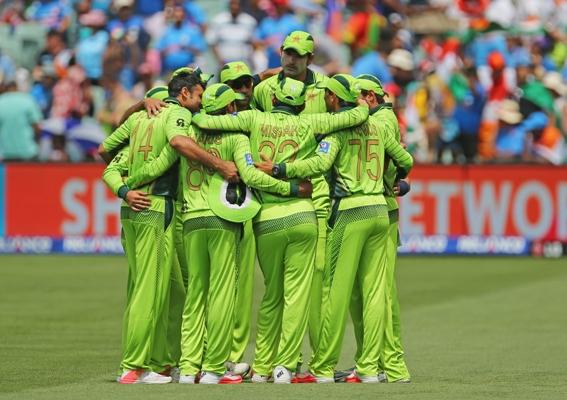 IMAGE: Pakistan players form a huddle during a 2015 ICC Cricket World Cup match. Photograph: Getty Images
Khan said that there can't be a deadline on Indo-Pak cricketing matters as most decisions are taken at the eleventh hour, but is hoping for a positive response from BCCI and the Indian government.
"The Pakistan government is in favour of cricketing ties with India. It is time for the Indian government to take a stand.
"Politics and cricket should be kept aside. There will always be ups and downs in India-Pakistan ties. We also came and played on your soil in 1999 when the atmosphere was tense; the public gave huge support to us, wherever we went.
"Then you came here after a long break in 2004.
"I have written to Jagmohan Dalmiya that you made it happen then (2004), you can make it happen now.
"In fact, cricket led to improvement in the relations between the two countries. The India-Pakistan series is the most-watched event in the sporting world. You can't deprive the fans from both sides from watching their cricketers.".
The Bhopal-born administrator also clarified that he never said India should reward Pakistan for supporting the powerful body in its joint takeover of the ICC alongside Australia and England.