'Once you start winning, you enjoy and feel relaxed. It's when you lose that you want to stay locked in the dressing room'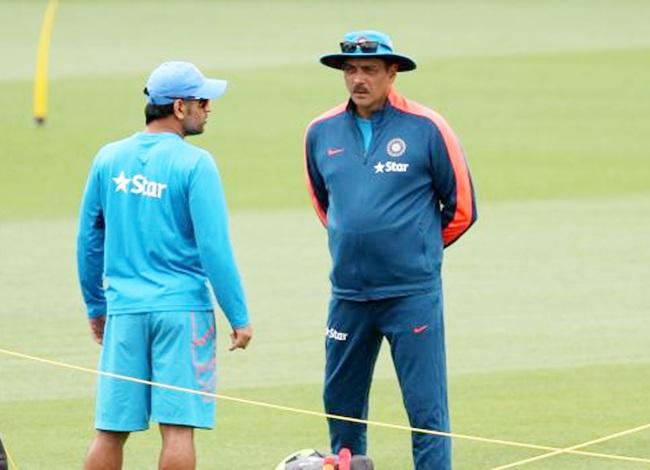 Indian captain Mahendra Singh Dhoni with Indian team director Ravi Shastri during the practice session at the Seddon Park Stadium in Hamilton. Photograph: Vipin Pawar/Solaris Images
Pumped up by a remarkable unbeaten streak, the Indian cricket team's director Ravi Shastri said the defending champions are well on course to lift the World Cup trophy for a second successive time.
Dhoni switched to Plan B: Take the pace off the ball and the oxygen out of the game
PHOTOS: India maintain clean sheet, crush Ireland by 8 wickets
India thrashed Ireland by eight wickets to record their ninth consecutive win in the World Cup overall, and fifth on the trot in the current edition, to top Pool B.
"It's a good position to be in, especially given that from now on, every game is a knockout. Once you start winning, you enjoy and feel relaxed, it's when you lose that you want to stay locked in the dressing room. Right now, the team is enjoying, they are playing football, they are a happy unit," Shastri told a television channel.
- VOTE: Who will win the 2015 World Cup?
- Don't Miss! The Rediff Cricket Show
- The World Cup, as never before on Rediff.com
Former Indian captain Sunil Gavaskar echoed Shastri's views and credited the team's bowlers for raising their game at the big platform.
India's Ravichandran Ashwin celebrates after dismissing Paul Stirling of Ireland. Photograph: Hannah Peters/Getty Images
"The bowlers deserve all the credit. They bagged 50 wickets in five matches, it is a wonderful achievement. Lot of times, the batsmen tend to overshadow them and they don't get credit but it is nice to see the bowlers getting some credit," he said.
Talking about India's campaign, Shastri said the side, which came into the tournament after a disastrous bilateral series against Australia, is quite confident of clinching the top honours.
"We were never here to fill in the numbers. We are not going to give any chances to any of our opponents and we are going to lift the trophy," he said.
Are you watching the World Cup? Please share your videos, photos and comments here