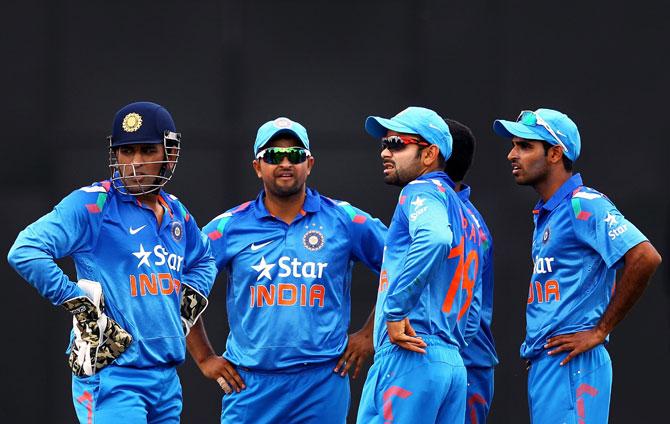 Indian players Mahendra Singh Dhoni, Suresh Raina, Virat Kohli and Bhuvneshwar Kumar wait for a decision. Photograph: Getty Images
Sachin Tendulkar believes the upcoming 50-over World Cup will be different from its past editions because of changes in rules and the advent of Twenty20 cricket.
"Obviously 2015 World Cup will be a little different. It is going to be a lot more competitive and important. The rules having changed, and with 20 -20 changing the norm in cricket, new and innovative batting styles are coming to the fore," said Tendulkar, who has the distinction of featuring in six ICC World Cups.
Tendulkar has teamed up with Aaj Tak and Headlines Today to provide in depth analysis of the game during this edition of the 50-over showpiece event.
Tendulkar, who bid good bye to cricket in November 2013, was part of India's World Cup-winning squad in 2011 when the Men in Blue carried the Master Blaster on their shoulders at the Wankhede Stadium. With the Bharta Ratna awardee now missing on the field, millions of his fans will find some cheer in the fact they will get a first-hand view of the game from the legend himself.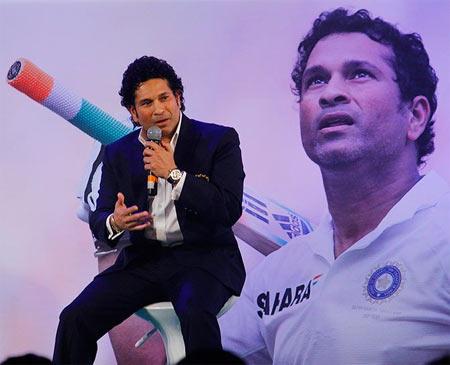 Sachin Tendulkar. Photograph: Hitesh Harisinghani/Rediff.com
Speaking on his association with the news channels he has tied up with, Tendulkar said, "The shows that I will be doing on Aaj Tak and Headlines Today are quite impressive and interesting.
"This is the first time that I am doing something of this sort and it will be a completely new experience for me. What makes this all the more special, is the fact that, I will get to share my experience of the last 6 World Cups with the youngsters, cricketers and budding talent.
"I am really excited that we could do so many shows of this kind. Most importantly, I would like to wish the very best to Team India to win the World Cup. Along with the Aaj Tak and Headlines Today teams, the whole nation is with Team India."
Commenting on Tendulkar's association, Chairperson and Editor in Chief of India Today Group Aroon Purie said: "He is the master who redefined the sport for the world's most passionate cricketing nation. A World Cup without him is nothing but unimaginable. His presence on the shows will help fill the void in cricket since his last match. It is an honour for the group to have the legend himself on our channels."