With seven wins in a row, Team India had it relatively easy in making it to the last four at t he World Cup. The defending champions are up against hosts Australia next. Uttam Ghosh/Rediff.com, looking at the lighter side of things, believes it is Shikhar Dhawan who holds the key.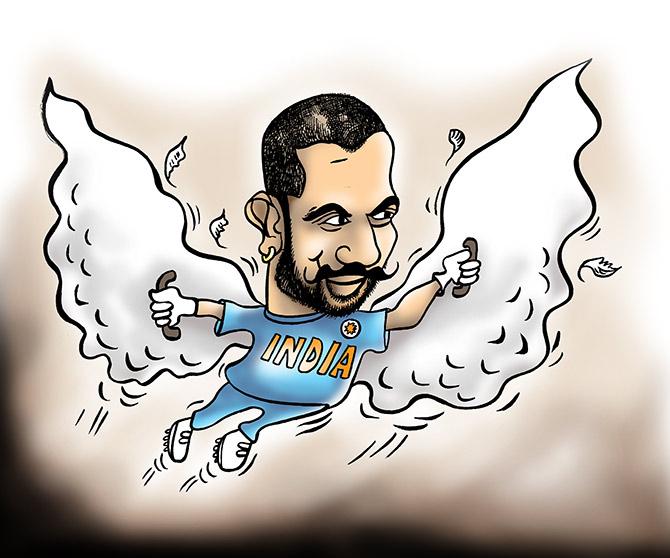 Illustration: Uttam Ghosh
Rohit Sharma may have hogged the limelight in India's quarter-final victory over Bangladesh, but when it comes to the consistency bit it is his opening partner who takes the cake.
Shikhar Dhawan is, by far, India's best batsman in this World Cup.
An aggregate of 367 runs in seven matches -- at an average of 52 -- puts him sixth in the list of the tournament's top batsmen. His efforts include a century against South Africa (137) and another against Ireland (100).
The above figures are for those into statistics.
However, Dhawan's performance is not just about the numbers.
They are also about the impact. The contribution he made in India's opening matches -- the two supposedly toughest fixtures in the group - against Pakistan and South Africa -- ensured the holders won both in a canter.
It is this impact that India will need when they take on the hosts in the semi-finals.
For starters, India has a woeful record against Australia, having lost 67 of the 117 matches played. Down Under, the Men in Blue's record is even worse. They were second best in 30 of the 42 meetings. Moreover, in the tri-series preceding the World Cup, India failed to win a match.
Experts opine the since the match is being played at the Sydney Cricket Ground India have the advantage. But figures indicate otherwise.
The Men in Blue have beaten the hosts just once, in 14 meetings, at the famed venue!
In such a scenario, it is imperative for India to start well and thereby put pressure on the home team. The team will look to Dhawan to do exactly that.