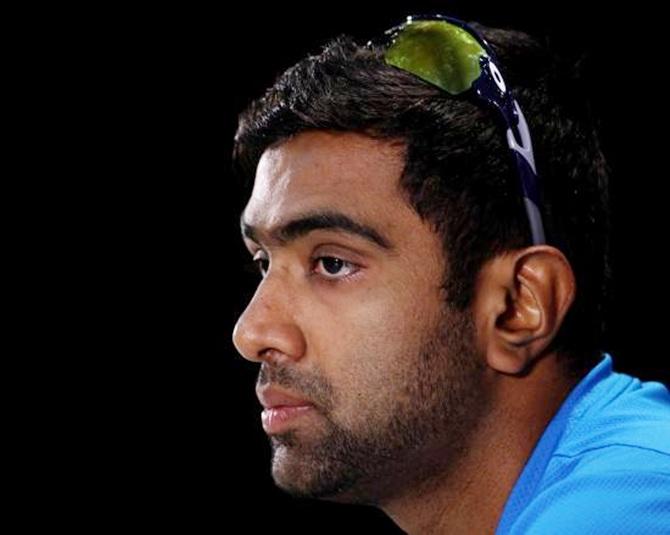 Ravichandran Ashwin during a press conference. Photograph: Vipin Pawar/Solaris Images
Ravichandran Ashwin may not be India's highest wicket-taker in the World Cup but the lanky off-spinner is not complaining.
The doosra: Dhawan can help Team India reach the Shikhar
Will 'big' player Kohli stand up against Aussies in semis?
Pitch perfect? Team India coach, Atkinson inspect SCG strip
How is Raina preparing for the massive Aus test in semis?
Fast bowlers Mohammad Shami (17) and Umesh Yadav (14) have taken more wickets than Ashwin as holders India, traditional spin powerhouses, have focused their attack on pace.
In five of their six group matches, the quick men ensured the longest India had to wait for their first wicket was the fifth over, allowing Ashwin and his fellow spinners the luxury of dominating the middle overs.
"As far as the spinner is concerned, when I come in, I've got that little bit more freedom," Ashwin told reporters ahead of the semi-final against Australia.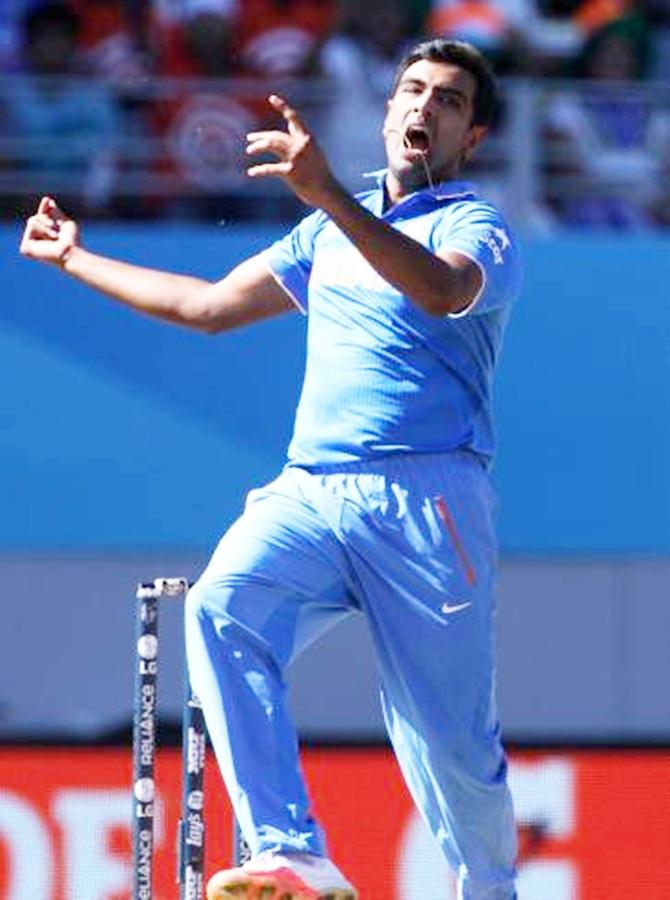 Indian player Ravichandran Ashwin celebrates. Photograph: Vipin Pawar/Solaris Images
In claiming 12 wickets, Ashwin has proved more economical than the pacemen, no mean feat for a spinner in a format in which rules and conditions favour batsmen so heavily.
The 28-year-old from Chennai has also relished the challenge of bowling to the best batsmen in the tournament, particularly in the powerplays.
"I think the batting powerplay is a very good time to attack because you don't give a lot of singles and it is pretty much about boundaries and wickets," he said.
"I like to throw myself in the middle and try and see how much of an impact I can make in a game against Chris Gayle or AB de Villiers.
"I look to get them out in the middle because once you get them out the game is going to go your way."
Temperament-wise a pace bowler in a spinner's disguise, Ashwin's control of his craft has been astounding, something he underlined with three maiden overs in India's high-pressure tournament opener against arch-rivals Pakistan.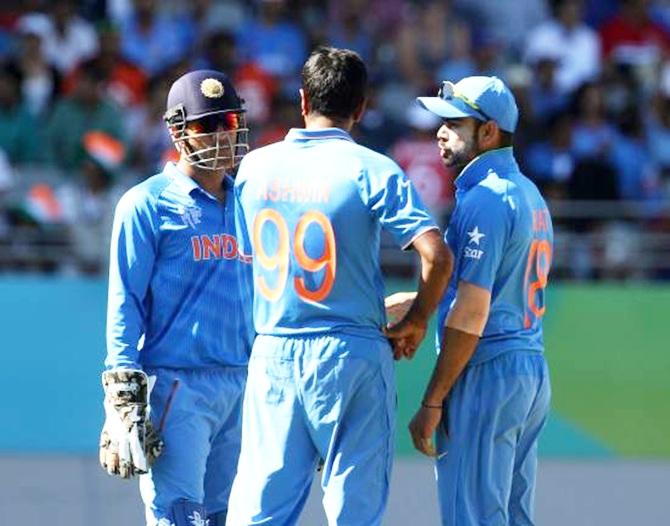 Ravichandran Ashwin, centre, with Mahendra Singh Dhoni, left, and Virat Kohli. Photograph: Vipin Pawar/Solaris Images
Ashwin has controlled his turn, stuck to an off-stump line and varied flight and pace to force batsmen into committing mistakes -- a recipe his team would expect him to repeat on Thursday against Australia.
"Ashwin is someone I have always loved to have in my side," captain Mahendra Singh Dhoni said after the win over Ireland.
"I have always pushed him to bowl in the powerplays and difficult situations. He is really confident about his bowling. He understands his bowling well.
"The good thing with him is he keeps improving himself. Every time he is part of the series, he sees the challenges and accordingly improves," Dhoni added.
Are you watching the World Cup? Please share your videos, photos and comments here