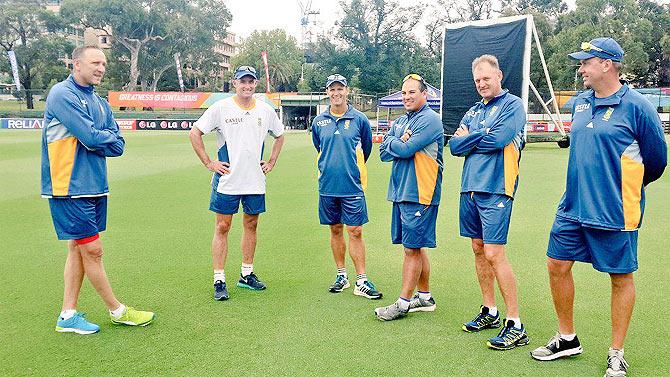 Allan Donald, Mike Hussey and Gary Kirsten oversee a South African training session on Wednesday. Photograph: Cricket South Africa/Twitter
South Africa's record against India in the World Cup is an enviable 3-0, having convincingly won their matches in three editions ('92, '99 and 2011). However, the Proteas are leaving no stone unturned to improve on that when the teams square off at the Melbourne Cricket Ground on Sunday.
To combat the defending champions, the South African team management has brought in experience worth 26,845 runs and 602 wickets at the international level.
The runs are an aggregate of what Gary Kirsten and Mike Hussey have scored at the international cricket level across formats, while the wickets are Allan Donald's during his 12 years in international cricket.
So while the South African cricketers went about their job at a training session, the trio kept a hawk eye on the proceedings at the St Kilda's Oval Junction ground on Wednesday.
In fact, Hussey, who will be playing in the eighth edition of the Indian Premier League for Chennai Super Kings, studied the batsmen, especially the likes of J P Duminy and Quinton de Kock as they played the spinners in the nets.
A couple of left-arm spinners bowled as Duminy, De Kock and Hashim Amla batted in the nets.
A net bowlers of Indian origin was asked if there was any specific instruction given to him.
"I have been told to try and bowl exactly what Ravindra Jadeja bowls," he replied, with a smile.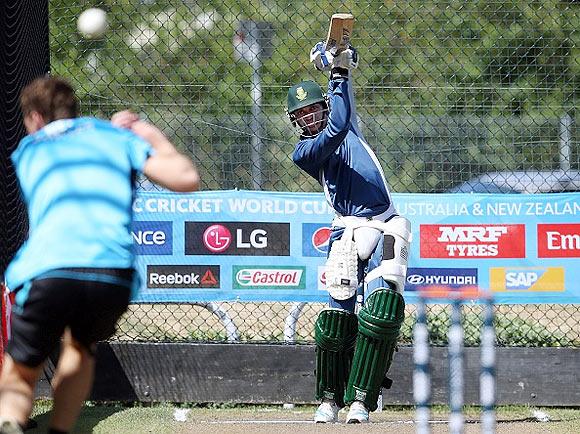 South Africa's Aaron Phangiso bats in the nets. Photograph: Getty Images
Hussey was later seen having a long chat with Duminy, who was doing some shadows to show him a few shots of spinners.
The Australian has been roped in as a consultant, specifically for the World Cup but he won't be travelling with AB de Villiers and Co after the India match.
"It's been a nice experience so far, but I won't be travelling with the team after this match. I am with them for this match," Hussey told PTI.
Kirsten, who was coach of India's World Cup-winning team in 2011, oversaw the proceedings and was involved in his customary throw-downs, while Donald kept an eye on the bowlers with a specific drill in mind.
Kirsten, in fact, arrived late on Tuesday after attending the IPL's player auction in Bangalore for Delhi Daredevils a day before.
Three different sets of cones were placed on three different lengths for the South African pacers. While Morne Morkel was told to hit the short of length area, Wayne Parnell was instructed to bowl a bit on the fuller side. Morkel was occasionally instructed to bowl at yorker length just at the base of the stumps.
Get Your Own New Team India Cricket Jersey at Rediff Today!