- 'Play hard, lead well & make India proud. Knowing you, I am sure you will.'
- 'Score many many runs, we are all there to cheer you.'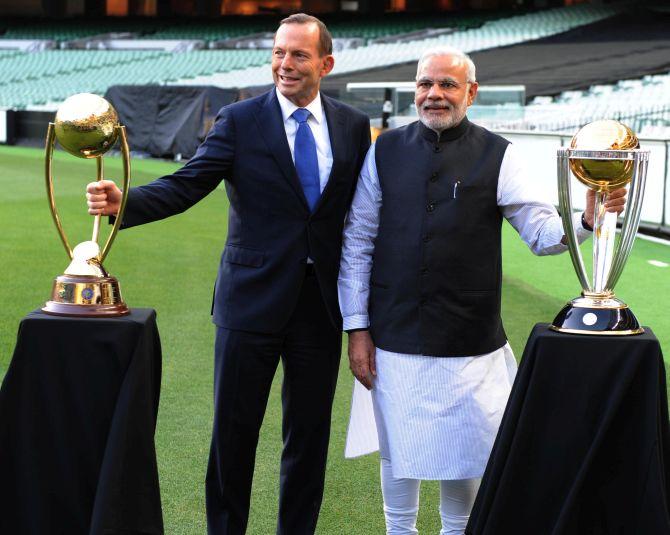 Prime Minister Narendra Modi and his Australian counterpart Tony Abbott pose with the World Cup trophies at the Melbourne Cricket Ground in November. Photograph: MEA/Flickr
Prime Minister Narendra Modi, on Thursday, sent his personal wishes to each and every member of the Indian team ahead of the ICC World Cup, starting in Australia-New Zealand on Saturday.
India begins its title defence against traditional rivals Pakistan in a high-voltage clash in Adelaide on February 15.
The winners of the 2011 tournament -- when it defeated Sri Lanka by six wickets in the final in Mumbai -- will also play Zimbabwe (in Auckland, March 14), South Africa (in Melbourne, February 22), UAE (in Perth, February 28), West Indies (in Perth, March 6) and Ireland (in Hamilton, March 10), the other teams in its group.
Check out Modi's tweets for the Indian players: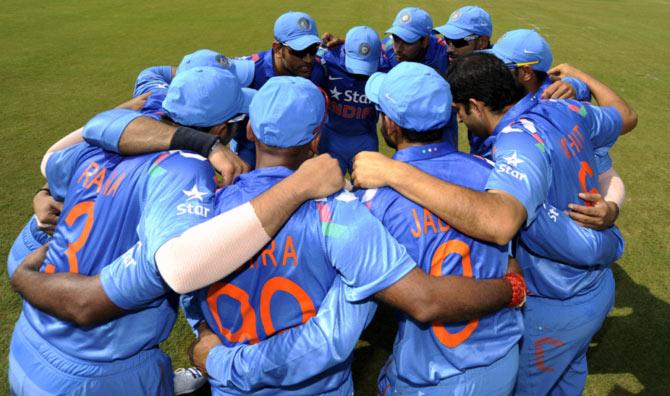 Mahendra Singh Dhoni: "My best wishes to captain cool @msdhoni. Play hard, lead well & make India proud. Knowing you, I am sure you will."

Virat Kohli: "I wish our flamboyant vice captain @imVkohli the very best for the upcoming campaign. The entire nation has a lot of hopes on him."

Shikhar Dhawan: "Best wishes @SDhawan25! Give India a wonderful start every time you step on the pitch. Score many many runs, we are all there to cheer you."

Rohit Sharma: "The only batsman to score 2 double centuries in ODIs, @ImRo45's talent has millions of fans. Make us proud once again!"

Ajinkya Rahane: "I wish you the very best my young friend @ajinkyarahane88. Have a wonderful World Cup. Make the most of this great opportunity."

Suresh Raina: "Suresh Raina has always been agile on the field & hard-hitting with the bat. Hit them out of the park, including the bouncers :) @ImRaina."

Ambati Rayudu: "Have a great tournament @RayuduAmbati. I am sure you will keep the runs coming & play a key role in the tournament."

Ravindra Jadeja: "Who is not a fan of Sir Jadeja? We all look forward to seeing your all round performances take India to victory! @imjadeja."

Ravichandran Ashwin: "I am sure your spin blowing will surprise the batsman & give us victory. Play well @ashwinravi99! My good wishes."

Axar Patel: "The young Axar Patel can trick the batsmen with his sharp spin & bounce. Give your best & play without pressure!"

Bhuvneshwar Kumar: "Best of luck @BhuviOfficial! Swing every match in our favour. Your breakthroughs will determine how fast we will win those matches!"

Mohit Sharma: "Our young fast bowler Mohit Sharma can bowl a great line & length. He is a great asset to the team. Best of luck."

Mohammed Shami: "I wish my young & extremely talented friend, Mohammed Shami the very best for the World Cup. Play well & get those wickets."

Stuart Binny: "Stuart Binny's recent all round performances have impressed all. We wish him all the best for the World Cup."

Umesh Yadav: "Good luck @y_umesh. Bowl out the batsmen with your impressive speed & reverse swing."