'I did cry when I went out in the middle... I did cry. This was the only time I had happy tears... because that moment was just a priceless moment. That moment was something that you can only dream of'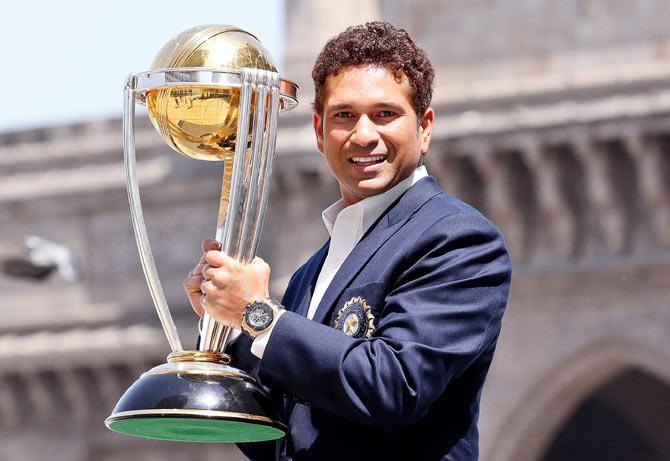 Sachin Tendulkar poses with the ICC Cricket World Cup Trophy, at the Gateway of India at the Taj Palace Hotel, in Mumbai on April 2, 2011. Photograph: Ritam Banerjee/Getty Images
Revealing an unknown emotional side to his personality, retired batting legend Sachin Tendulkar recalled how "happy tears" rolled out of his eyes when India won the 2011 World Cup, and termed the moment as "priceless".
Narrating the final moments when India defeated Sri Lanka, the iconic cricketer said he thanked the Gods, screamed and ran out of the dressing room to the middle.
"I did cry when I went out in the middle... I did cry. This was the only time I had happy tears... because that moment was just a priceless moment. That moment was something that you can only dream of," remembered Tendulkar.
"Playing in India, on the home ground...The Indian team celebrated with lots of champagne as their families, friends and fans also joined in the dressing room that night."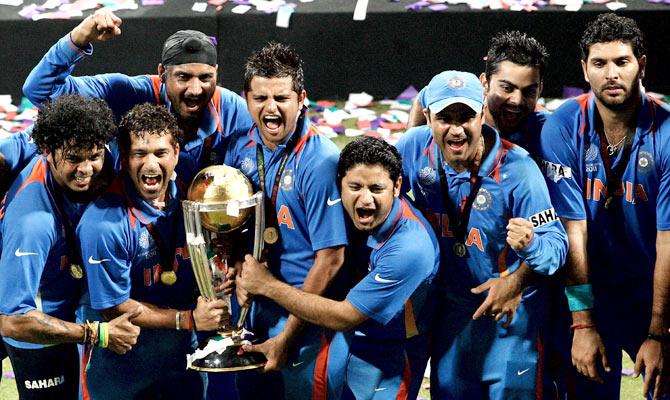 India players celebrate after defeating Sri Lanka to win the 2011 ICC World Cup. Photograph: Graham Crouch/Getty Images
Tendulkar further revealed that nothing came close to that moment when he lifted the World Cup.
"It was not my trophy, it was our trophy, it was the nation's trophy," Tendulkar told Headlines Today.
The 41-year-old, who retired from international cricket in November 2013, said while the team was confident of lifting the Cup it guarded against complacency.
"Anything is possible in sports and I was hoping that we continue that form as we were playing good cricket...I knew that we had the firepower to finish the game easily," Tendulkar, who has featured in a record six World Cups, said.
India lifted the World Cup after a gap of 28 years in Mumbai and Tendulkar felt the team peaked at the right time.
"We didn't start off as well. We were either not bowling well or batting well. Put together as a package we were not clicking. If we batted well, we did not bowl well and if we bowled well, batting was not up to the mark. We started peaking at the right time and both started becoming a formidable package. Obviously we fielded well also," he said.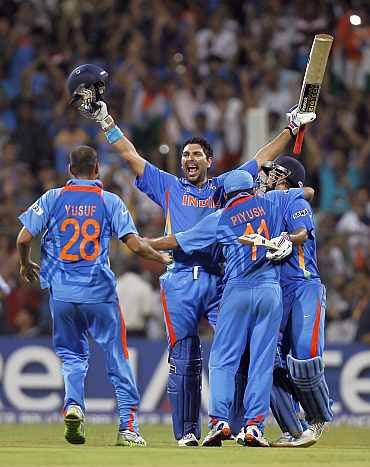 India's Yuvraj Singh celebrates with teammates after winning the World Cup against Sri Lanka in Mumbai. Photographs: Reuters
Heaping praise on the entire 2011 team, he acknowledged that all the players performed well.
"Ashish Nehra, Munaf (Patel), Zaheer (Khan), Harbhajan (Singh)...they were all aggressive and you got to hold these guys back. It matters how you show your aggression," Tendulkar, the most successful batsman in ICC's pinnacle event with 2,278 runs in 45 matches, including 482 in nine games in India's successful campaign in the 2011 World Cup, said.
"Viru is a very unpredictable batsman. The opposition would not know what he was going to do. Standing at the non-strikers end, I had started to figure out what he was going to do. For Yuvraj, something happened right from the first game and that continued till the last game."