Coach Duncan Fletcher devised innovative methods to help batsmen counter short-pitched deliveries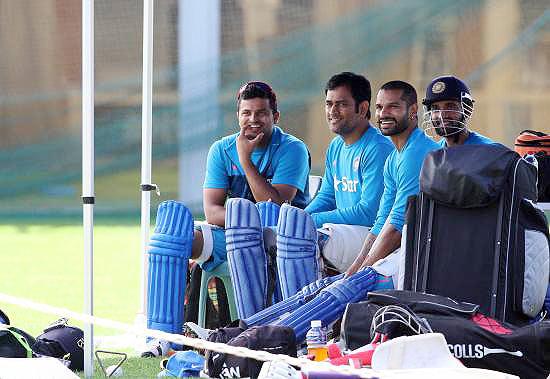 India's Suresh Raina, captain Mahendra Singh Dhoni, Shikhar Dhawan and Ajinkya Rahane during a practice session at the Sydney Cricket Ground on Monday. Photograph: Vipin Pawar/Solaris Images
Suresh Raina is pulling out all stops to kill his inner demons by spending a lengthy time at the nets, trying to counter rising deliveries by facing powerful "tennis serves".
Practising with wet tennis balls to counter the pace is an age-old concept but the training module adopted by the Indian team to help Raina, who nearly batted against tennis serves for 45 minutes, is unique in its own way.
- Don't Miss! The Rediff Cricket Show
- The World Cup, as never before on Rediff.com
While the 'Two Tool Theory' -- getting throw-downs from a height -- was introduced by team's support staff Raghavendra before the opening match against Pakistan in Adelaide, the current concept is introduced by Duncan Fletcher.
The Indian coach has adopted this method to mentally prepare in-form Raina to face the marauding Aussie quicks Mitchell Johnson and Mitchell Starc.
What caught everyone's attention during Team India's net session at the adjacent area outside Sydney Cricket Ground (SCG), was Raina's unique practice method which also showed his desperation to end his perennial trouble against the rising delivery.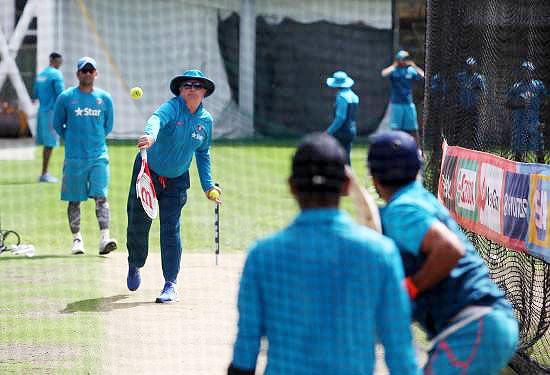 Indian coach Duncan Fletcher gives tennis ball practice to Suresh Raina during a nets session at the Sydney Cricket Ground on Monday. Photograph: Vipin Pawar/Solaris Images
While one batsman practiced in the net allocated for pacers -- one for spinners and other for throw-downs -- Raina was at the extreme left net with coach Fletcher who wielded a tennis racquet and ball.
To everyone's surprise, Raina batted against Fletcher's serves.
The concept for using a tennis racquet and tennis serve is simple. Because the tennis ball is light in weight, and if one uses the conventional throw-down stick (instrument used for leather balls), then it's difficult to get it to zoom off the deck. While a tennis serve on a grass turf will just kick up, thereby ensuring that the batsman gets a good practice against short stuff.
Fletcher was seen aiming at Raina's body as the left-hander was trying to play the hook shot. He connected a few, missed a few and miscued some.
While Fletcher did this for 15 minutes, probably the Zimbabwean felt the need for a more powerful and younger arm, who could impart more power on those tennis serves.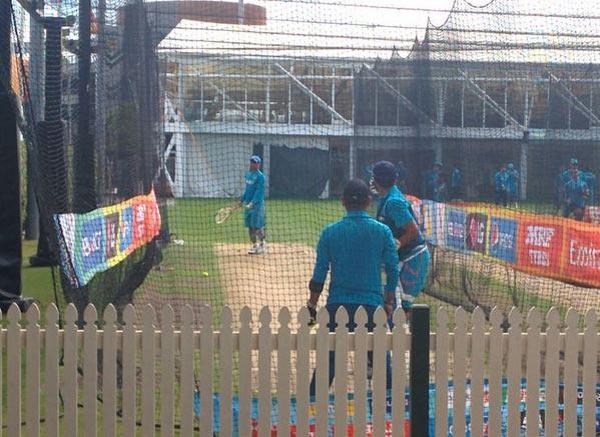 Indian captain Mahendra Singh Dhoni serves down tennis balls at Suresh Raina during a nets session at the Sydney Cricket Ground on Monday. Photograph: BCCI/Twitter
In came skipper Dhoni and in 'Pistol Pete' style started unleashing some booming serves for Raina, who didn't look comfortable at all.
Once between the session, Dhoni stopped serving and summoned Raina for a mid-pitch discussion.
Dhoni's serves had more power but he also delivered some 'wide bouncers', something that Starc normally bowls at the death.
The entire exercise went about for 45 minutes.
Later, Shikhar Dhawan also faced tennis serves but it was at the maximum for 10 minutes.
The method has been devised to help Raina as some of the other batsmen practiced for short-balls against Raghavendra's throw-downs with proper leather balls.
While Dhoni has time and again told the media not to make big deal of Raina's problems against short balls, Monday's net session was an indication how much it mentally affects a player when he struggles against a particular delivery.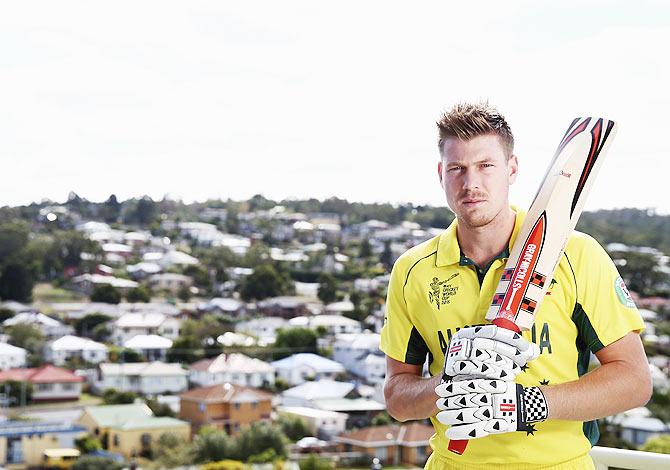 Australian all-rounder James Faulkner. Photograph: Ryan Pierse/Getty Images
Australian all-rounder James Faulkner said that teams do need to train against short balls in ODIs and he didn't see anything extraordinary in some of the Indian players trying to counter bouncers.
- Faulkner reckons team that starts well will progress
"I think naturally, in One-day cricket, short pitched bowling is used. I don't think it is going to be any different, be it India/Pakistan or any other opposition. They can train how they want to train, that is up to them."
When Faulkner was asked if short ball will play its part during the semi-final, the all-rounder was non-committal stating that they haven't had discussions specific to weaknesses of Indian team.
"Like I said before, a lot depends on the wicket. If there is bounce and carry, it depends on who you are coming up against. If you see a weakness you can try and expose. We haven't spoken about the Indian team yet, it is only Monday. At the moment, we will just concentrate on training and get ready to go. We will have our group discussion later in the week," Faulkner said.