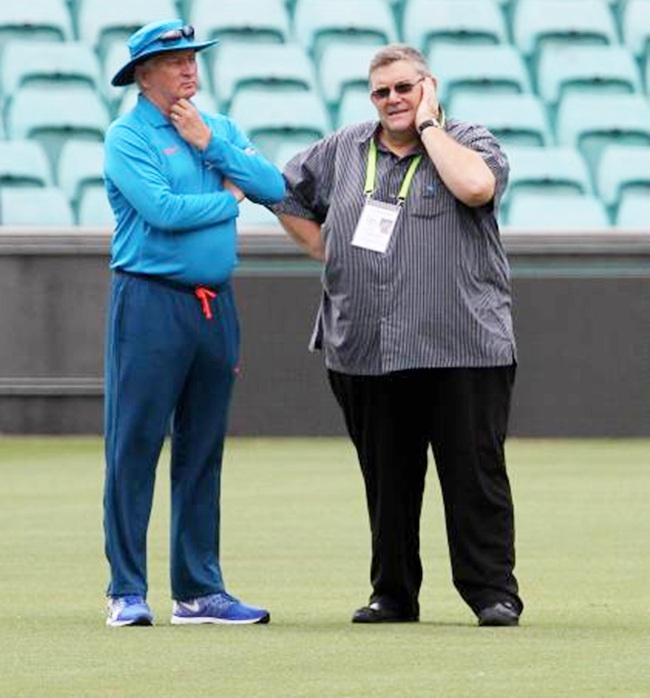 India coach Duncan Fletcher, left, speaks with Andy Watkinson, ICC Pitch Consultant during the practice session at the Sydney Cricket Ground on Monday. Photograph: Vipin Pawar/Solaris Images
The pitch at the Sydney Cricket Ground (SCG) has attracted so much attention in the past few days that ICC's chief of grounds and pitches committee Andy Atkinson was seen carrying out thorough inspection of the 22-yard strip, in Sydney on Monday.
How is Raina preparing for the massive Aus test in semis?
Faulkner reckons team that starts well will progress
Intensity high as bitter rivals India-Australia set for semis faceoff
Great debate: Will it be pace or spin friendly pitch at SCG?
Will 'big' player Kohli stand up against Aussies in semis?
There has been a lot of speculation about the nature of the track for the semifinal between India and Australia on Thursday.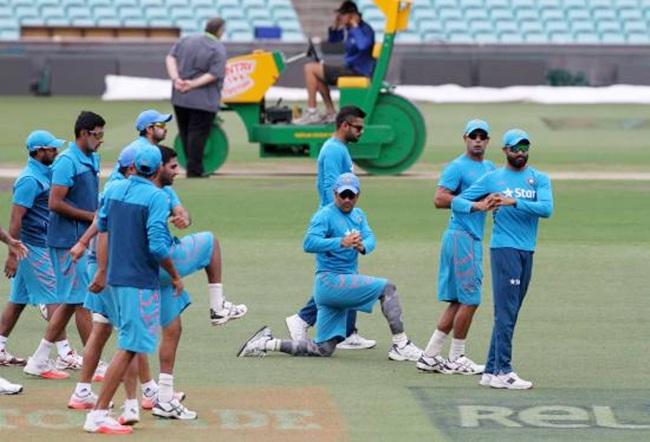 Indian players during the practice session at the Sydney Cricket Ground on Monday. Photograph: Vipin Pawar/Solaris Images
The Australian cricket team, very carefully through their players, have spelt it that it won't be a track offering help for spinners with Glenn Maxwell "expecting fair amount of grass on the wicket" and James Faulkner denying that Sri Lankans were bamboozled by Imran Tahir and JP Duminy.
Atkinson's role has become more significant as a lot will depend on what kind of instructions he gives to the local groundsmen including head curator Tom Parker Jr.
Don't Miss! The Rediff Cricket Show
The World Cup, as never before on Rediff.com
When Indians came for practice in the morning session, the quartet of Ravi Shastri, Mahendra Singh Dhoni, Bharat Arun and Arshad Ayub straightaway went to inspect the strip while coach Duncan Fletcher quietly walked towards Atkinson to share a few words.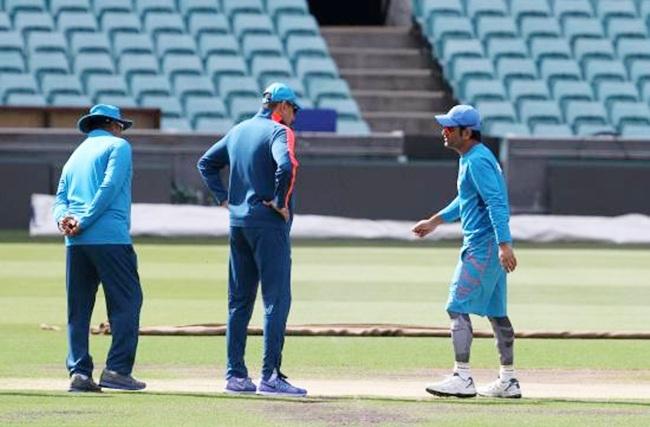 From left, India coach Duncan Fletcher, captain Mahendra Singh Dhoni, right, and Indian team director Ravi Shastri check the pitch. Photograph: Vipin Pawar/Solaris Images
It won't be known as to what India's coach asked but he would definitely seek a few inputs about the behavioral pattern of the strip during Thursday's semi-final.
It has been learnt that the pitch that will be used for the match is the same one on which South Africa humbled West Indies putting a total in excess of 400 runs.
On a different strip used for quarter-finals, it was a reverse result with leg-spinner Imran Tahir picking up four wickets and off-spinner JP Duminy scalped three wickets.
Are you watching the World Cup? Please share your videos, photos and comments here