'I've played a lot of matches up and down the order so I think I've become a more mature player after 2011'
'I know that if I play till the 50th over, the team can get 20-25 runs extra'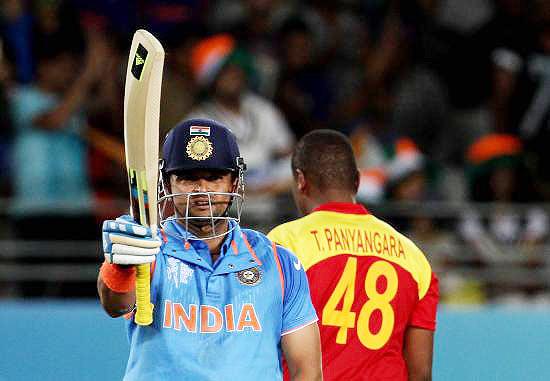 Indian player Suresh Raina raises his bat after scoring a fifty against Zimbabwe. Photograph: Vipin Pawar/Solaris Images
In a team full of stars, Suresh Raina has been happy to maintain a relatively low profile, going about his work for India calmly and without any fuss.
But as the cricket World Cup heads into the knockout stage and the pressure starts to build, India's reliance on Raina is becoming more evident and he's finding it harder to keep out of the spotlight.
- Predict your FOUR World Cup semi-finalists
- Can pressure-free India overpower in-form Bangladesh?
In India's opening match against their fierce rivals Pakistan, Raina blasted 74 off just 56 balls, helping the defending champions post a winning total of 300.
Then in India's final pool game against Zimbabwe, it was the left-hander who saved his country's blushes, scoring an unbeaten 110 to guide his team to victory with just eight balls to spare.
"When the team needed me the most and when you deliver it's the best feeling," he told a news conference on the eve of Thursday's quarter-final against Bangladesh.
Indian player Suresh Raina during the practice session at the Melbourne Cricket Stadium (MGC) in Melbourne on Wednesday. Photograph: Vipin Pawar/Solaris Images
"I really love those pressure situations. I have done that in the past. In that game I got plenty of overs to chase that target so I was very happy to win that game for my team."
A superb fieldsman and handy spin bowler, Raina's importance to the Indian team has been steadily rising since he made his one day international debut in 2005.
- The World Cup, as never before on Rediff.com
He was dropped for the 2007 World Cup but was part of the team that won the 2011 title, albeit his valuable contributions were overshadowed by his more famous teammates.
Later that year, he captained India on their tour of West Indies when some other senior players pulled out of the series.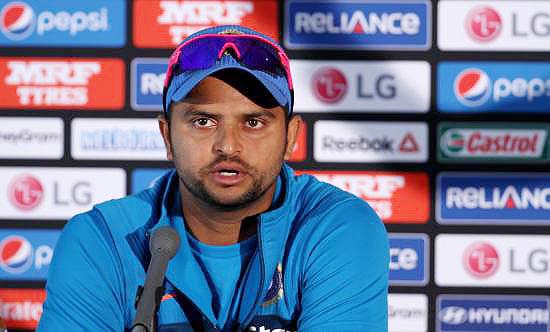 Indian player Suresh Raina speaks during the press conference at the Melbourne Cricket Stadium (MGC) on Wednesday. Photograph: Vipin Pawar/Solaris Images
Now 28, he is one of the elder statesmen of the team, offering advice and assistance to the regular skippers Mahendra Singh Dhoni and Virat Kohli.
Raina also plays a vital role in the middle-order, batting in different positions depending on the circumstances he's needed for.
"Whatever the team needs me to do, I need to prepare myself," he said.
"Because at the end when team India wins that's more important than me batting at four, five, six.
"I have improved a lot as a player. I've learnt a lot from MS Dhoni and especially with Virat.
"I've played a lot of matches with them and I knew what sort of batting I needed to do and I've played a lot of matches up and down the order so I think I've become a more mature player after 2011."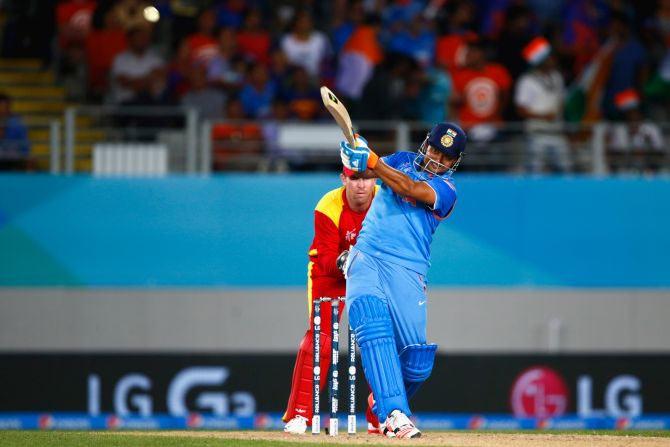 Suresh Raina during India's game against Zimbabwe at Eden Park in Auckland, on March 14, 2015. Photograph Phil Walter/Getty Images
Having now been a part of the Indian team for close to 10 years, the inevitable question of not scoring more than six centuries was asked and he gave an elaborate reply.
"It becomes difficult at times. If you look at the statistics, when I was dropped from the side, I was making scores in the range of 35 and 40. In 15-20 innings, I didn't have a 50. That's why I was dropped. I realised after that I need to spend more time. I know that if I play till the 50th over, the team can get 20-25 runs extra."
- Prem Panicker: If I was Dhoni, I'd bowl first vs Bangladesh
On their opponents Bangladesh, Raina showed a lot of respect stating that they won't take the Shakibs and the Rahims lightly but at the same time are not thinking about the debacle of 2007.
"You can't take Bangladesh lightly. They have done well against India, in World Cup as well as Asia Cup (2012) and players like Shakib are there in the Indian Premier League. They have their own tournament BPL. Therefore, they know how to play in ODIs. As far as we are concerned, we are not looking back at 2007. All we are looking at is to express ourselves," Raina said.