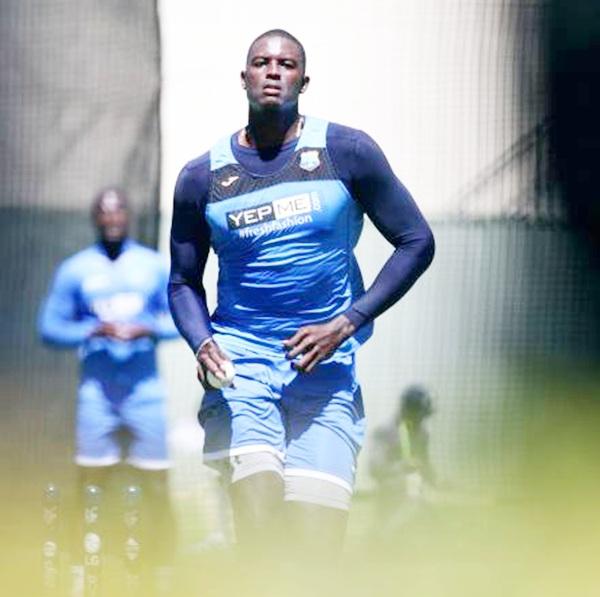 Jason Holder of the West Indies during training session in Perth on Thursday. Photograph: Vipin Pawar/ Solaris Images
West Indies cricket team's young captain Jason Holder says he has picked up subtle nuances of leadership from Mahendra Singh Dhoni while playing for IPL franchise Chennai Super Kings.
BCCI warns Kohli, says 'maintain dignity of the Indian team'
4 reasons why Kohli should end row with journalist...
"I've picked up a lot from Dhoni. He is a good leader who is respected in the dressing room," the 23-year-old fast bowler said, on the eve of the West Indies' ICC World Cup match against India, in Perth, on Friday.
For Holder, it's not only Dhoni, but also the likes of A B de Villiers who inspired him.
Don't Miss! The Rediff Cricket Show
The World Cup, as never before on Rediff.com
"Going about my career, I tend to look at a few players and look at a few things people do, not only Mahendra Singh Dhoni, but also other successful players who have played cricket before.
"I just try to take bits and pieces from everybody and try to put it together into one," said Holder, who has played 30 ODIs for his country since his debut in 2013.
Asked if the WACA strip is their chance to win, he replied: "As I said before, cricket is played on a day. Yesterday I faced a pretty good batsman (AB de Villiers) who was in good form. But I think tomorrow, if we are very disciplined, we'll get the better of them, put some pressure on them and at least try to finish off the innings."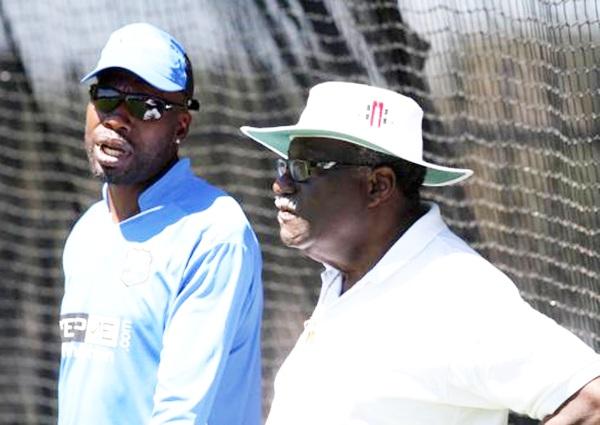 Clive Lloyd and Curtly Ambrose in Perth on Thursday. Photograph: Vipin Pawar/ Solaris Images
Holder showed a lot of respect for the Indian batting line-up.
"Obviously, they (India) have good players, who are in form. You know Virat Kohli has been phenomenal for them over the last years. They have Shikhar Dhawan, who has been in some form, and you have players like (Suresh) Raina and MS Dhoni. But I will back my bowlers to execute their plans.
"But they have a pretty good line-up and some good quality players. We've planned for them and just looking to execute our plans tomorrow," said Holder.
Should BCCI censure Virat Kohli?
Let's put Kohli matter to an end, says new BCCI secretary
When players don't perform well, they look up to the captain, but what happens when the captain himself is hammered, like de Villiers did to him (104 in 10 overs)?
"Yeah, it's cricket. It's sport after all. You have good days and you also have bad days. You go back to the drawing board after each performance. Obviously, I've had a bad bowling effort in the last game. But I'm not too worried about it. That's gone. That is in the past, and I've taken a lot from it. So I'm really looking forward to tomorrow to just come back stronger," said Holder.
He expressed gratefulness to legends like former captain Clive Lloyd and fast bowler Curtly Ambrose for passing on their experience to the team.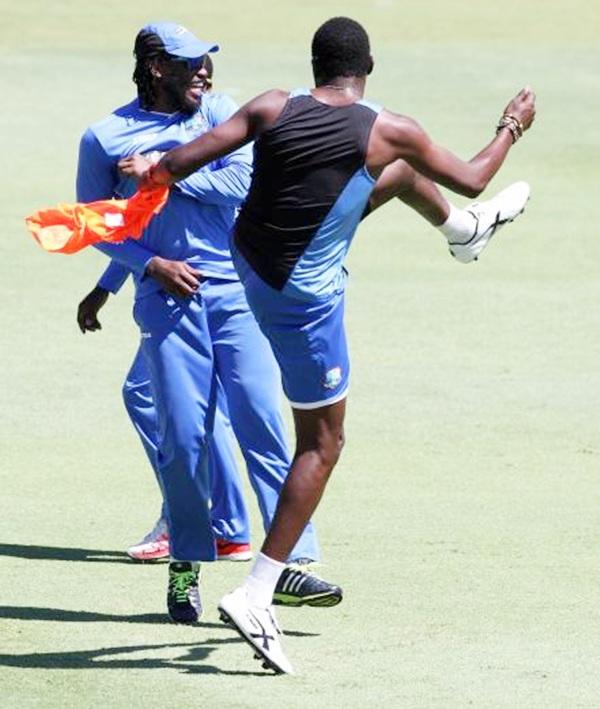 Chris Gayle with team mates during training session in Perth on Thursday. Photograph: Vipin Pawar/ Solaris Images
Chris Gayle took part in the full training session, putting speculation about his rumoured back injury to rest.
Admitting that left-handed stylish batsman Darren Bravo will be missed, Holder said: "We've got quality batsmen. I think if you look at this, we've gone in excess of 300 on three or four occasions. Each game somebody has stepped up and taken the mount for themselves.
"We have Marlon Samuels who has done a good job, and Jonathan Carter who is coming into his own. Yeah, Darren is obviously missed, but I don't think it's a big hole left in the team. We have guys to fill the bill."
Insisting that it is important to take one match at a time, Holder said right now the priority is to beat India.
"I think it's important to take it game by game. I think it's important that we beat India first and move into our last preliminary game against UAE. But I don't want to look too far down the road. I think it's important to look at each particular game as it comes. Tomorrow is India, so we'll put all our focus into India."
Are you watching the World Cup? Please share your videos, photos and comments here