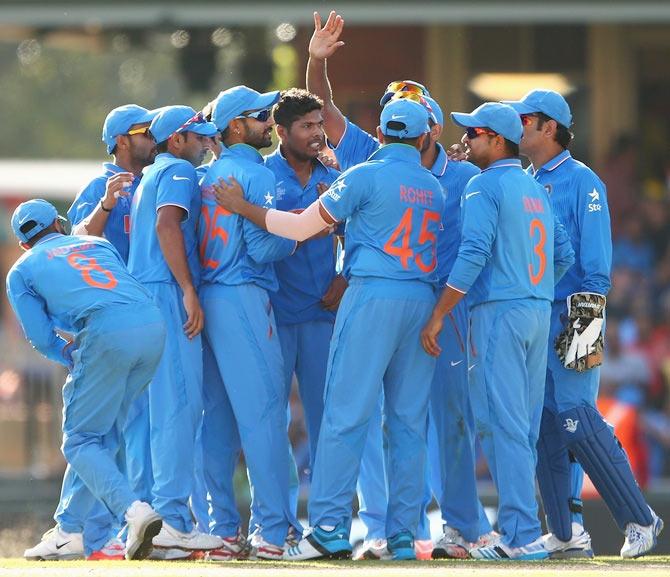 Team-mates congratulate Umesh Yadav after dismissing Aaron Finch. Photograph: Cameron Spencer/Getty Images
India should start preparing for the 2019 World Cup in a diligent manner similar to the way in which the triumphant Australians did for the just-concluded edition, feels former Test cricketer and ex-chief selector Chandu Borde.
"It's four years away. But have you noticed the way Australia prepared themselves? (Captain Michael) Clarke was not fit to play the first few matches and they gave the captaincy to (George) Bailey and not (Steve) Smith who led them to victory in the preceding Test series against India," Borde told PTI on Monday.
"This shows how well they had prepared themselves. They had decided in advance that if such contingencies arise, who should lead. How nicely they had done it. This is how we should prepare ourselves," said Borde.
The 80-year-old Borde, who played 55 Tests between 1958 and 1969, pointed out that Bailey was benched soon after Clarke got fit, an indication of the victorious Australians' bench strength.
"After playing and winning a few matches, Bailey was removed from the team because Clarke was back. See their thinking and how they had prepared for the tournament. It also shows their bench-strength is solid and thoughtful.
"In a similar manner, we have to prepare ourselves. We also need to plan big right from now and how we should go about it. We don't know what will happen in a couple of years from now, whether the current players will be available or not. The ground work should start now," he remarked.
Borde also expressed his surprise at captain Mahendra Singh Dhoni's statement that the top pace bowlers of the country should not be forced to play domestic cricket.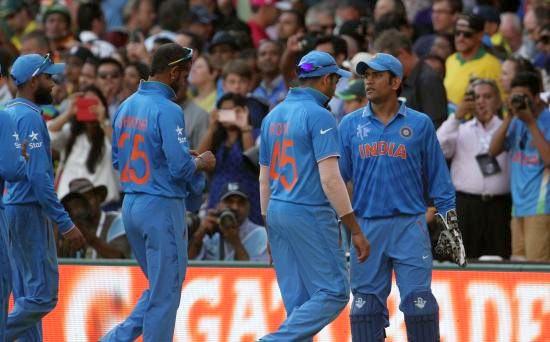 Mahendra Singh Dhoni walks back to the pavilion at the end of Australia's innings in the World Cup semi-final at the SCG. Photograph: Vipin Pawar/Solaris Images
"It has been a problem for sometime now in our set-up. When they are not playing for India, their state Associations sometimes make excessive demands of these bowlers," Dhoni had said after India lost to Australia in the World Cup semi-final at the Sydney Cricket Ground on March 26.
"This is a problem that we have had for quite some time now in our set up. Once a fast bowler completes international assignment and goes back, he is then asked by his local state associations to come and bowl in domestic cricket. However, there are no checks and balances on the number of overs they are being asked to bowl," a worried Dhoni had added.
"I was rather surprised by what Dhoni said. How many overs did they bowl in a match - ten overs? There's always a gap also -- after four overs or so. In the past how much domestic cricket had guys like Ramakant Desai played! Let these bowlers play more domestic cricket. What's the harm," said Borde.
When pointed out that Dhoni was talking about first class domestic matches, Borde retorted, "After all this is the yardstick and from these performances only you are selected, is it not? I am not convinced."
"If they are given jobs by companies to represent them in cricket and if they don't, it does not make any sense. Let them continue to play domestic cricket. I can't buy this argument.
"In the past we never used to get (to play) so much cricket and now they are getting the chance to play and they don't want to play," he remarked wryly.