'I think they must have been tempted a few times to let him go and maybe for me to take the gloves, but it was a great call from them to stick with him'
South Africa's Quinton de Kock hits a boundary during the World Cup quarter-final against Sri Lanka at the Sydney Cricket Ground. Photograph: Steve Christo/Reuters
Quinton de Kock's return to form in South Africa's World Cup quarter-final rout of Sri Lanka was one of the most pleasing aspects of a convincing victory for the Proteas, not least for the talented 22-year-old batsman himself.
Don't Miss! The Rediff Cricket Show
No one doubts the lefthanded opener's talent but producing your best under pressure at the World Cup is an entirely different matter, as the players who have taken part in South Africa's previous campaigns will attest.
De Kock opened his World Cup with back-to-back innings of seven against Zimbabwe and India and the runs failed to come against West Indies, Ireland, Pakistan and the United Arab Emirates either.
Going into the quarter-final at the Sydney Cricket Ground, he had accumulated just 53 from six innings and both coach Russell Domingo and skipper AB de Villiers were subject to questions over the value of retaining him.
On Wednesday, de Kock repaid their faith with a couple of excellent catches behind the stumps and then an unbeaten 78 off 57 balls, punching the ball through gaps in the field with alacrity and sealing the victory with his 12th four.
"It looked like I was batting easy but, trust me, it was nothing like easy," he said after the nine-wicket victory.
"I'm just glad I finally contributed to the team and to the World Cup. Glad to be in the semis now, hopefully we can get through that and bring the Cup home."
'We've all been in dark spaces, and I think he has been in this tournament'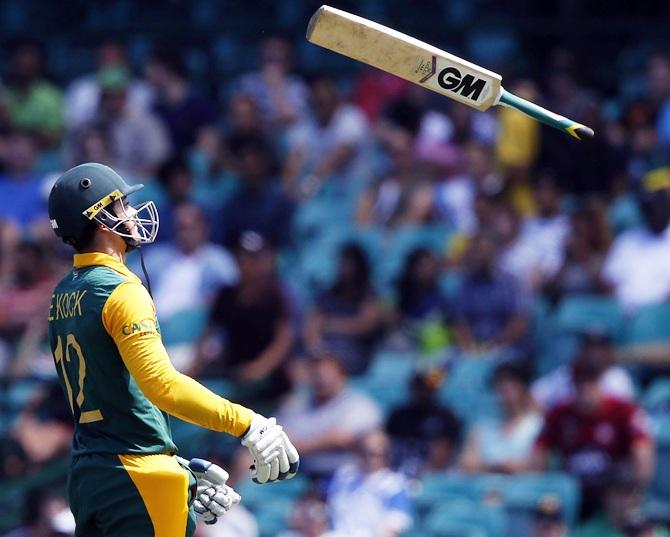 South Africa's Quinton de Kock throws his bat as he walks off the field after being dismissed. Photograph: Jason Reed/Reuters
De Kock first came to international prominence at the under-19 World Cup in 2012, where he was top scorer for the South Africa side with 284 runs.
He made his ODI debut against New Zealand early the following year but it was the centuries he scored in three consecutive matches against India in December 2013 that really marked him out as an attacking opening batsman to watch.
His importance to South Africa goes beyond his batting, however, with his steadily improving skills as a wicketkeeper sparing skipper de Villiers the responsibility.
That may have been one of the reasons de Villiers was clearly delighted with de Kock's performance against Sri Lanka.
"It was crucial," he said. "We've all been in dark spaces, and I think he has been in this tournament.
"A lot of credit to the selectors, to the coach, the guys who kept backing him.
"I think they must have been tempted a few times to let him go and maybe for me to take the gloves, but it was a great call from them to stick with him."
De Kock's next chance to prove his worth will be in Auckland next Tuesday, when the Proteas take on New Zealand in the first semi-final.
His captain, at least, has no doubt he would back up his Sydney innings.
"At that age, to go through a patch like he has been going through, to come out there in a quarter-finals of the World Cup with confidence shows what kind of player he is and what he can achieve in his career," he added.
"I'm looking forward to the next few games to see him up the order again."