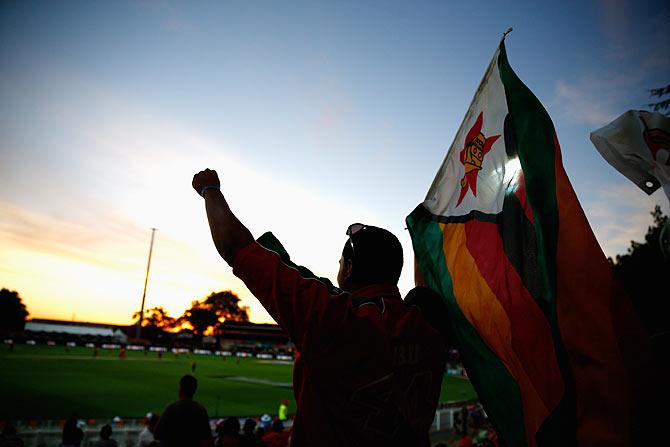 Zimbabwe supporters at Seddon Park in Hamilton. Photograph: Phil Walter/Getty Images
On a Sunday afternoon, in sleepy Hamilton, as one ambles through the quiet streets, the colourful billboards at the city's Centre Place area do catch attention. Among them is an unsual but pleasant sighting.
Glancing through the window panes of the shops, one suddenly stops while having a cursory glance at a poster on the glass door of a local coffee shop.
Lo! It is the iconic poster of legendary Bengali actress Madhabi Mukherjee from Satyajit Ray's classic 1964 film Charulata (based on Rabindranath Tagore novel Nastanirh).
The poster was an advert from the Hamilton Film Society which in association with Lido Cinemas, was going to screen the film.
Somerset, Liverpool and London Streets
The eerily silent, Hamilton's countryside can blow one's mind with its greenery and beauty.
To top it, the weather has been blissful.
The drive from the airport to the motel (there are may be less than 10 hotels but some 100 motels in Hamilton) is a picturesque one, with lush green open spaces on both sides and the mountains in the distance.
What makes the journey all the more pleasant is the driver playing John Denver's romantic classics on his car stereo with that dream-like view to take in.
Then, as one peers around the nearby areas about Seddon Park, roads with names like 'Liverpool Street', 'Somerset Street' or 'London Street' gives one the feel of being in England.