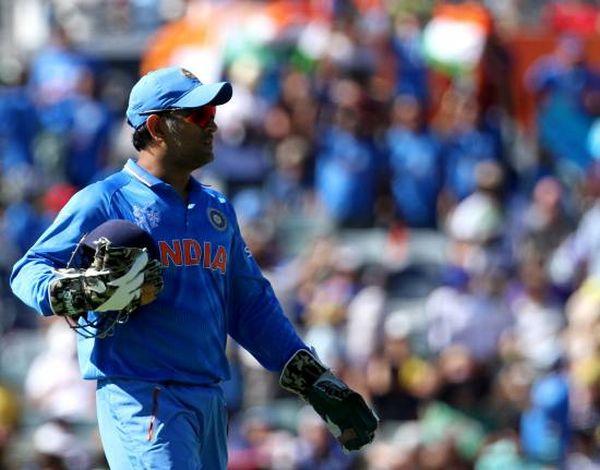 India captain and wicketkeeper Mahendra Singh Dhoni. Photograph: Vipin Pawar/Solaris Images
Mahendra Singh Dhoni's street-smart side came to the fore in the World Cup match against the West Indies, in Perth, on Friday.
For a few deliveries India's captain fielded without pads, as he had given them to Ajinkya Rahane, who was standing at silly mid-off while Ravichandran Ashwin was bowling.
It was a rare instance when a wicketkeeper kept wickets without wearing the leg protection gear.
Dhoni was behind the stumps for four deliveries without pads.
While keepers wearing their pads inside the trousers has been in vogue for some time now, the biggest exponent of it of late is South Africa 'keeper Quinton de Kock.
But while standing up to a spinner, never has a 'keeper taken off his pads.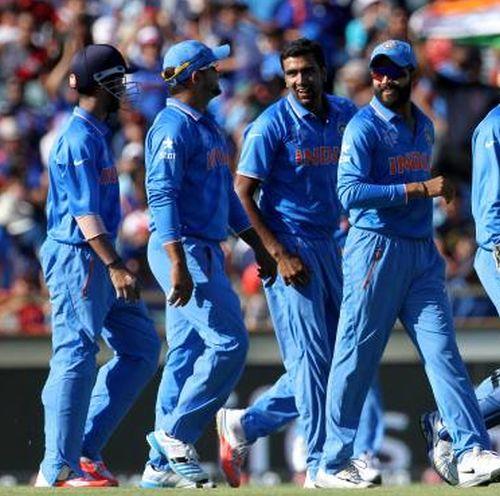 Ajinkya Rahane (extreme left, with pads tucked inside his trousers) celebrates with teammates after the fall of a West Indies wicket. Photograph: Vipin Pawar/Solaris Images
However, it wasn't without a reason that Dhoni did it.
In the middle of the 14th over, he felt the need to have a close-in fielder to cash in on the bounce that Ashwin was getting, but since it was in between the over, the umpires did not allow the substitute fielder to come with shin pads for Rahane.
Since a close-in fielder is more prone to getting hurt by a powerful shot, Dhoni took off his pads and let Rahane wear them.
Probably gauging that a faster one from Ashwin could inadvertently hit him on the shin area, he told Raina to stand some 15 metres right behind him. Once the over was completed by Ashwin, the umpires allowed the substitute to come out with shin pads for Rahane while Dhoni got back his own and wore it from then on.