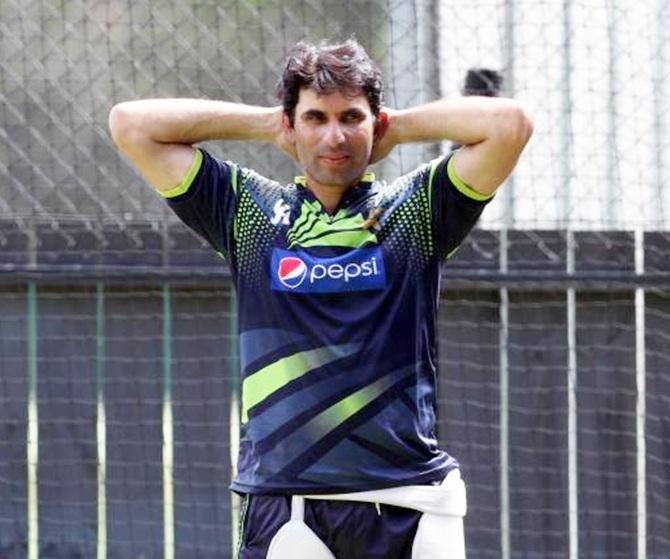 Pakistan captain Misbah Ul Haq during the practice session. Photograph: Vipin Pawar/Solaris Images
Pakistan is looking to turn it around big time and get their so far lacklustre World Cup campaign going with a win over Zimbabwe in their crucial Pool B match in Brisbane on Sunday.
With two defeats in two games, the green shirts seem to be in a spot of bother but skipper Misbah-ul Haq and head coach Waqar Younis are confident Pakistan is just one solid victory away from getting back on track.
In 1992 in Australia, Pakistan had met Zimbabwe in a situation much akin to today's–with their backs to the wall. A win then had ensured Pakistan survived. The rest as they say was history. Can something similar happen now?
Misbah in his pre-match presser, a mandatory exercise at all the ICC events, underscored the importance of the fixture for Team Pakistan. "It's an important game for us, a must-win one, so we need to improve our performance here and show what we are capable of." He also mentioned that his men are charged up for the match.
The good news for a much-dented-by-injury Pakistan came on Friday, afternoon when opener Ahmed Shehzad was declared fit after an MRI revealed his ankle injury was not serious. Shehzad was very much part of the training on Saturday, batted at the nets too, and seemed determined to do well up-front.
Zimbabwe, meanwhile, go into the game on the back of a four-wicket win over UAE, a 62-run loss to South Africa and a 73-run defeat by the West Indies in a game where Chris Gayle clubbed his way to the first double century in World Cup history.
Zimbabwe has up till now found it hard to restrict opposition batsmen. The two frontline teams that they have faced, West Indies and South Africa, feasted on their bowling attack – if one could call it that – with great relish, piling on 372 for two and 339 for four respectively.
Pakistani batsmen must be aiming at prolonging their agony by having an emphatic say on the proceedings on Sunday. Not having played a match since February 21, the break has given Pakistan plenty of time to mull over their issues and iron them out. Pakistan will be buoyed by the fact that they have traditionally held a whip hand over Zimbabwe – their record showing a staggering 27 wins out of 30 ODI matches between the two sides.
In their most recent series, in Harare in 2013, Pakistan won 2-1, the surprise win for the host came in the opener. Pakistan must be wary that the three big achievers then – Hamilton Masakadza (85), Brendan Taylor (43) and Sean Williams (39) – are all likely to be part of the line-up at the Gabba on Sunday.
Zimbabwe's only other wins over Pakistan came way back in 1995 in Harare and in 1999 in Sheikhupura.
Misbah has stressed on his men to forget the result of the previous two games, and focus on the task ahead. "We just need to perform to our potential in the game at hand," he said.
Zimbabwe have two points from three Pool B games with skipper Elton Chigumbura demanding his bowlers match the promising form of the team's batsmen. "We feel like we're going in the right direction, and with (coach) Dav Whatmore, since he took over, up to now we've been playing positive cricket," said Chigumbura.
"Our batting used to let us down, but at the moment it's the one that is actually being more consistent than the bowling. We just need to polish up on our bowling and fielding."
Are you watching the World Cup? Please share your videos, photos and comments here!
ICC World Cup Merchandise 2015 available on Rediff Shopping
DON'T MISS!
Apostrophe Content and Entertainment