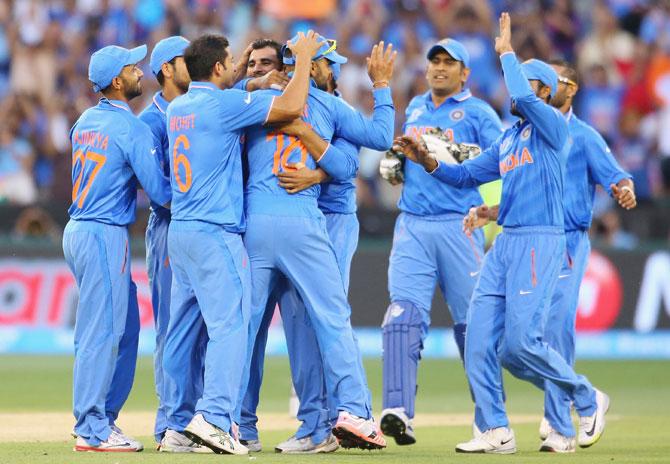 Mohammed Shami and Virat Kohli are congratulated by teammates after dismissing Quinton de Kock of South Africa. Photograph: Scott Barbour/Getty Images
Zimbabwe stand-in captain Brendan Taylor feels that the Indian bowling unit will not only trouble his team with swing but also with the pace when the
two teams meet in a Pool B match of the ICC World Cup in Auckland.
- The World Cup, as never before on Rediff.com
Taylor, who will be playing his last match for the national side as he is migrating to England for a better future, is wary of the current Indian team, one of title contenders in the ongoing mega-event.
"We all know they are a batting powerhouse but they certainly hold their own with the ball. They've had proven performances with their spinners, and we see how well they've done for India over the years, and even in conditions that are not so suitable for them, they've still been very difficult to get away," Taylor said at the pre-match media conference.
"Even their new ball bowlers have struck early, where they possibly haven't done that well in the past, they're bowling with some good pace, too. That's certainly good for Indian cricket, and it'll be very challenging for us tomorrow, not just the pace but the swing they're producing at the moment."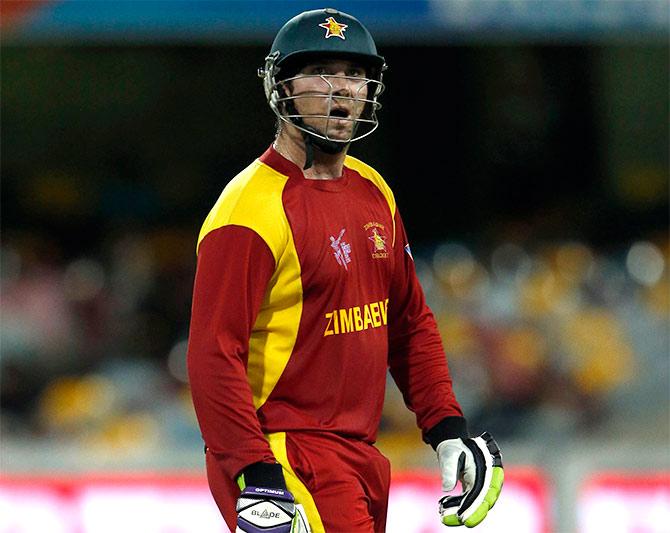 Zimbabwe's Brendan Taylor during the World Cup. Photograph: Jason Reed/Reuters
Asked about what kind of inputs have been provided to the team by its chief coach Dav Whatmore, the stand-in captain said, "Well, he's sort of at training sessions had little whispers in our ears as individuals and just really raising the idea about certain players and certain bowlers and certain batters.
"He's been brilliant for Zimbabwe cricket. It's still early days. He's got some great ideas, and we'll certainly move forward as a team with him.
"It's great to sort of pick his brains, and working with him has been very productive." With not much at stake for them, one of the Zimbabwean
players went for a fishing trip. In fact, they are all relaxed before meeting India.
"Our preparation has been really good. The team still very upbeat at the moment, and players are very positive. In terms of fishing, one of our teammates has gone fishing and the rest are just doing a few recovery sessions and just getting their minds right for tomorrow," he said.