A selection of musings from around the cricket World Cup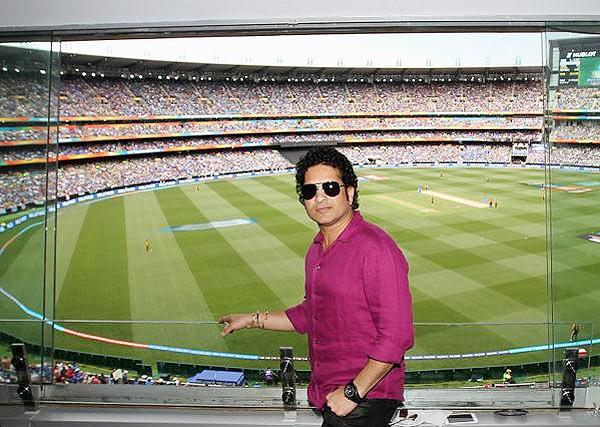 Sachin Tendulkar at the MCG on Sunday. Photograph: cricket.com.au/Twitter
It's the video that has gone viral in India ahead of the country's crunch Cricket World Cup semi-final on Thursday against hosts Australia at the Sydney Cricket Ground.
Proud moment! The Blues overpower the Golds at SCG
In the eyes of many Indians, Sachin Tendulkar could already walk on water thanks to his record-breaking batting feats over a 25-year international career. But now it's his skills in prediction that has captured the attention of his fans and drummed up comparisons with Paul the Octopus.
England hampered by fear of failure at World Cup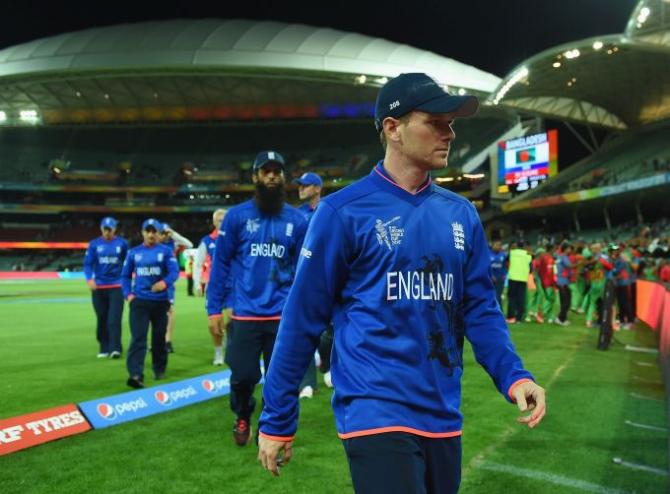 England captain Eoin Morgan looks dejected as he leaves the field after the World Cup match against Bangladesh at Adelaide Oval. Photograph: Shaun Botterill/Getty Images
Ravi Bopara has delivered a damning verdict of England's World Cup campaign, saying "a fear of failing" hampered the side in Australia and New Zealand.
That Wahab spell — A nation's faith in pace restored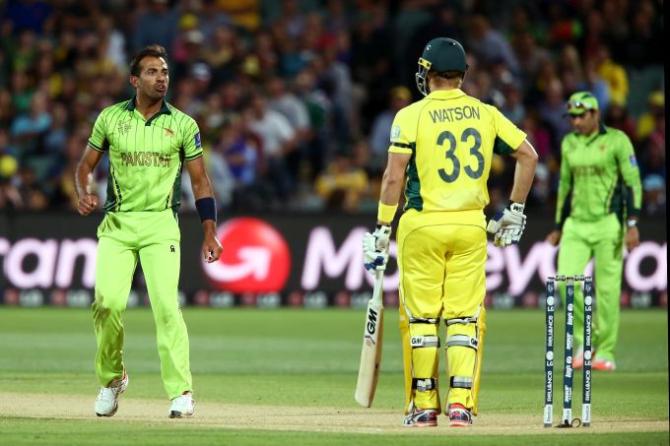 Wahab Riaz of Pakistan reacts to Shane Watson of Australia during the World Cup match at Adelaide Oval. Photograph: Morne de Klerk/Getty Images
145kph, 150kph, 147kph. Wahab Riaz to Shane Watson — six overs of the most compelling cricket of the season and a nation's faith in pace restored.
It had to be compelling, for it had the cricket world buzzing in the days that followed Pakistan's loss to Australia and its exit from the World Cup. For a moment in a match, that too in a losing cause, to have such an impact is quite something. It may be that in the world of LED stumps and boundary line pyrotechnics, Wahab's spell almost had a red-ball flavour to it, before that little red thing became very, very submissive to the bat. It was Test cricket played in colours and there was something about the soul of those six overs which continues to reverberate.