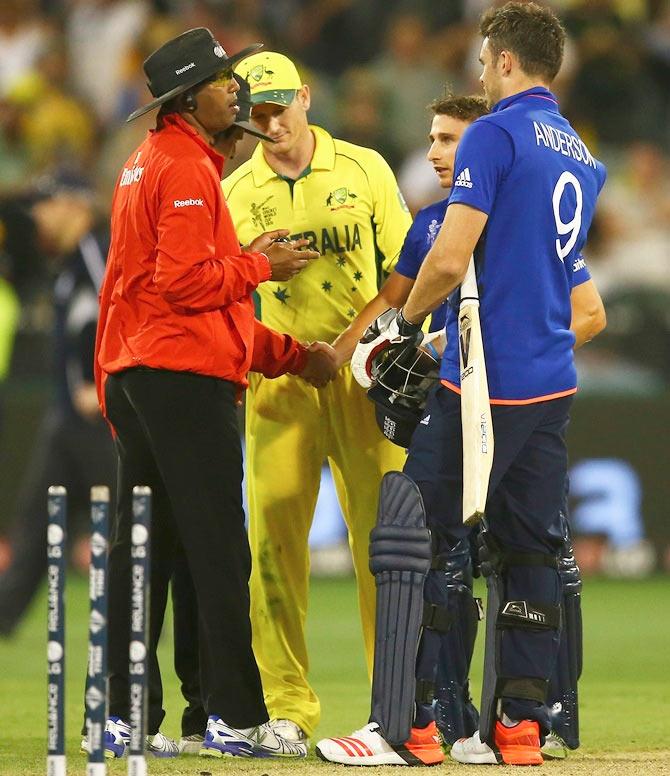 James Taylor and James Anderson of England speak to umpire Kumar Dharmasena after their final wicket fell. Photograph: Ryan Pierse/Getty Images
Batsman James Taylor won admirers for playing a lone hand in England's crushing loss in their World Cup opener to co-hosts Australia on Saturday, but was denied a maiden century by an umpiring error on the last ball of the match.
Taylor was on 98 in a final-wicket stand with tail-ender James Anderson when he was given out lbw by umpire Aleem Dar off the bowling of Josh Hazlewood at the Melbourne Cricket Ground.
- World Cup blog: Dhoni & Co. 'bigger stars' than Jagger & Stones?
- Around the wicket: India v Pakistan watched by a billion people

Anderson bolted through for a single as Australia appealed the lbw and Glenn Maxwell threw down the stumps in a chaotic finish.

Taylor had the lbw decision over-turned but a review of the run-out showed Anderson short of his ground.

After some conferring by the umpires, the run-out was confirmed and Australia celebrated a 111-run win over their arch-rivals.
Taylor smiled wryly as he shook hands with his opponents out in the middle, but the ICC later confirmed that the wicket should never have been given.

The fiasco that concluded England's opening World Cup match could have been avoided if the officials had not let their minds wander from the blue zone to red, reckons The Guardian's Mike Selvey.

Elliot's form a boon for Black Caps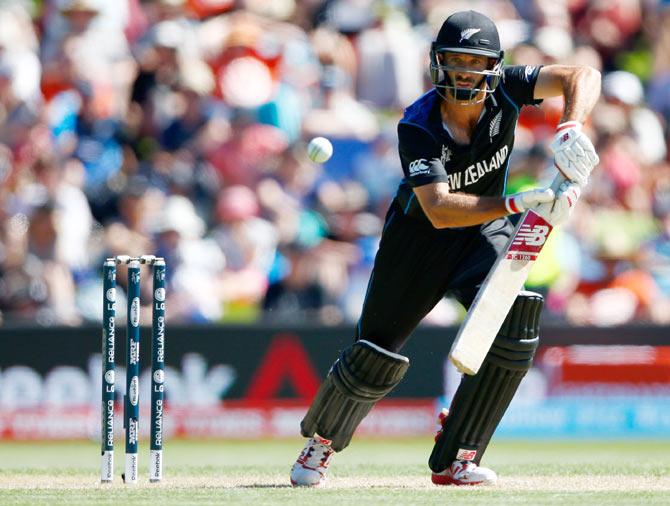 Grant Elliott of New Zealand. Photograph: Phil Walter/Getty Images
New Zealand's Gant Elliott is cricket's comeback sensation of 2015. Recalled to the Black Caps squad in January for the Cricket World Cup, the 35-year-old all-rounder quickly owned the five position with sizzling form in seven build-up games against Pakistan and Sri Lanka, averaging 72.
- Around the wicket: Dan still the man for New Zealand
- Around the wicket: Pakistan will turn tables on India!
The all-rounder is no stranger to England, New Zealand's next opponents at the Cricket World Cup, and the in-form Kiwi is ready for a battle
Before the Black Caps face England in their World Cup match, Alexander Bisley of the Guardian interviews Elliot.