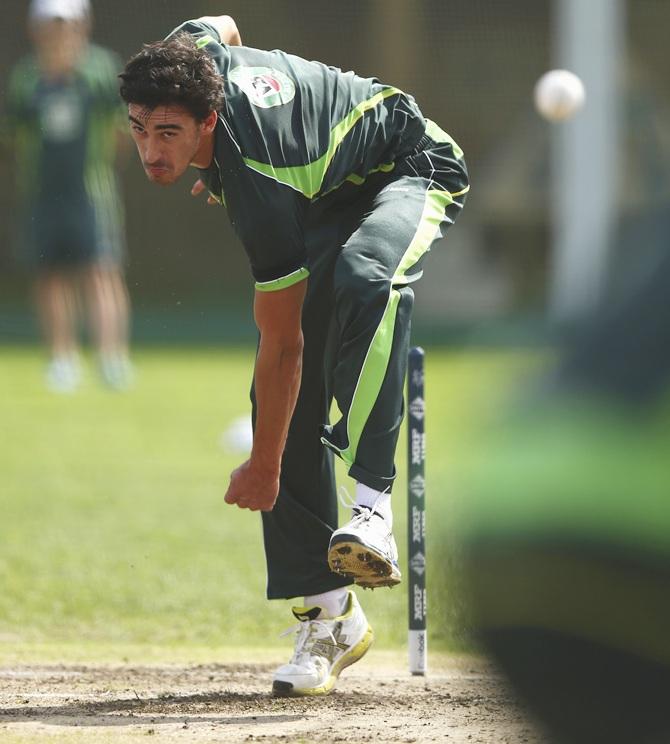 Mitchell Starc of Australia bowls during an Australian nets session at Sydney Cricket Ground. Photograph: Ryan Pierse/Getty Images
There was a lot of buzz about the Sydney Cricket Ground pitch for the high-octane India versus Australia ICC World Cup semi-final on Thursday.
Prem Panicker: India vs Australia semi-final really too close to call!
Clarke unhappy with Sydney strip for semi-final vs India
How Raina is preparing for the massive Australian test in semis
While India did not turn up at the ground, doing strengthening work at their hotel, the touring journalists were hunting one Tom Parker who is the curator of the SCG. It has now emerged that ICC curator Andy Atkinson is not the man in charge, but it is Parker who will take the final call.
It was told that Parker was in the adjoining Allianz Stadium for a Rugby match between the Waratahs and Brumbles, so a few journalists used the tunnel joining the two grounds to hunt Parker but to no avail.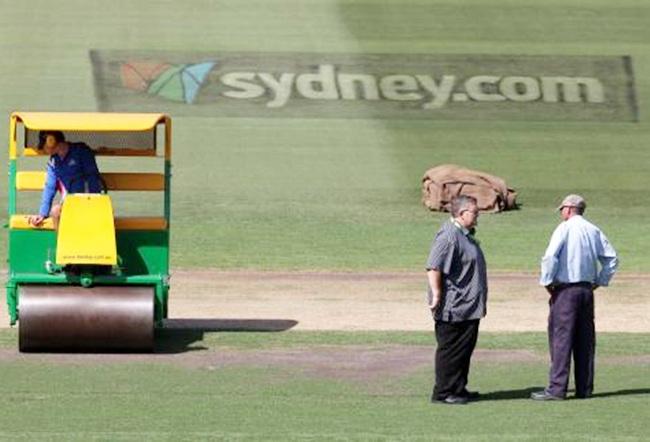 Andy Watkinson, ICC Pitch Consultant speaks with SCG curator Tom Parker during the Australia practice session at the Sydney Cricket Ground. Photograph: Vipin Pawar/Solaris Images
The ICC rules do not permit the curator to speak on what type of pitch will be made for the World Cup match, but the famous line about the SCG pitch was that "the only part of the ground devoid of grass is the pitch."
Michael Clarke had shown his displeasure on the SCG strip as it looked dry and flat and since there was a forecast for rain on Tuesday it will further become flat and with roller it will further help the spinners.
Analysts believe that if India had any chance of beating Australia in the semis, its best at SCG.
Privately Parker had told a few people that "it will be a conventional SCG pitch" which means it will help the spinners. Since this is the last match Australia will be playing at the SCG this summer, they want to make it memorable: as a tribute to Phillip Hughes.
Finch, Lee believe SCG pitch will be slow in nature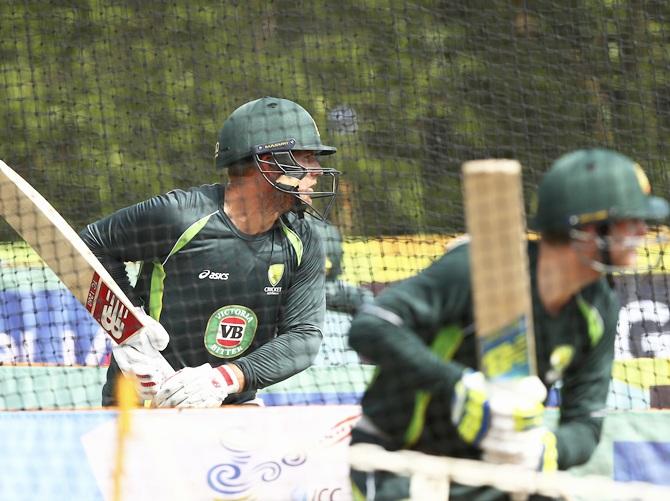 Aaron Finch of Australia bats during an Australian nets session. Photograph: Ryan Pierse/Getty Images
Cricket is a unique sport in that the surface on which it's played on could end up making a lot of difference to the fortunes of the teams in action. And when the match in question is a World Cup semi-final, all eyes will be on that 22-yard pitch which could end up making a lot of difference in the manner in which they approach the game.
Come Thursday and India will take on Australia on a track that usually plays probably closest to what one might find back home in India. It's still early days, with almost 48 hours to go for that game, but from early signs it looks like the pitch will assist the slower bowlers more than most others in Australia and New Zealand do.
Australian opener Aaron Finch made an interesting revelation about their previous game against Sri Lanka, which was played in Sydney. He said there was a belief among the Aussie players that the pitch will assist spinners but it turned out to be a docile surface and no such help was on offer.
He said: "Last time I played here it looked like the wicket would spin quite a bit; but it didn't and it played really true. Still two days out and it's hard to tell. The wicket can change quite a bit in two days, especially here in Sydney."
On that occasion, Australia seemed to have been sucked into playing the extra spinner in Xavier Doherty even against a team like Sri Lanka which has traditionally been good against slow bowling. That was Doherty's first and only game of the World Cup and he conceded 60 runs from his seven overs in that game. To be fair to Doherty, the Sri Lankan bowlers did no better, with conceding Sachithra Senanayake going for 0/59 from nine and Seekkuge Prasanna carted for 77 from his nine.
That game had come immediately after South Africa had hammered 408 against West Indies in the first ever match played here at the World Cup but since then, the scores have begun to settle down. In fact they have gone real low. Afghanistan were bowled out for 111 by England and Sri Lanka made just 133 in their quarter-final here against South Africa.
What's pertinent to note is that England also played off-spinner James Tredwell in his only game of this World Cup in Sydney and he came away with 1/25 from his seven. And then, in the quarter-finals, tweakers Imran Tahir and JP Duminy shared seven wickets between them.
There's a sub-plot though. The Sydney Cricket Ground, like most other grounds, have many pitches side by side and the one that was in use for the South Africa-West Indies game was a different one from that used for the South Africa-Sri Lanka quarter-final. And those two produced different results too. Head curator Andy Atkinson is here to assist SCG curator Tom Parker in his job.
Former Australian bowler Brett Lee believes the pitch could be slow in nature. He said: "From all the reports that I am reading, I feel it will be a slow wicket. We saw it was very slow in the last game there that South Africa played. It could be a bit low and slow and probably the slower bowlers will come into play which might favour India."
India will believe they have a bit of a right to such a track after the rule changes punctured their spin bowling potency. Since the rule to bring an extra fielder inside the circle was brought about the ICC, teams like India who have depended heavily on the use of their part-time spinners have struggled to get going and as a result needed to turn their strategy drastically. Ravichandran Ashwin's adjusted well but Ravindra Jadeja has struggled with his inability to adjust to that extra fielder inside the circle on the usually flat ODI pitches.
A slow Sydney pitch could just bring someone like Jadeja back into the game too.
Apostrophe Content and Entertainment
Read More
The doosra: Dhawan can help Team India reach the Shikhar
Will 'big' player Kohli stand up against Aussies in semis?
Pitch perfect? Team India coach, Atkinson inspect SCG strip
How is Raina preparing for the massive Aus test in semis?
Are you watching the World Cup? Please share your videos, photos and comments here