'Dhoni mysteriously held back a final assault on the distant victory target'
'There was no dive, no last-ditch attempt to make his ground, he simply ran straight down the tunnel'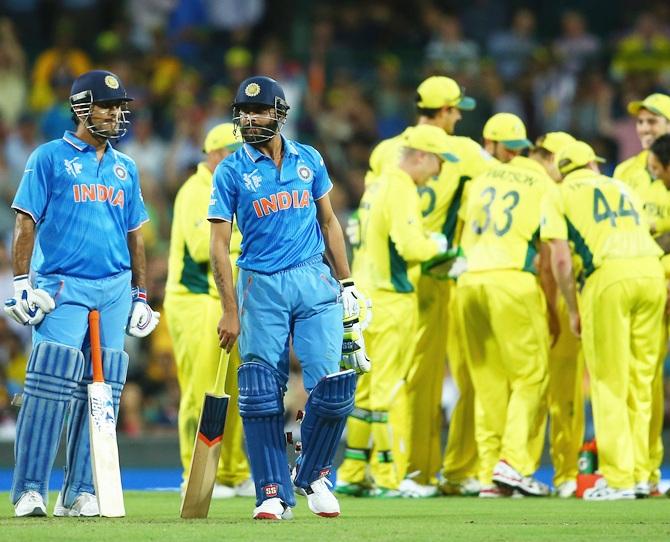 MS Dhoni and Ravindra Jadeja of India wait for the third umpire decisionin the World Cup semi-final against Australia at the SCG on Thursday. Photograph: Mark Kolbe/Getty Images
Australian media were critical of lack of fight from Indian batsmen while praising their national team for a strong performance in their emphatic 95-run run victory to storm into the final of the cricket World Cup in Sydney on Thursday.
World Cup Report Card: Full marks for India's bowlers
Prem Panicker: At the end, you felt for Dhoni
Chasing a stiff target of 329, India were all out for 233 in 46.5 overs and the media here said that the likes of captain Mahendra Singh Dhoni (65) and Virat Kohli (1) failed to inspire their team when it mattered the most.
"If India were going to have any chance of chasing down Australia's target, it was going to come down to one of Dhoni or Kohli to go the distance but neither managed to," a report in the Daily Telegraph said.
'Dhoni seemed to retire halfway down the pitch'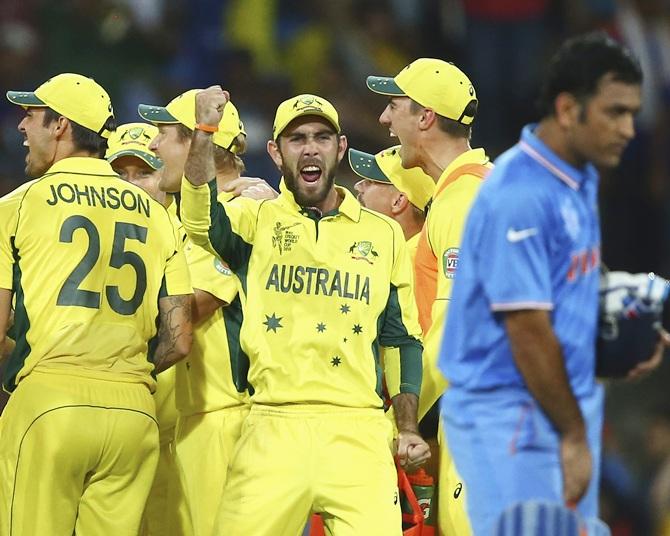 Glenn Maxwell celebrates after Mitchell Starc took Ajinkya Rahane's wicket. Photograph: Ryan Pierse/Getty Images
"There was hope for India for as long as MS Dhoni was still at the crease, but in the semi-final of the World Cup the Indian skipper simply gave up. Dhoni, possibly playing in his last ODI after his shock retirement from Test cricket recently, top-scored for India with 65 before being run out by Glenn Maxwell.
PHOTOS: Blues overpowered Golds at SCG, but it wasn't enough!
"It was a superb throw, but Dhoni seemed to retire halfway down the pitch. There was no dive, no last-ditch attempt to make his ground, he simply ran straight down the tunnel. And with him vanished India's last sliver of hope," the report said.
The report quoted former England captain Kevin Pietersen as having expressed surprise to Dhoni not even sliding his bat to reach to his crease.
"I don't know what Dhoni was doing here -- he could have made it. Absolutely he could have made it," Pietersen said.
Dhoni's 'bizarre' innings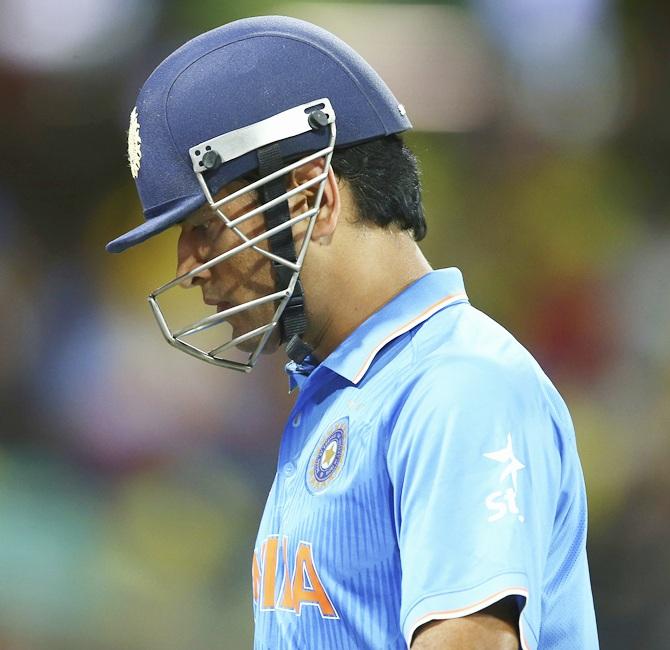 Mahendra Singh Dhoni walks back after his dismissal in the World Cup semi-final against Australia at the SCG on Thursday. Photograph: Ryan Pierse/Getty Images
Another newspaper Sydney Morning Herald also described Dhoni's innings as "bizarre".
"Any questions over whether Australia's total of 7-328 would be enough were answered, although the nerves did not subside until Dhoni's bizarre 65 was brought to an end. Dhoni mysteriously held back a final assault on the distant victory target and it was only then that he began to put the foot down, belting Shane Watson for two sixes in a row," a report in the newspaper said.
"However, the India captain was run out brilliantly by Glenn Maxwell soon after and in keeping with the tone of his odd innings, Dhoni did not appear to put much effort into making his ground," it said.
'They'll be relieved they're finally going home'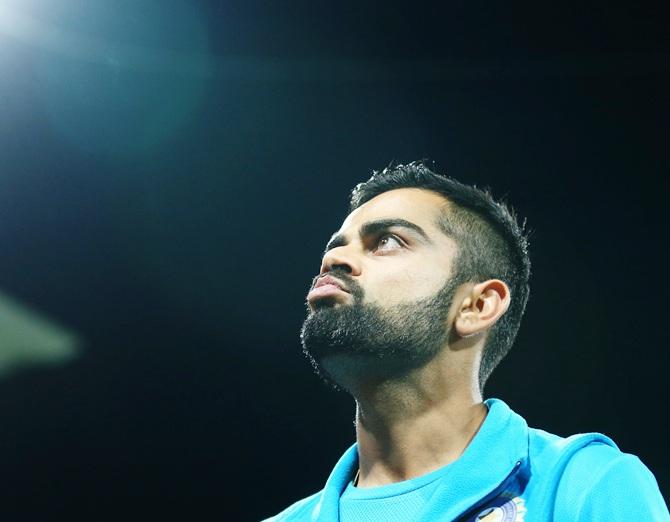 Virat Kohli of India looks dejected as he leaves the field. Photograph: Mark Kolbe/Getty Images
The Australian media also mentioned India's below-par performance here in the Test series and tri-series and said they must be happy to finally leave for home.
Unfair to blame Anushka for Kohli's poor form: Ganguly
Twitterati targets Anushka after Kohli's poor show in semis
"India might be the defending champions, but given the way they performed against Australia over the summer they won't be too disappointed with exiting at the semi-final stage of this tournament," another report said.
"They lost the Test series against Australia 2-0, before losing both ODIs they played against Australia in a tri-series preceding the World Cup. They also lost to England twice in the same tournament.
"Most of India's players have been in Australia since November and though they won't be going home with the trophy, they'll be relieved they're finally going home. So were their fans, who left the SCG long before India's players did," it said.
'One shocked celebrity WAG'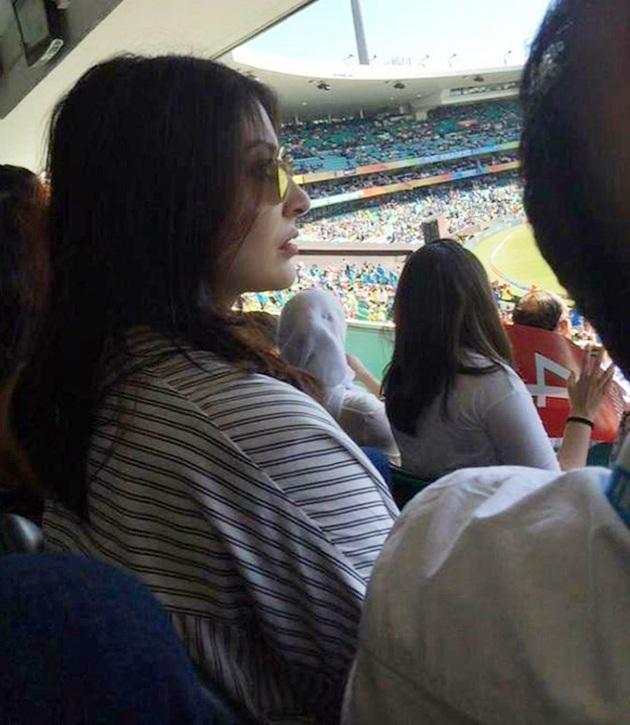 The media here also touched upon some heated moments during the match and Indian vice-captain Virat Kohli's girlfriend Anushka Sharma's presence.
"The game did not pass without a touch of much-previewed mid-pitch chatter after a summer featuring a blow-up or three between these sides, with Mitchell Starc having a hot-tempered confrontation with Suresh Raina," a report said.
"With the ground swarming with a majority of blue attire among the crowd of 42,330, Australia at times may as well have been in Mumbai, not Moore Park. The image of Virat Kohli's girlfriend was flashed up on the big screen to mass adulation," it said.
"One catch, one dropped catch, one over, one run and one shocked celebrity WAG. Virat Kohli, so often Australia's tormentor, had one to forget in the World Cup semi-final," another report said.