'The hype and attraction is like that of a five-star hotel preparation'
'The record is good, but it's something that I don't want to get into because there will come a time when we will lose'
'We should be proud of winning at home and we should try to win outside also'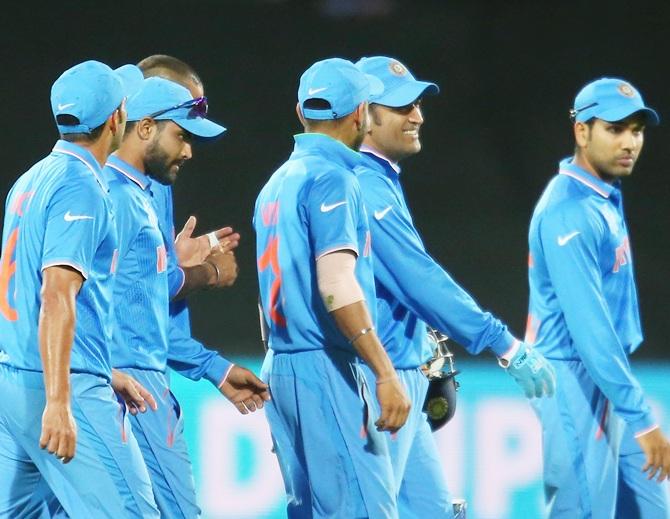 Indian captain Mahendra Singh Dhoni of India leads his team from the field after they won the 2015 ICC Cricket World Cup match against Pakistan at Adelaide Oval. Photograph: Scott Barbour/Getty Images
Indian captain Mahendra Singh Dhoni on Sunday said 'a bit of pressure was off' the defending champions' shoulders after they started their campaign in the cricket World Cup with a 76-run win over arch-rivals Pakistan.
The match at Adelaide Oval was seen as one of the most anticipated in the tournament.
"It's a bit of a pressure off since the hype and attraction is like that of a five-star hotel preparation where there is a lot of dressing on the top," a smiling Dhoni said.
Dhoni was at his pragmatic best after winning the first international match in two and half months and urged people not to differentiate success at home and abroad.
"At times, we try to give too much importance to Test series that we play outside India or tri-nation or a bilateral outside the country. I feel all of them are the same. We should be proud of winning at home and we should try to win outside also. There should not be any demarcation as to okay he has got a century, but he has to score in overseas conditions," the skipper said after leading his team to win.
He elaborated, "When these youngsters score centuries in India, they get complimented but there's always 'a but' that follows. We all know we need to score outside the sub-continent," Dhoni said taking at the dig at the critics.
'We are definitely proud of it, but it will be broken at some point'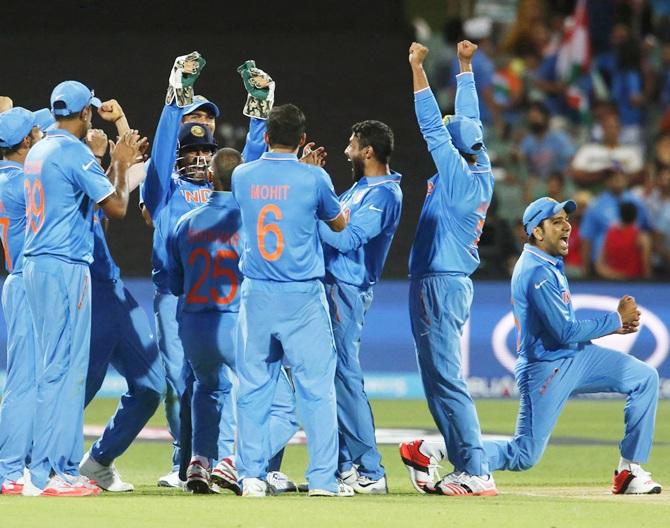 Members of India's cricket team celebrate. Photograph: David Gray/Reuters
He showed humility when asked about the 6-0 record against Pakistan in World Cup.
"Well, the record is good, but it's something that I don't want to get into because there will come a time when we will lose, irrespective of whether it happens this World Cup, next World Cup or four World Cups down the line.
"It's not something that will stay until the world exists. No point in really thinking about it. As far as the World Cup record is concerned, we are definitely proud of it, but it will be broken at some point of time," skipper said in a philosophical tone."
'Overall they are a fantastic side'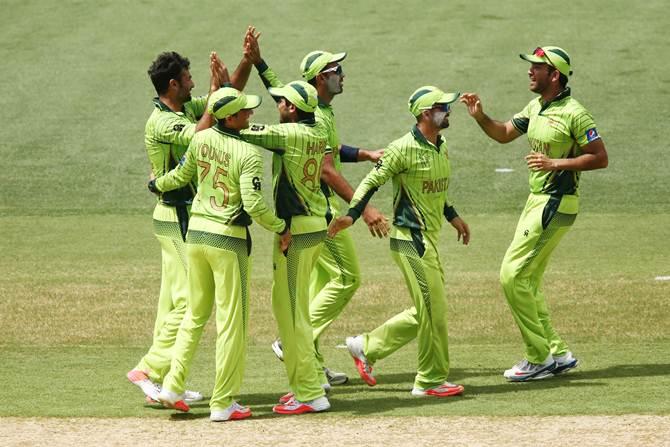 Pakistan players celebrate the dismissal of India's Rohit Sharma. Photograph: Morne de Klerk/Getty Images
Dhoni, in fact, noted that India's overall ODI record against Pakistan is still not great (72-51 in Pakistan's favour).
"Yes, we are proud of the fact that we have done it again, but if you just see the India-Pakistan stats, you know we are way behind. They have really dominated us (over years). I feel definitely World Cup is something that we can, to some extent, be proud of but overall they are a fantastic side.
Self belief is the key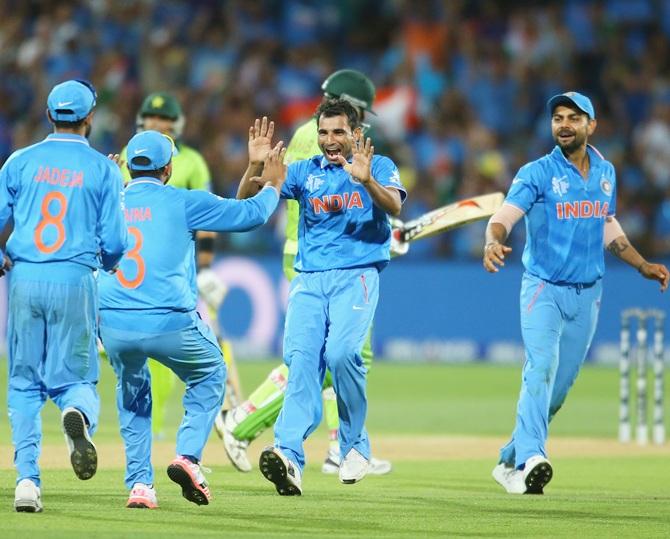 India's Mohammed Shami celebrates with teammates after dismissing Pakistan's Wahab Riaz in the World Cup match at the Adelaide Oval on Sunday. Photograph: Scott Barbour/Getty Images
Asked how did he keep the morale of the team high after a string of losses in Tests and ODIs Down Under, Dhoni was quick in his reply.
"Well, that's really the job of the leader. What we wanted to do from a team management's point of view was to keep the morale of the dressing room high. It is very crucial because if the morale is down, then it becomes more difficult to come back. When everyone is smiling even while going through a lot of difficulties and problems, if you turn up every day to improve yourself as a cricketer, then you know the results will follow."
Self belief is the key for the Indian captain.
"I think it's the belief and trust that we have in each other. At times we should not forget; it's a competitive sport. We represent our country. We want to do well. At times, the condition favours other teams more than it favours us. You have to accept all of that. What's very important is to have that belief and that magic wand actually is the support staff and the 15 players' thinking irrespective of what others think.
"If we are moving in one direction and we are together, there are more chances of us making a strong comeback."
'Best part was that Kohli and Shikhar rotated the strike'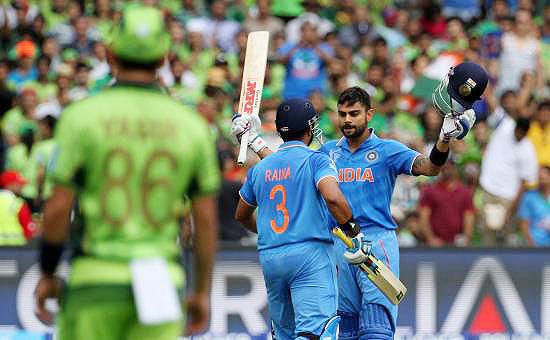 India's Virat Kohli celebrates with teamate Suresh Raina after completing his century against Pakistan on Sunday. Photograph: Vipin Pawar/Solaris Images
Dhoni complimented centurion Virat Kohli for anchoring the innings.
"He really batted well considering that the wicket wasn't initially easy to bat on and there was variable bounce. The best part was that he and Shikhar rotated the strike really well and forced the bowlers to bowl in areas which they don't like," he said.
Dhoni felt that the 10-day break after tri-series did re-energise the team.
"I think it's a mix of everything. Again, I personally feel the 8-10 day break that we had, that also helped us a lot. Everybody went off and did their respective things and then we came back, and you can use it in a way to say, okay, let's divide this whole tour into two tournaments, like first the test matches and the Tri-Series, and then you break and you say, okay, the World Cup is a fresh start for us.
"I felt that was something that we managed really well," he said.