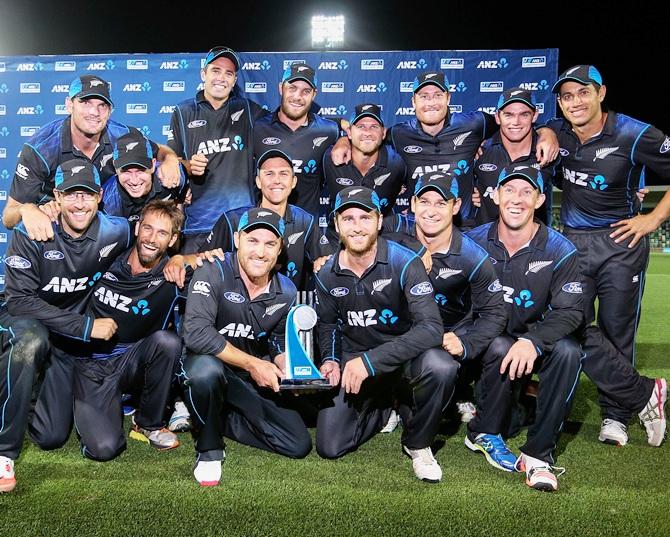 Captain Brendon McCullum and Kane Williamson of New Zealand hold the ANZ Series trophy after winning the ODI series against Pakistan, in Napier. Photograph: Hagen Hopkins/Getty Images
Kane Williamson and Ross Taylor scored centuries as New Zealand completed their World Cup preparations with a crushing 119-run win over Pakistan in Napier on Tuesday.
It was their eighth win in their last 10 completed matches.
Brendon McCullum's side won the two-match series 2-0 after they had defeated Sri Lanka 4-2 at home and won their last two games to clinch a 3-2 series victory against Pakistan in the United Arab Emirates in December.
"We have to be happy where we are at," McCullum said in a televised interview.
"We have been playing some perfect games of late and now the challenge is to maintain that and be consistent going into the World Cup.
"This has been the ideal preparation for us so we have no excuses come the big event."
Williamson led the hosts to an imposing 369 for five in their 50 overs, the second highest score on the batsman-friendly McLean Park, before they dismissed Pakistan for 250 with almost seven overs remaining.
The highest score is the 373-8 New Zealand scored against Zimbabwe in 2012.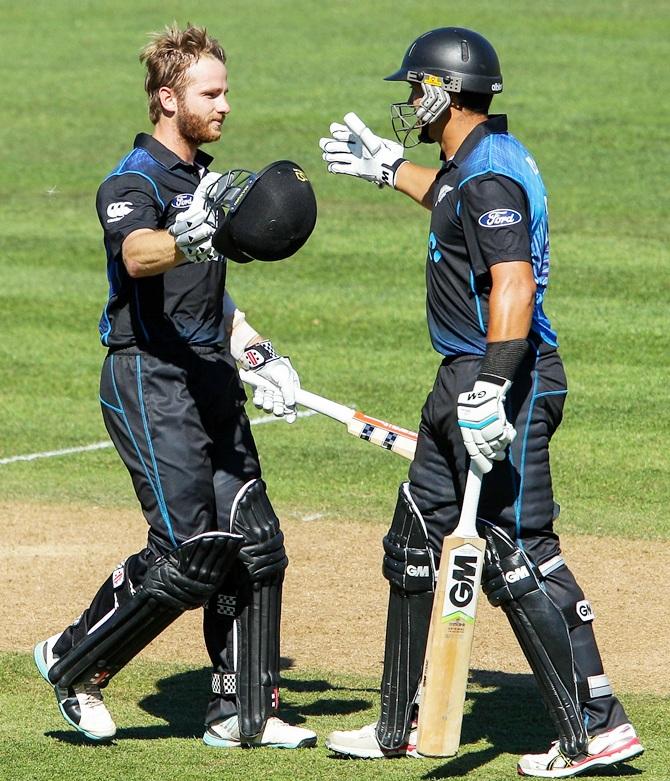 New Zealand's Kane Williamson, left, celebrates his century with teammate Ross Taylor. Photograph: Hagen Hopkins/Getty Images
Pakistan began their chase well with Mohammad Hafeez (86) and Ahmed Shehzad (55) putting on an 111-run opening stand, but once Shehzad was caught in the deep by Adam Milne, the wheels fell off their innings as New Zealand's bowlers exerted pressure on the visitors' line-up.
"It was a really tough series," Pakistan captain Misbah-ul-Haq said. "We tried our best but we need to improve in every area.
"We just gave away 370 runs and we need to improve our bowling, especially at the death. If any batsman is set, then they need to continue till the end."
The 24-year-old Williamson (112) had earlier continued his superb run of form by scoring his sixth ODI century. He has now scored 753 runs in 11 innings since the beginning of December.
He also combined in a 128-run partnership with Martin Guptill (76) and added 79 runs with Taylor (102 not out), who brought up his 12th One-day century off the final delivery. It was the 100th ODI century by a New Zealand batsman.
The match is the last official game both sides will play before the February 14-March 29 World Cup, though they have scheduled warm-up clashes against other sides in the next 10 days.
Scorecard
New Zealand
M. Guptill c Bhatti b Shehzad 76
B. McCullum b Afridi 31
K. Williamson c Sohail b Irfan 112
R. Taylor not out 102
G. Elliott c Sohail b Adil 28
L. Ronchi c S. Ahmed b Irfan 0
N. McCullum not out 9
Extras: (lb-6 w-5) 11
Total: (for 5 wickets, 50 overs) 369
Fall of wickets: 1-43, 2-171, 3-250, 4-322, 5-340.
Did not bat: D. Vettori, T. Southee, A. Milne, T. Boult
Bowling: M. Irfan 10-0-52-2(w-1), B. Bhatti 10-0-93-0(w-2), S. Afridi 10-0-57-1(w-1), E. Adil 8-0-68-1(w-1), H. Sohail 6-0-47-0, Y. Khan 2-0-17-0, A. Shehzad 4-0-29-1.
Pakistan
M. Hafeez c Milne b Elliott 86
A. Shehzad c Milne b N. McCullum 55
Y. Khan c Southee b N. McCullum 11
Misbah-ul-Haq c Taylor b Southee 45
S. Afridi c Elliott b Vettori 11
U. Akmal b Milne 4
H. Sohail c B. McCullum b Milne 6
S. Ahmed c B. McCullum b Elliott 13
B. Bhatti c Guptill b Southee 9
E. Adil c Ronchi b Boult 1
M. Irfan not out 0
Extras: (lb-2, nb-1, w-6) 9
Total: (all out, 43.1 overs) 250
Fall of wickets: 1-111, 2-130, 3-173, 4-187, 5-194, 6-206, 7-227, 8-248, 9-250, 10-250.
Bowling: T. Southee 8-0-52-2(w-3), T. Boult 8.1-0-35-1(w-1), D. Vettori 10-0-41-1, A. Milne 8-0-52-2(nb-1, w-2), N. McCullum 5-0-33- 2, G. Elliott 4-0-35-2.
Umpires: Rod Tucker and Derek Walker
TV umpire: Michael Gough
Match referee: Javagal Srinath
Result: New Zealand won by 119 runs