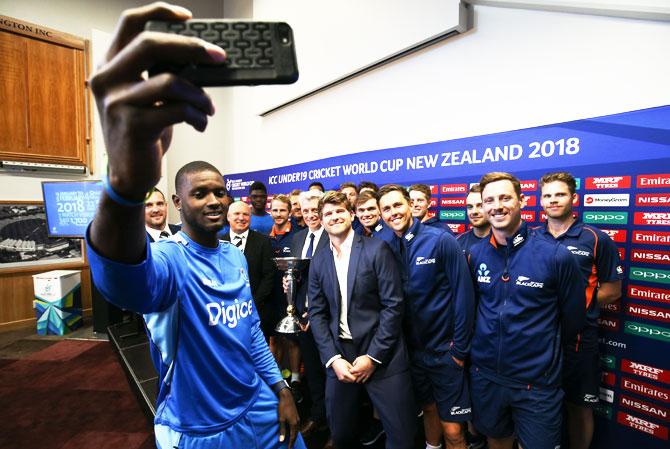 IMAGE: West Indies' Jason Holder takes a selfie during the official event launch of the ICC Under-19 Cricket World Cup in New Zealand at Basin Reserve in Wellington on Thursday. Photograph: Hagen Hopkins/Getty Images
The ICC U-19 World Cup 2018 was launched in Wellington with 44 days to go for the 16-team event that brings together future stars who will compete across four cities and seven venues in New Zealand from 13 January to 3 February.
The function was attended by Hon Grant Robertson, Minister for Sports and Recreation of New Zealand, ICC Chief Executive David Richardson, New Zealand Cricket Chief Executive David White and Event Brand Ambassador Corey Anderson among others.
Speaking on the occasion, Richardson thanked New Zealand Cricket for hosting the tournament for the third time and extolled the importance of the U-19 Cricket World Cup in grooming players from around the world.
Said Richardson: "The ICC Under 19 Cricket World Cup is special for so many reasons. It gives players an unrivalled experience of global events, a real flavour of international cricket at senior level and a glimpse into what life as one of the world's best is really like.
"This event plays an important role in developing the participating teenagers into international professionals, teaching them invaluable lessons in camaraderie, discipline, leadership, playing under pressure and of course in the spirit of the game.
"A host of past and present stars have come through the U-19s since its inception in 1988. The fact that a number of current captains including your very own Kane Williamson, Virat Kohli, Steve Smith, Joe Root, Sarfraz Ahmed, Dinesh Chandimal and Eoin Morgan have all played in the event demonstrates the calibre of cricket we have come to expect at this event."
New Zealand all-rounder Anderson remembered how the tournament helped shape his career.
Anderson said: "It is an honour for me to be associated with this tournament as its Brand Ambassador. I played in two U19 World Cups – in 2008 and 2010 – and can't forget the experience of playing with the upcoming best from around the world.
"I was lucky to have figured in the tournament along with players like Virat Kohli, Steve Smith, Kane Williamson and Joe Root, all of who have gone on to lead their respective sides in world cricket. The tournament provides players with many learnings which hold them in good stead as they develop into top-class cricketers."
The ICC U19 Cricket World Cup Trophy Tour will commence in Wellington on December 1 and after several school and club visits to create awareness about the ICC U19 Cricket World Cup and to drive attendances, will culminate in Lincoln on December 13.
The West Indies are the defending champions of the tournament, which is widely acknowledged as a platform to inspire the next generation of cricketers and fans.
Australia and India have been most successful in the tournament, winning the title three times each. Pakistan are the only side to have defended the title when they emerged victorious in the 2004 and 2006 editions while England and South Africa are the other teams to have won the tournament.