The topic of reviewing no balls will be discussed at the next meeting of the ICC's Cricket Committee following Voges non-dismissal in Wellington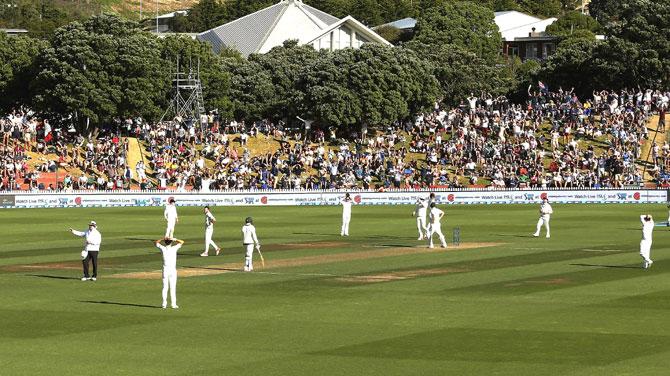 IMAGE: New Zealand's players react after Doug Bracewell bowls out Australia's Adam Voges off a no-ball on Day 1 of the first Test at Basin Reserve in Wellington on Friday. Photograph: Ryan Pierse/Getty Images
The International Cricket Council is set to discuss the reviewing of no-balls with the controversial topic again rearing its head following Adam Voges' non-dismissal late on day one of the first Test in Wellington.
Voges was bowled having shouldered arms to the fourth ball of Doug Bracewell's 11th over, the last of the opening day of the Trans-Tasman series.
The delivery seamed in and hit off stump, but the batsman - still in his leaving pose as his wicket was disturbed – looked up and saw umpire Richard Illingworth raise his right arm to signal for a no-ball.
However, controversy erupted when replays clearly showed Bracewell did have part of his front foot behind the popping crease.
On numerous occasions, dismissed batsmen have been granted reprieves by the third umpire, who are sometimes called on to review the front foot for wicket-taking deliveries that have been deemed legal by the on-field official.
But an ICC spokesperson confirmed there is no provision for the third umpire to overrule when the on-field umpire has signalled a no-ball.
The governing body's justification is that "it is not right" for a batsman to be given out after an umpire has signalled no-ball, with the suggestion that, theoretically, the umpire's signal may have prompted a batsman to change his shot.
"The third umpire can review the fairness of delivery on the fall of a wicket but not review a no-ball that has been called on the field," an ICC spokesperson told cricket.com.au.
"The ICC Cricket Committee has discussed this issue on a number of occasions and come to the same conclusion each time – it is not right that a batsman plays a delivery that is illegal, only to be told retrospectively that it was legal and that he is out by a mode of dismissal that would not have been allowed from an illegal delivery.
"The ICC Cricket Committee will be discussing the use of technology at its next meeting, and the topic of reviewing no-balls will again be part of that discussion."
Former Test opener Chris Rogers labelled the decision "horrific" and called for cricket to better use technology.
"Horrific, that's how I'd describe it," Rogers said.
"I don't understand it, why can we not get these decisions right? There's enough time for the third umpire to change the decision.
"New Zealand have done nothing wrong there, they shouldn't be penalised.
"We keep seeing these incidents happen, why can we not embrace technology and get it right every time?"