Kuldeep Yadav reaches career-best rankings in T20s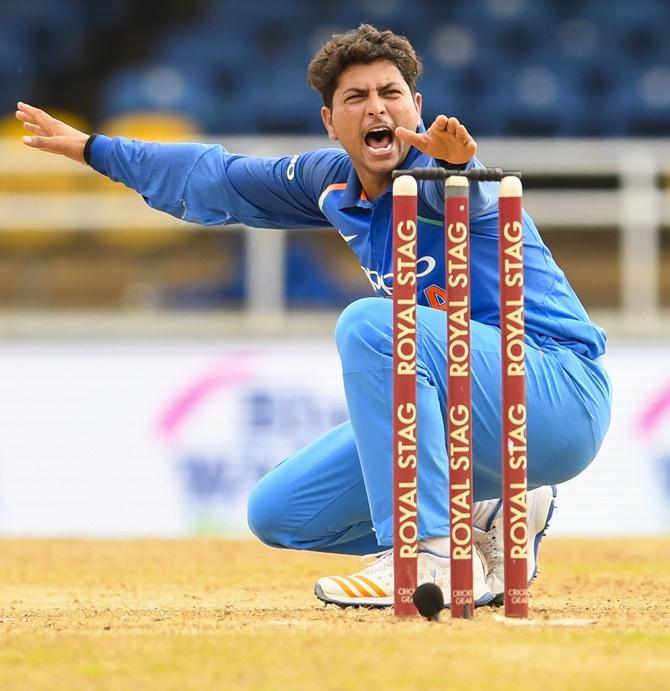 Indian chinaman Kuldeep Yadav, who played a key role in India's series win over West Indies, on Monday, leapfrogged 14 places to a career-high 23rd in the latest International Cricket Council T20 rankings.
Yadav picked up five wickets in two matches at an economy-rate of 5.6 in India's home series 3-0 win over the current T20 champions.
Speedster Bhuvneshwar Kumar jumped nine places to break into the Top-20. He is placed at the 19th spot while Jasprit Bumhrah gained five places to be world no 21.
Among the Indian batsmen, Rohit Sharma, who led India to the sweep, and opener Shikhar Dhawan made notable improvements.
Sharma (up be three places)is ranked seventh with Dhawan (up by five places) securing the 16th spot.
Pakistan and India retained their first and second place in the team rankings, collecting two and three points respectively. Pakistan moved to 138 points while India have 127 points.
There is no change in the top-four of the all-rounders' list with Australia's Glenn Maxwell leading the field. Mohammad Nabi is second, followed by Shakib Al Hasan and JP Duminy.
Meanwhile, Australia will be involved in all four remaining T20Is later this month. They will play South Africa in a one-off match in Carrara on November 17, before taking on India in a three-match series from November 21-25.
If Australia win all four matches, then they will rise to second position on 126 points. However, if they lose all four matches, then they will end up in sixth position on 112 points.
Similarly, South Africa will gain three points if they win on 17 November, while India will move to 129 points if they win all three matches against Australia.