Fast bowlers reign supreme in the latest Reliance ICC ODI Player Rankings which were released on Tuesday after the conclusion of Sri Lanka and Australia, and Zimbabwe and Bangladesh series.
Australia's fast bowlers Mitchell Johnson, Doug Bollinger and Brett Lee, as well as Lasith Malinga of Sri Lanka, are the biggest movers in the Reliance ICC Player Rankings for ODI bowlers after stellar performances in the series which Australia won by 3-2 while Bangladesh's fast bowler Rubel Hossain has a achieved personal best in the series which his side lost 3-2 to Zimbabwe.
Johnson, who along with Malinga was the leading wicket-taker in the series with 11, has jumped four places to claim third position while Malinga, who recorded the third hat-trick of his career in Monday's ODI, has jumped 19 places to claim 11thposition.
Bollinger's nine wickets in the series has helped him return to the top 10 in seventh position after vaulting 15 places while Lee has been rewarded with a jump of four places after his eight wickets in four matches which has put him just behind Malinga in 14thposition.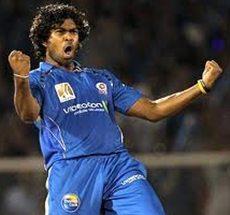 In Zimbabwe, Rubel and the home side's debutant Brian Vitori finished as the leading wicket-takers in the series with 11 each. While Rubel earned a jump of 71 places which put him in 54th spot, Vitori entered into the rankings table in 126th position.
Amongst the spinners, Bangladesh's pair of Shafiul Islam and Mahmudullah, and Australia's Xavier Doherty have achieved career-best rankings to date.
Shafiul, who took five wickets in Zimbabwe, has moved up 28 places to 73rd position, Mahmudullah has climbed 28 places to 84th spot after bagging six wickets while Doherty's eight wickets against Sri Lanka has helped him rise 61 places to 87th position.
The majority of the bowlers sliding in the latest rankings are spinners and include Zimbabwe's Ray Price in eighth position (down by five places), Sri Lanka's duo of Abdur Razzak in 14th (down by four places) and Shakib Al Hasan in 17th (down by four places) and Sri Lanka's Ajantha Mendis in 19th (down by seven places).
The only fast bowler failing to maintain his position is former number-one ranked Nuwan Kulasekara who has slipped to 30thposition (down by 10 places) after managing just two wickets.
Graeme Swann of England is on top of the bowling chart but leads New Zealand's Daniel Vettori by just six points. The two spinners are the only bowlers beyond the 700-point mark which, in rating terms, is the benchmark for any bowler.
In the Reliance ICC Player Rankings for ODI batsmen, former Sri Lanka captain Mahela Jayawardena has returned to the top 20 in 17th position after rising five places following his series contribution of 180 runs which made him the fourth most successful batsman in the series behind Michael Clarke (242), Ricky Ponting (196) and Shane Watson (185).
While Watson and Ponting have retained their third and 15th positions, respectively, Clarke has moved up two places to seventh position.
Also moving in the right direction are Shakib Al Hasan in 24th position (up by three places), Upul Tharanga in 40th (up by three places), Mushfiqur Rahim in 60th (up by six places), Hamilton Masakadza in 65th (up by eight places), Mahmudullah in 72nd (up by four places), David Hussey in 78th (up by five places) and Vusimuzi Sibanda in 97th (up by 53 places).
Batsmen dropping in the latest rankings include Michael Hussey in eighth (down by three places), Tillakaratne Dilshan in 11th(down by two places), Imrul Kayes in 52nd (down by 11 places), Junaid Siddique in 80th (down by nine places) and Shahriar Nafees in 95th (down by six places).
The batting table is headed by South Africa's Hashim Amla while his captain, AB de Villiers, is in second position.
There is no change in the top three of the Reliance ICC Player Rankings for all-rounders which are still led by Australia's Shane Watson.
Meanwhile, top-ranked Australia enjoys a comfortable 11-ratings-point lead over second-placed Sri Lanka. Australia's 3-2 series win has restricted Sri Lanka to earn only one ratings point which, in turn, has given India a chance to reclaim second position.
However, to achieve the number-two position, India will have to beat England by 4-1 or better in the five-match series which starts at Chester-le-Street on 3 September.
Meanwhile, Bangladesh has dropped from 70 to 63 ratings points and Zimbabwe has jumped from 38 for 46 ratings points after the end of their series. However, both the sides have retained their pre-series positions with Bangladesh in ninth and Zimbabwe in 10th.
Zimbabwe's next ODI series is against Pakistan which starts in Bulawayo on 8 September and there will be a few more points up for grabs for the home side.
If Zimbabwe wins all the three ODIs, it will earn 10 ratings points while a 2-1 series win will give it six ratings points. Zimbabwe will earn two ratings points even if it loses the series 2-1.
In contrast, Pakistan will get just one ratings point if it wins all the three ODIs while Zimbabwe will be docked two ratings points.
This is because Pakistan will enter the series leading Zimbabwe by 54 ratings points and as the rankings system is weighted to reflect this difference, Pakistan's failure to win the series comfortably will mean it will drop points.
Reliance ICC ODI Championship (as of 23 August, after Zimbabwe and Bangladesh, Sri Lanka and Australia series)
1. Australia-130
2. Sri Lanka-119
3. India-117
4. South Africa-116
5. England-106
6. Pakistan-100
7. New Zealand-90
8.West Indies-78
9.Bangladesh-63
10. Zimbabwe-46
11. Ireland-42
12. The Netherlands-5
13. Kenya-0