'His cricketing record should be respected. I respect him as a batsman and player.'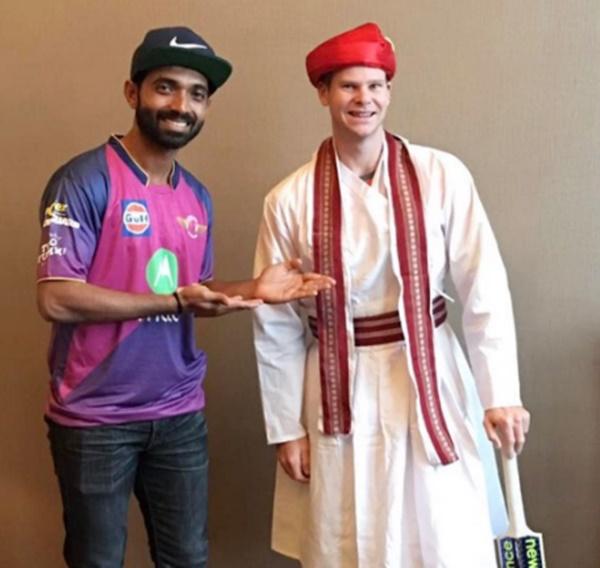 IMAGE: Ajinkya Rahane, left, with Steve Smith when the duo played together at Rising Pune Supergiant in IPL-10 last year. Photograph: Rising Pune Supergiant/Instagram

Steve Smith may have been disgraced for his role in the ball-tampering scandal in South Africa but newly-appointed Rajasthan Royals captain Ajinkya Rahane said that he still respects him as a world-class batsman.
"Whatever had to happen has already happened. It's bygone now. It is not for me to comment on the amount of penalty handed to him by the Cricket Australia and the ICC. But his cricketing record should be respected. I respect him as a batsman and player," Rahane said during a media conference in Jaipur on Saturday.

While Smith will be 'missed', Rahane claimed that it will put added responsibility on his shoulders.

"Yes we would miss him but we have a replacement (Heinrich Klaasen). I feel it is an added responsibility and also a big challenge for me," said Rahane.

Comparisons are often drawn between him and his national team captain Virat Kohli's leadership styles.

"We talk a lot but we both are different kind of persons. He is aggressive and expressive where as I am more composed, serious and quiet."

Rahane expressed his happiness that Rajasthan Royals will be playing their home matches at the Sawai Man Singh (SMS) stadium in Jaipur.

"I am thankful to Rajasthan Royals, who have provided me a platform and also the opportunity to lead the side. I remember Shane Watson had mentioned my name to Rahul Dravid. I am thankful to people like them and also the fine support staff, which the Royals have.

"Coming back to Jaipur and SMS gives added confidence to us. We have the resources and the right balance with some exciting youngsters in our ranks. We don't have any pressure on youngsters and play the game with a plan. The pitch at the SMS stadium is a good one and as soon as I came here, I wanted to bat."