'I bowled the teesra to Sachin at the Cricket All-Stars and that got people talking.'
'I watch India's matches only to see Ashwin bowl'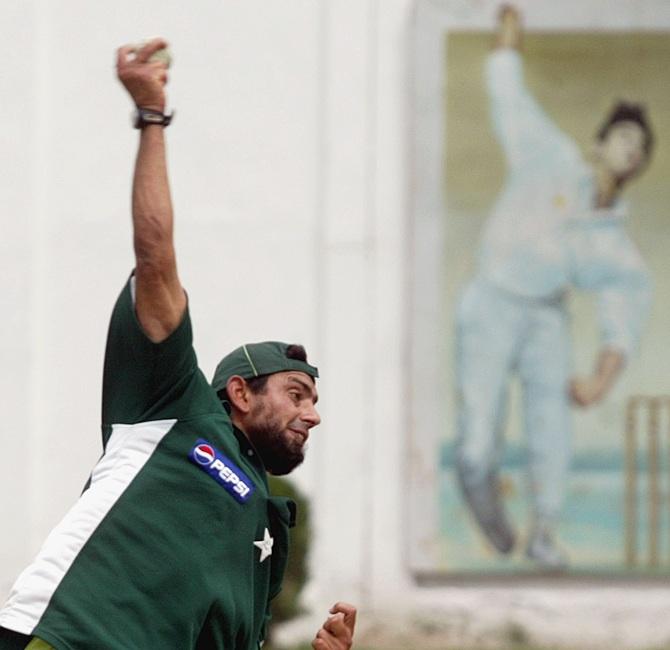 IMAGE: Former Pakistan off-spinner Saqlain Mushtaq. Photograph: Arko Datta/Reuters
Former Pakistan off-spinner Saqlain Mushtaq, who dismissed Sachin Tendulkar in the All-Stars League held recently in the Unites States, revealed that he bowled the legendary batsman with a 'teesra', a delivery he developed while he was playing County Cricket in England.
Speaking to Wisden India, while playing in the ongoing Masters Champions League in the UAE, Saqlain said, "I had developed the teesra in County. I didn't play at the top level much after that, so it remained a bit of a mystery. People talked about it. I talked about it. But no one really knew about it.
"I think a lot of people believed me, because I had pioneered the doosra. Maybe some people didn't believe me.
"I did bowl it a few times in the English county circuit, but that didn't get much publicity. I bowled it at the Cricket All-Stars to Sachin, and that got people talking."
Saqlain, who played 49 Tests for Pakistan, picking 208 wickets, also explained the trick behind bowling the teesra.
"It's a bit difficult to explain – the trick is in the grip. What happens is that the ball travels through the air slightly faster than usual, but once it pitches, there is a bit of backspin.
"There is some drift as well, in both directions, drift in and drift out. It depends a lot on what the pitch is like, what the weather is like … what the shape of the ball is.
"If the ball is in good shape, like it is in T20s, and there is some shine on one side, and there is some breeze blowing across the pitch, then it will drift out and get backspin. It will drift in if the breeze is from the other side. It's the grip that does it, he explained."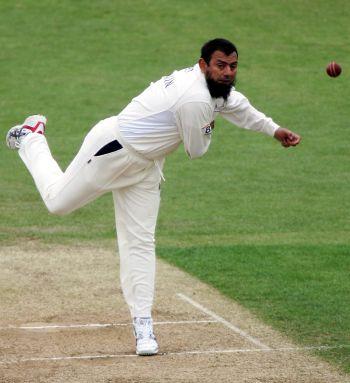 Saqlain, who is believed to have invented the doosra -- the ball which spins the other way -- lavished praise on Ravichandran Ashwin, saying the Indian is the best spinner in the world.
"Ashwin is a world-class bowler. The way he is performing for India, I don't think anyone can ask for anything more from him.
"He is performing in every game and he is improving with every game. He has played key roles in so many important victories for India. I make it a point to switch on my TV and watch India's matches only to watch him bowl. He is a wonderful bowler."
Image: Saqlain Mushtaq in action at County Cricket in England.
Photograph: Christopher Lee/Getty Images.