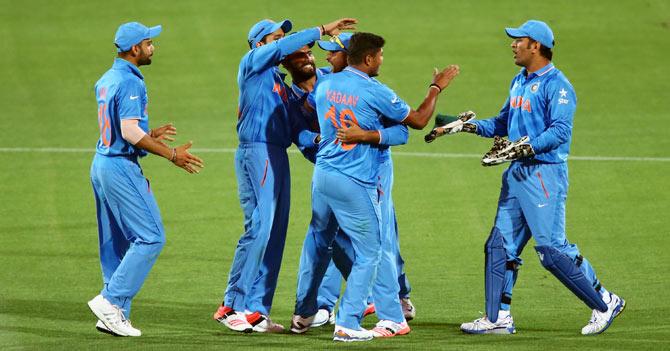 India's players celebrate a wicket during the ICC World Cup match against Pakistan. Photograph: Morne de Klerk/Getty Images
The current Indian team may not have got a lot of appreciation in the past three months but former Australia left-hander Michael Hussey believes that this bunch will be a "force" to reckon with in the near future.

"India are an exciting team as I have loved watching them this summer. There is so much talent and I am sure they are going to be a force in years to come," 39-year-old Hussey said.
- Virat Kohli fan? Solve this World Cup puzzle

However, for the former Australian, Mahendra Singh Dhoni and his boys are not among his semi-final picks.

"My semi-final line-up will be Australia, New Zealand, South Africa and Sri Lanka," Hussey, who was a part of the victorious Australian World Cup winning team in 2007, said.
- QUIZ: Who first captained India in a World Cup?

Unlike others, Hussey feels that facing short-pitched stuff is not an issue for the Indian batsmen.

"The current players in the Indian team are adept at handling the short ball really well. That is what I have seen in the Test series," said Hussey.

Someone, who has grown up playing at the WACA in Perth, Hussey is of the opinion that Indians would love batting on a pitch which offers good bounce.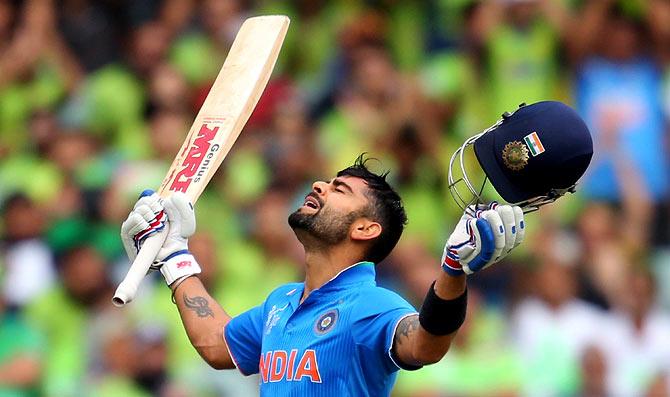 Virat Kohli celebrates his century during the ICC World Cup match against Pakistan. Photograph: Scott Barbour/Getty Images
India are supposed to play two matches in Perth against United Arab Emirates and West Indies.

"I wouldn't like them (Indian team) to change (tactics) much. Just keep a clear mind and play with instinct. Once you get through the first 20 balls, it (WACA) is the best place to bat in the world because you can score so quickly," said Hussey.
- ICC World Cup 2015 Schedule

When asked which Indian players caught his attention during the last couple of months including the Test series and ODI tri-series, Hussey said, "I was very impressed with Murali Vijay and Ajinkya Rahane's performance."

However, Hussey, was not ready to be drawn into comparing the two most exciting players in world cricket at the present moment -- Steve Smith and Virat Kohli.

"It is hard for me to comment as I have not played under either of them. From far, they both seem like very positive people," the veteran of 79 Tests and 185 ODIs, gave a non-committal answer.

Quizzed about whether sub-continental teams like India and Sri Lanka will suffer on big Australian grounds during the mandatory batting Powerplay overs, Hussey didn't agree.

"No, I disagree, there is more than one way to score heavily in the mandatory batting Powerplay overs. I agree batsmen, who are power-hitters are always helpful but you also need smart players, who play good shots into the gaps," explained Hussey, who was known for his superb running between the wickets.

Hussey pointed out that it is too early to predict the winner although his heart wants the Aussies to go all the way.

"I feel Australia have a great chance but there are a lot of great teams, who can win the World Cup. It is too early to make a prediction although the teams which would be looking the best at the quarter-final stage and has momentum will be hard to beat," observed Hussey.