Hiken Shah. The name is gaining prominence in Mumbai's cricketing circles after his exploits with the bat in this year's Ranji Trophy.
Relatively unknown at the start of the season, the left-hander has hit the headlines after back-to-back centuries for Mumbai in the first three matches of the season.
- If you are a good player, you can do well in all formats: Rahane
He showcased his potential with a cracking knock of 92 against the touring England team in a three-day warm-up match at the DY Patil stadium in Mumbai last month.
At 28, when most domestic cricketers give up hope of playing for the national team, Shah is still optimistic that if he continues his good run with the bat, his chance could come some day.
He insists that the national cap is his biggest motivation to work hard daily and keep scoring runs in tons.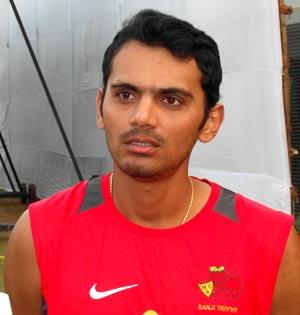 "Every cricketer wants to play for India, and I am no different. The reason I am working so hard and trying to do well is because I also want to play for my country some day. That is my biggest motivation," he said.
Shah believes his half-century against the touring Englishmen was one of the most important knocks of his career, one which gave him belief for the future.
He looked quite solid while batting against the likes of James Anderson, Stuart Broad and Monty Panesar and had a huge partnership with Cheteshwar Pujara, who scored 87 in that warm-up match.
"It is a great booster if you play against an international side and score runs. It gave me confidence when I made runs against top bowlers James Anderson and Stuart Broad, against one of the top Test teams in the world," he said.
Shah's batting is indeed a big revelation this season. He's scored a hundred in virtually every match he played. He started with three hundreds in the pre-season Safi Darashah Tournament for Mumbai CA XI before the hat-trick of centuries in the Ranji Trophy. He scored 140 against Rajasthan in Jaipur followed by 156 against Hyderabad and now the 118 (0 in the first innings) against Bengal at the CCI for an impressive aggregate 414 runs in four innings at an average of 103.
The left-hander says he is just enjoying his time out in the middle and not worried about what the future holds for him.
"I am not planning for anything; I am just taking it game by game. I am not looking to score big runs when I go out in the middle; I am just looking to take every ball as it comes."
Veteran batsman Sachin Tendulkar played the opening match of the Ranji Trophy season for Mumbai against Railways and also spent a week in the camp ahead of that game where Shah got a chance to observe his preparations and learn from him.
"The way he prepares before the game, the way he focuses in the nets, the way he works hard during training... there is a lot we can learn from him.
"He was with us for a week or so before the start of the season and then played the opening Ranji match also. That was a big boost for the entire team. Even after having played for so many years he is still ready to learn; that's the great thing about him. His dedication level is more than 100 per cent," the Mumbai batsman said.
Quizzed if he is looking to sign up with any team for the Indian Premier League next year, Shah was categorical in his reply, saying his only aim is to try and win a place in the national side.
"I am not thinking about anything. The only thing I keep thinking about is playing for the country, because once you achieve that then everything comes along with it," he said.
Photograph: Harish Kotian