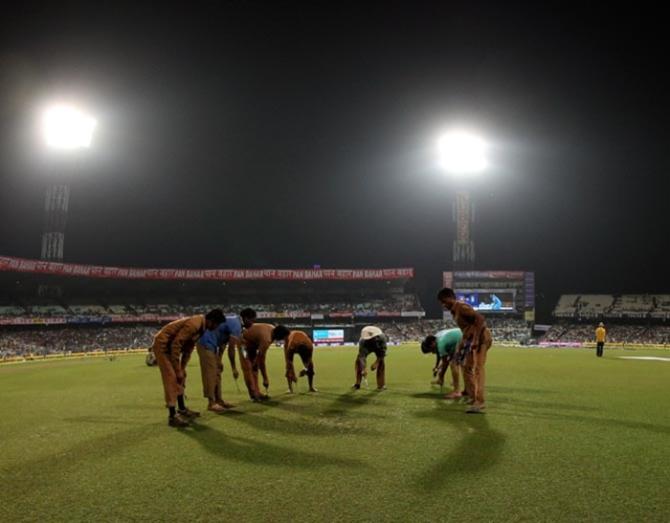 IMAGE: Groundsmen make an attempt to mark the ground. Photograph: BCCI
A curator falling to the lure of corrupt money doesn't come as a surprise to former Board of Control for Cricket in India pitch committee chairman Venkat Sundaram, who says "underpaid groundsmen" are vulnerable to such approaches.
Besides being a pitch expert, Sundaram is a former First-Class batsman who played against the now suspended Pune curator and former pacer Pandurang Salgaoncar, in the '70s and the '80s.
Salgaoncar was suspended after being caught in a sting operation, agreeing to tamper with the pitch on the approach of an undercover reporter, posing as a bookie.
"Players and officials have been involved in corruption in the past so the next soft target was very much likely to be the curators, who in my opinion are hugely underpaid compared to match officials and players," Sundaram said.
The five zonal curators of the BCCI are paid around Rs 50,000 per month while the state associations pay their curators directly and the amount is a modest one. It is far lesser than what other stakeholders of the game, players and officials, get.
A First-Class cricketer earns around Rs 12 lakh per annum while umpires and referees are paid around Rs 20,000 per match.
"The India cricketers are earning in crores, the First- Class players are earning in lakhs and they deserve to. But you also have to look after the groundsmen.
"Not only the chief curator is underpaid, some of the other groundsmen make just about Rs 10,000 to 15,000 per month. But it is still no justification for you to be corrupt and venture into pitch tampering," said Sundaram, who played 81 First-Class games for Delhi and Tamil Nadu.
Depending on the requirement, as many as 20 people look after the field of play of a stadium.
Back in 2012, when he was pitch committee chief, Sundaram had taken up the pay issue with the then president N Srinivasan.
I did speak to him then and he said it was the responsibility of the state associations as BCCI anyway was doing a lot for them," he recalled.
Sundaram said he felt sorry for his contemporary Salgaoncar, who has now been suspended by the Maharashtra Cricket Association for allegedly agreeing to doctor the pitch ahead of the second ODI between India and New Zealand.
"He was India's fastest bowler back then and came from a poor background. If he had played for bigger centres like Bombay, he would have ended up playing for India. I feel sorry for him. He also did well as a curator," said Sundaram.
Sundaram also served as a DDCA curator for a long time and claims the controversy-prone association still owes him Rs 25 lakh.