'He has brought professionalism in the dressing room and is always there to help the youngsters. We never felt as if he came from a different state side.'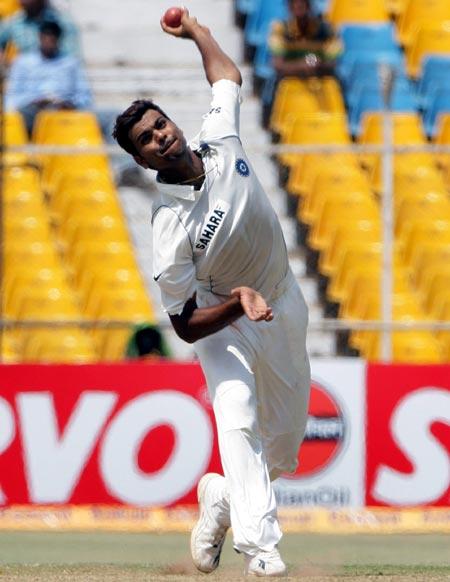 He last played for India nearly five and half years ago, but RP Singh showed he still has some fight left in him as he played an integral role in Gujarat's maiden Ranji Trophy triumph.

India and Gujarat left-arm spinner Axar Patel acknowledged Singh that veteran pacer RP Singh's presence in the Gujarat dressing room for the past two years played a big role in the team's development.

"Besides coach (Vijay Patel) and captain (Parthiv Patel), it was because of RP bhai that we played as a unit. He has brought professionalism in the dressing room and is always there to help the youngsters. We never felt as if he came from a different state side (Uttar Pradesh)," Axar said on Monday.

Axar could only play four games in the tournament due to the wrist fracture he suffered while fielding in the fifth and final Test between India and England at Chennai.

However, he travelled with his state mates throughout the Ranji Trophy and was part of the victory celebrations in Indore, where Gujarat humbled the mighty Mumbai in the final to win their maiden title.

Talking more about the former India international, Axar says RP played the role of a mentor to perfection.

RP, who played 14 Tests and 58 ODIs, may have been written off by many but he made a telling impact with the ball especially against Jharkhand in the semi-final, picking up a nine-wicket haul in the game.
He was the stand-out bowler in India's Twenty20 World Cup triumph in 2007, finishing with a haul of 12 wickets to emerge the second-highest wicket taker in the tournament.

"He played just five games but got us the key wickets when the team wanted. However, it was outside the field, where he made the maximum impact. He is a bowler who understands the mind of the batsmen very well and that is what we all picked up from him. He was very forthcoming in sharing his vast knowledge and helped the players during training on his own, be it the bowlers or batsmen. The team's progress would have been difficult without him.

"He spent a lot of time with us even when we were not training. It was good to see such a senior player having fun with the boys even off the field. He also made a conscious effort to learn Gujarati though he has not succeeded in his efforts so far," said Axar on a lighter note.

Gujarat finally got their hands on the Ranji Trophy but it wasn't a flash in the pan. It is a side that has shown gradual improvement, which is evident from its success last season in the 50-over Vijay Hazare Trophy. The Parthiv Patel-led side has also won the domestic T20 title (Syed Mushtaq Ali Trophy) twice in the last five years.

"The major reason why we have been successful is that we have been able to maintain continuity from the Under-19 to the senior level. The majority of the players have been playing together since junior cricket and it helps when you graduate together to the senior level.

"If you noticed, we also did not make a lot of changes in the playing eleven, barring the times when I was away on national duty or Parthiv bhai or Jasprit (Bumrah), that also helped. Each player knew that he won't be dropped after failure in three-four matches," said Axar.

The injury has come at a crucial juncture for the 22-year-old, who otherwise would have been part of the India squad for the ongoing limited over series against England. He is hopeful that the plaster on his right hand will be removed later this week, after which he could go undergo physiotherapy.

"I can't even touch the ball till March. It is a setback but you can't do much. I try to stay motivated by watching old videos of my own but it is tough not to be not playing for India especially when you know that you are in the mix," he added.