South Africans bemused by brazen Australian tampering
'They were caught red handed! They had to admit it after that. They (are) only upset because they were caught'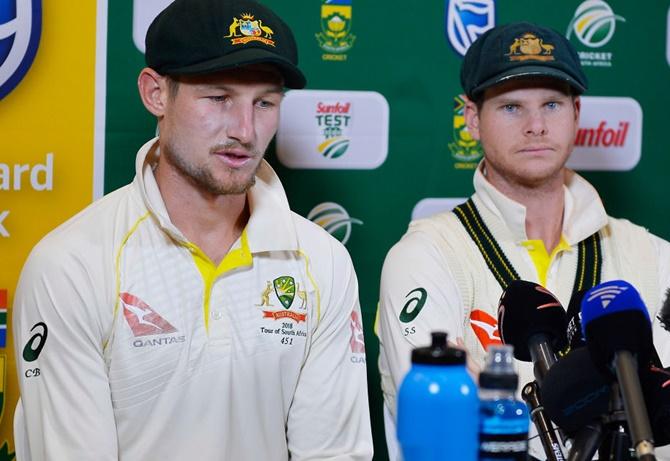 IMAGE: Steven Smith and Cameron Bancroft of Australia at PPC Newlands. Australian batsman Cameron Bancroft admits to attempting to change the condition of the ball by using a foreign object. Photograph: Ashley Vlotman/Gallo Images/Getty Images
A bemused, if almost ambivalent reaction, has come from South Africa in contrast to the angry backlash in Australia to their cricket team's admission of cheating in a Test match between the sides at Newlands on Saturday.
South Africa's Sunday newspapers were dominated by the standard diet of government corruption and crime stories with no mention of ball tampering on their front pages, while there was limited social media comment and nothing from the country's cricketing heroes.
Johannesburg's Sunday Times did headline its sports section with 'Cheating Aussies hit a sticky patch' while the Sunday Independent devoted just a half page to the same story, headlined: 'All-time low for these Aussies'.
South Africa's rolling sports news channel on SuperSport initially showed the game highlights and then snippets of Smith and Bancroft's confessions from the post-match news conference before changing the order of the top news item as the high-level of reaction from Australia became apparent.
It is SuperSport who are producing the coverage of the Test series and whose camera personnel picked up Bancroft's attempt to hide the tape he had used to pick up dirt from the wicket and use it to work on the ball.
On social media, former South Africa off-spinner Paul Harris, who played in 37 Tests, including six against Australia, does not believe this is a one-off incident.
"They were caught red handed! They had to admit it after that. They (are) only upset because they were caught … trust me, they have done it plenty times," he said on Twitter.
"The only reason they came forward was because they were caught. And where was their coach (Darren Lehmann)? He had to have known. I don't feel one bit sorry for them."
South African-born former England international Allan Lamb agreed: "This has been going on for years but now the modern day cameras catch the cheats!"
"The Aussies must have practiced this yellow tape trick in the nets to see if it works. By the sounds of things it must have worked for all their bowlers in the nets otherwise they would not have used it."
Another South African-born former England international, Kevin Pietersen, believes the positions of Smith and Lehmann are untenable.
"Slept on it... Lehmann, (bowling coach David) Saker and the leaderships groups' jobs are untenable! They've disgraced a great cricketing nation and Test cricket!"
John Kent, who played two One-Day International matches for South Africa against Australia in 2002, called Smith and the team's leadership group "cowards".
"Smith and Bancroft out of next Test surely! Such a coward getting most inexperienced player to take the fall," he said.
"Will the Aussie players be sledging this morning?" asked journalist Barney Mthombothi.