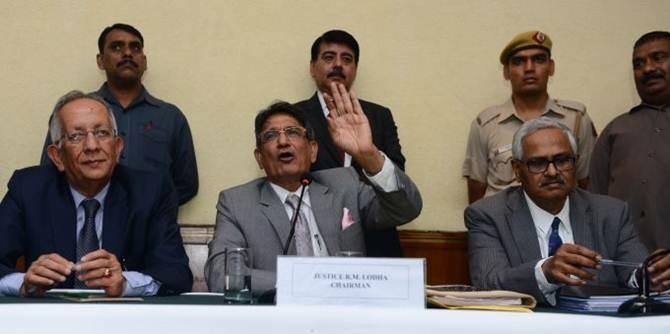 IMAGE: Chairman of the Supreme Court-appointed committee for reforms in Indian cricket Justice Rajendra Mal Lodha is flanked by Justice Ashok Bhan (left) and Justice R V Raveendran at a press conference. Photograph: PTI.
The Supreme Court barred ministers and bureaucrats from holding posts in the Board of Control for Cricket in India on Monday, as part of administrative reforms in the world's richest national cricket body.
It accepted most of the recommendations of the Justice Lodha committee, a three-member panel it had appointed to look into the functioning of the BCCI.
In the report, submitted in January, former Chief Justice of India RM Lodha and two of his colleagues recommended age and tenure restrictions for top officials and cooling off period between successive terms for top officials among others.
"We allow most of the recommendations of the Justice Lodha panel on administrative changes in the BCCI," a two-judge division bench of the apex court, headed by Chief Justice of India Tirath Singh Thakur and Justice F.M.I. Kalifulla, said in their order.
"Nobody above the age of 70 will be office bearer of the BCCI. A person cannot be simultaneously an office-bearer in the state cricket association as well as in the BCCI."
In other recommendations, all of which would have to implemented within six months by the BCCI, the panel wanted the board to be brought under the Right to Information Act which would allow citizens to access information held by the board.
Here's a chronology of events relating to implementation of the Lodha panel's recommendations on structural reforms in the BCCI.
Jan 4, 2016: Justice R M Lodha panel submits its report to the Supreme Court on various aspects of reforms in the BCCI.
Jan 22: Supreme Court agrees to hear a plea of the Cricket Association of Bihar (CAB) seeking implementation of the Lodha panel's report.
Feb 4: Supreme Court asks the BCCI to 'fall in line' with the Lodha panel's recommendations, which suggested its massive restructuring.
Feb 24: Supreme Court agrees to hear BJP leader Subramanian Swamy's plea against the Justice Lodha Committee's order suspending IPL franchisee Chennai Super Kings for two years.
Mar 1: The Orissa Cricket Association moves the Supreme Court seeking to be impleaded in hearing related to implementation of the Lodha panel's recommendation suggesting restructuring of the BCCI.
Mar 3: Supreme Court pulls up BCCI over reluctance to accept the Lodha
panel's recommendations; questions BCCI over lack of transparency in funds to states.
Mar 3: Supreme Court allays BCCI's apprehension that it will face ICC's ire for carrying out drastic restructuring by including a CAG nominee, saying it does not amount to government interference; questions BCCI for putting spoke in one state-one vote policy.
Apr 5: Supreme Court slams BCCI for not checking how hefty sums are being spent, saying it was "practically corrupting" its members by not seeking any explanation.
Apr 8: Supreme Court criticises BCCI for maintaining that any judicial interference in its functioning would compromise its autonomy, says sports body is resisting recommendations to reform.
Apr 11: Cricket Club of India (CCI) of Mumbai faces tough questions from Supreme Court on its resistance to structural reforms in the BCCI.
Apr 13: Supreme Court asks government whether it can take over cricketing activities by enacting law.
Apr 25: Supreme Court pulls up BCCI for 'monopolizing' cricket in the country, says several youngsters wanting to be Dhoni's and Kohli's are not given equal opportunity.
Apr 29: Supreme Court pulls up BCCI, asks if politicians can retire at 70 why not BCCI office-bearers.
May 2: Supreme Court says all state cricket associations have to 'fall in line' with recommendations of the Justice Lodha panel.
May 3: Supreme Court says constitution of BCCI is highly incapable of achieving values of transparency, objectivity and accountability which can be attained only by changing it.
May 3: BCCI tells Supreme Court that betting in cricket matches can be legalised only if a central law is enacted in this regard.
May 5: Former India captain Bishan Singh Bedi and ex-India cricketer Kirti Azad support Lodha panel report in Supreme Court.
May 10: Reforms in BCCI will not pull the body back, says Supreme Court clarifying that it does not intend to reduce popularity of the Board or hinder its growth.
May 18: Cricket Association of Bengal moves Supreme Court to stall BCCI secretary Anurag Thakur from contesting election to president's post, saying a charge-sheeted person cannot contest under Lodha panel suggestions.
Jun 30: Hearings on implementation of Lodha panel report end in Supreme Court.
Jul 18: Supreme Court accepts major recommendations of Lodha panel on reforms in BCCI including a bar on ministers and civil servants and those above 70 from becoming its members; leaves it to Parliament to decide if it should come under RTI and betting on the game should be legalised.