'It's unrealistic to think your seam bowlers will play five Tests in six weeks.'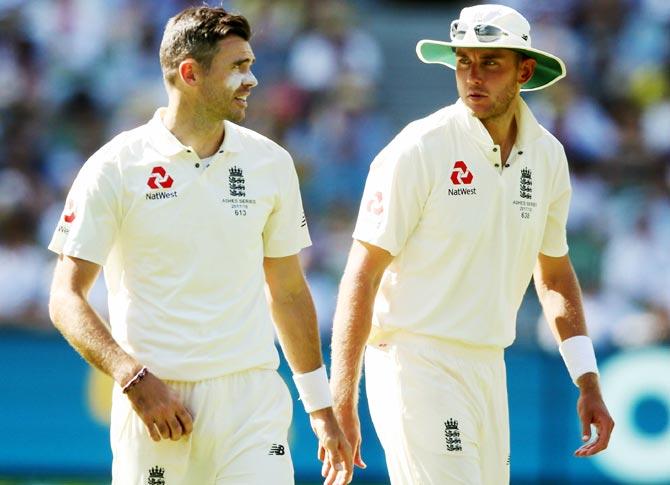 England pacer Stuart Broad revealed that he and James Anderson are likely to be rotated through the five-Test series against India starting August 1 as part of the team management's strategy to balance the duo's workload.

At the back-end of their careers, the 36-year-old Anderson took a six-week break to get rid of his shoulder injury while the 32-year-old Broad had limped off during a county match earlier this season.
"It will depend on tosses, pitches, workloads. If (there are) two Tests of 250 overs in the field each, it's unrealistic to think your seam bowlers will play five Tests in six weeks. But if you have a Test, where you bowl them out in 80 or 60 overs, that changes your thinking," Broad said.

"If the pitches turn square and the spinners do a lot of the work, you might not bowl so much but come on when the ball starts to reverse swing, so sometimes your workloads can be higher if it is green and nibbling," Broad added.
The senior speedster also revealed that the team management has already conveyed that rotation of the fast bowlers is on the cards.

"I think there has already been small conversations saying don't be disheartened if you are left out for a Test match. It's not a personal attack or dropping, it's management of your bowlers to make sure we give ourselves the best chance," Broad explained about the rationale behind rotation with five Tests squeezed in six weeks.

The bowler said that he doesn't want a situation where he is dropped for poor form.

"I won't get to the stage where I am left out at say Lord's, and go back and play county cricket. It's you are missing out, fresh bowlers come in, you stay around [the squad], keeping talking, stay part of the unit so it's only natural to expect small changes throughout five Test matches but the bowlers have to be able to take it," Broad said.
The battle between India captain Virat Kohli and Anderson will be the one to watch out for, but Broad played down the rivalry.

"I really don't agree with the theory that one particular bowler can target a world-class batsman. You have to have that pressure and theatre at both ends against that sort of quality -- that's when you get mistakes.

"If he's able to really watch Jimmy (Anderson) and play carefully but score off me, you are taking away any advantage as a team. As a bowling unit, we will just have to make it as hard for all of their batsmen to score early runs, but particularly a key player like Virat. We have to try and create pressure that way," he said.